Josh Riddell
In the midst of freshman season that saw him average 19.1 points and 7.6 rebounds per 40 pace adjusted in just over twenty minutes per game, UNLV's
Derrick Jones
was suspended
indefinitely by the NCAA due to questions about his ACT score in high school
. Jones was forced to sit out the final three games of the regular season and rather than return to school and possibly be forced to miss additional games, the 2015 #40 RSCI recruit chose to begin his professional career and hire an agent.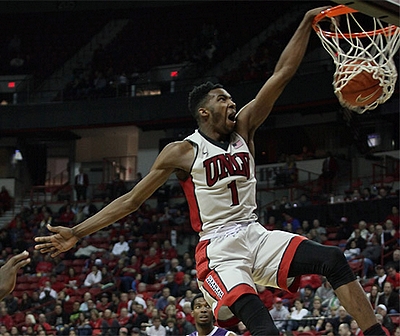 Jones is a phenomenal athlete who has the body of someone who can develop into a player who certainly looks the part of a NBA wing. He was measured at 6'6" with a 6'11" wingspan in 2014 and possesses elite-level quickness, leaping ability and explosiveness. Few players can stay in front of him when he gets a head of steam, and he flies around the court looking to make plays. In order to compete against professional players on a nightly basis, he will quickly need to fill out his lanky frame, which is currently listed at 185 pounds.
He uses his incredible athletic gifts to make an impact in the open court, with transition opportunities making up over 20% of his possessions according to Synergy Sports Technology. He was a force on the break by using his quickness to leak out or fill lanes to get to the rim for a dunk. He isn't yet comfortable handling the ball in transition but instead prefers to give the ball up to a guard and look for a lob pass back. His physical tools are on full display in transition, as he can beat the defense down the floor and sky for highlight reel caliber alley-oops, including corralling passes that look like sure-fire turnovers.
His finishing at the rim is great even in the half-court, with an overall conversion rate of 71.8% according to Synergy Sports Technology, which ranks third among any player in this draft with at least 100 attempts. He's a hard cutter from the perimeter or baseline who can explode toward the rim in electric fashion after the catch, almost absurdly at times. He can finish through contact even now and should become more confident playing to contact as he improves his strength.
As gifted of an athlete as Jones is, his skill-level in the half-court is still a major work in progress and will need a great deal of refinement before he can be asked to see meaningful minutes in the NBA. Where he needs to make the most strides is with his perimeter game. He is a very poor shooter, evidenced by his 18.9% conversion rate on 37 three point attempts and 23.9% on 46 overall jump shots logged by Synergy Sports. His motion needs almost a complete overhaul, as he sprays the ball all over the rim on both his spot-up and pull-up shots, shooting the ball with varying mechanics and elevation points from jumper to jumper, and seeing very little consistency in his results in turn.
He also isn't comfortable creating off the dribble with almost all of two point attempts coming with one dribble or less. He certainly has the elite first step and acceleration to beat guys off the dribble in a straight line, he just doesn't have any real ball skills in his repertoire at the moment if his initial move is cut off. He shies away from taking even two dribbles anywhere on the court, looking to pass right away in transition or shoot as quickly as possible within the arc even if it means a tough floater after catching in the midrange. He has -3.59 pure point rating and is more likely to turn the ball over rather than make a play off the dribble. He'll almost certainly need to improve his ball-handling skills significantly and find some shot creation ability to play a perimeter role in the NBA and complement his physical gifts.
Jones is still an athlete growing as a basketball player who relies more on his athleticism than skills to make an impact. While he can zip around the court to pull down
2.7 offensive rebounds
and
block 2.3 shots
per 40 minutes pace adjusted, he is still learning how to affect the game consistently.
This is especially true defensively, as he doesn't yet possess the best grasp of how to be fundamentally sound just yet. His 5.5 fouls per 40 minutes pace adjusted are the
fifth most of any player in our top 100
. The game seems to be moving a little too fast for him at times and he can be a step slow to react. He won't be able to rely solely on his physical gifts to make plays at the next level and will need to improve his awareness and feel in a pro scheme.
When he is pressuring the ball, he has the look of someone who can grow into a nice defender. His quickness and length helps him bother his opponent on the perimeter and he has the frame to develop into a versatile defender who can switch onto multiple positions. He has to increase his strength before he can do that though as almost any player can overpower him in the post. If he can do that while also grasping the concepts of playing within a team's principles, he could become a major weapon defensively at the next level.
Jones has all the physical tools you look for in a future NBA wing player, but needs to improve his overall offensive skill set and feel for the game significantly before he can be asked to make any kind of impact for a NBA team. With his athleticism, ability to finish at the rim and defensive potential, a NBA team could certainly take a chance on him in the second round and try to develop him into a future asset. If not, Jones could spend some time in the D-League to increase his polish before attempting to latch on to a team down the road.
Either way, Jones is a player NBA scouts will be keeping close tabs on down the road, as at only 19 years old he has huge upside, and still has an incredible amount of room to grow as a basketball player. If he can find a good development situation where he can, at the very least, become a capable spot-up shooter, and a more attentive and fundamentally sound defender, there is no question that he could find a role in today's NBA.