Derek Bodner
Despite a rough end to the season that saw the Iowa Hawkeyes lose 7 of their final 8 games, the Hawkeyes ended their season with a 20-13 record and their first NCAA tournament berth since 2006, capping off a strong 4 year career for Devyn Marble and a drastic turnaround since him and head coach Fran McCaffery arrived together in Iowa City four years ago.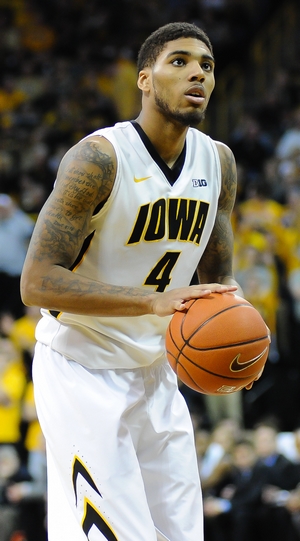 Individually, Marble continued his growth as a player, growing from a role player when he arrived as a freshman to the focal point of the Hawkeye offense, as he averaged a career best 21.1 points per 40 minutes, pace adjusted.
Jump shots continue to represent a high portion of Marble's offense, as he now attempts 5.6 three point attempts per 40 minutes pace adjusted, which accounts for over a third of his overall field goal attempts. The results are somewhat inconsistent, as he hit on 35% of his 3-pointers and 33.2% of his overall jump shots, placing him right around the middle of the pack among wing prospects in both areas.
The form on his jump shot is a little bit of a mixed bag. He sports a fairly compact motion and a high release point, but that flare in his elbow we mentioned during our last write-up is still present, which could impact the repeatability of the release and may in part be somewhat to blame for his inconsistent results.
One area of Marble's game that he appears to be significantly more comfortable in than in years past is his ability to shoot coming off of a screen. It's a wrinkle to his game that he really began to add during his junior season, but his comfort level, footwork and balance were much improved this past year, which helped improve his efficiency in these situations from 0.619 points per possession during his junior season to 0.966 points per possession this past season. Marble moves well without the ball, cutting hard off of screens and using that to get the space needed to get a clean look at the hoop. He was fairly consistent with his feet set in general this season (39% catch and shoot), but struggled in other facets when asked to do more than that.
Shooting off the dribble becomes a little bit more of an adventure for Marble, as he shot just 25% in these situations this past year, and his 0.55 points per possession is a very inefficient mark for a wing player. That being said, a big part of this may not be to overall talent level or skill, but due to a combination of the role he is asked to play along with his own propensity to settle for a less than efficient shot, as many of these are tough, contested step back jump shots with a hand in his face. While his willingness to settle for a difficult perimeter shot is of concern, part of this will be cleared up when he moves to the next level and isn't asked to create as much offense for either himself or his teammates.
While Marble does not have a devastating first step, the attention he receives both curling off screens as well as when used as a standstill jump shooter present frequent driving opportunities, and Marble combines his smooth, rangy strides with a comfort level driving with either hand to get into the lane a fair amount. When Marble is able to get into the paint, he is not an explosive leaper or finisher once there, and while he looks like he may have improved his upper body strength somewhat, he still has a long ways to go before it is no longer a concern. Both of these physical deficiencies limit his effectiveness in the paint, but he has done a good job over the years of improving his touch and versatility down low to help overcome this, including an increasing reliance on a running floater.
Marble's ball-handling and decision making have always been one of the more intriguing aspects of his game, and that still holds true. Marble once again posted solid numbers with, 4.5 assists per 40 minutes pace adjusted while also cutting his turnovers down to only 2.2 turnovers per 40 minutes pace adjusted, yielding a 2.09 pure passer rating that would be competitive as a point guard prospect, much less a guy who will play almost exclusively on the wing. While Marble is unlikely to initiate the offense nearly as much at the next level as he did at Iowa, having someone who is comfortable handling the basketball and capable of making quick, solid decisions is always a welcome added benefit.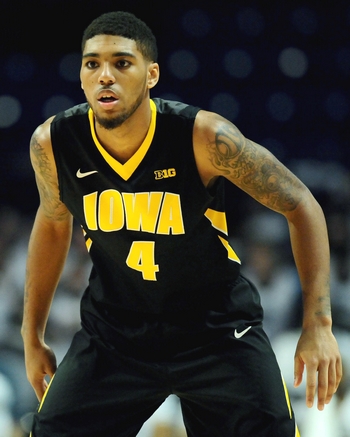 While the defensive side of the ball is still a bit of a mixed bag, Marble appears to have made some strides on this side of the court as well. He does a much better job of anticipating and fighting through picks now than he did earlier in his career, while also making better decisions on when he can get away with going under the pick. His solid length comes into play on this side of the ball, as he uses his long arms to help deny dribble penetration, while also forcing 2.3 steals per 40 minutes pace adjusted, which ranked in the top 10 of our top-100 prospects. While he can still occasionally find himself too upright when denying dribble penetration, and he can also still sometimes sag off of his man too much off the ball, Marble makes use of his tools more consistently on this side of the court than he did earlier in his career, and should be able to continue to improve in this area as he gets stronger and gains experience.
With his four years at Iowa finished, Devyn Marble finds himself in an interesting spot as a prospect. There's no denying that Marble consistently and appreciably improved through his collegiate career, and his improvement was a big reason that Iowa was able to climb that mountain after a long rebuilding period. He also showed some progress as a shooter, as a defender, and in becoming a more aggressive player, all key areas he needed to develop in. Yet it's also uncertain whether he fully quelled concerns in any one of these areas, certainly not to the point that he can be counted on in a NBA game immediately.
With that said, Marble is one of the younger seniors in this draft, not turning 22 until September, and there is a very high demand for players who can shoot both from a standstill and coming off of a screen, use their length defensively, and make sound decisions with the ball. How far one rates Marbles' improvement in these areas, and how much one believes Marble still has left to improve may lead to some disparity in how he is rated across the league. That being said, his size, versatility and consistent improvement over the course of his career has placed him firmly on the NBA radar, and it would be very surprising if he didn't start his career on a NBA roster and given an opportunity to show he has what it takes to carve out a niche.