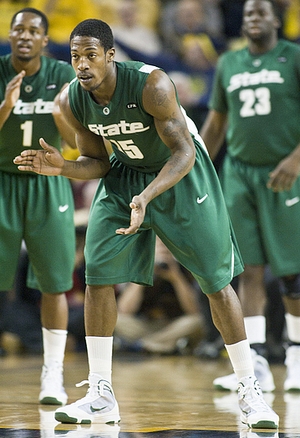 Joseph Treutlein
Steadily improving his production each of his four years in college,
Durrell Summers
is almost through his senior season, yet still boasts a very modest statline even at 29.5 minutes per game. A player who's seemed to be on the verge of breaking out many times throughout his career, Summers is still mostly the same player he was a few years ago from a skills perspective.
Having a solid season about on par with what he did as a junior, inconsistency remains the name of the game for
Durrell Summers
, who's had some very dramatic turns over the course of the past few months. Having a great streak early in the season where he scored double figures in twelve straight games, he's done a 180 degree turnaround of late, failing to reach double figures in six straight games, including a zero point showing in a loss to Ohio State.
A player with a highly defined role on the offensive end, that being spot-up perimeter shooting, Summers is prone to falling off the map when his shot isn't falling, as he just doesn't contribute much consistently in any other areas on this end of the floor. According to Synergy Sports Technology, an amazing 186 of Summers' 234 (79.4%) half-court shot attempts were of the jump shot variety, with him taking just 48 around the basket. Further hurting his anemic inside game is the fact that his two-point field goal percentage has plummeted to a four-year low of just 40.2% this season, and is getting to the free throw line at a career-low rate of 3.2 times per-40 minutes pace-adjusted.
Looking at Summers' jump shooting, he's a very capable shooter who does a great job moving off the ball, coming around screens, and being in good stance for a quick catch-and-shoot when the ball comes his way. He has a high and quick release along with solid overall mechanics, though a slight tendency to jump into his shot makes it tough to get off good contested looks at times.
Shooting 37% from behind the arc on 5.4 attempts per game (and posting similar efficiency numbers most of his career), Summers is a very good college shooter, but for a player who's offensive game begins and ends with his jump shot, there are questions about if he's good enough to get by in the NBA. Many notable college gunners get to make a role adjustment heading to the NBA, shifting to more catch-and-shoot and less off-the-dribble shots, but Summers already fills that role, with 151 of his 186 jumpers coming of the lower difficulty variety. Not having that projected uptick to fall back on combined with the deeper NBA three-point range will make it tough for Summers to maintain his efficiency at a good but not great 37%.
Looking at the rest of Summers' scoring game, he actually has some good tools at his disposal, namely his bouncy elevation around the basket and outstanding length, but his woefully underdeveloped ball-handling and tendency to shy from contact don't highlight those traits very well. Projecting to the next level, Summers at least will need to develop a more competent off-ball cutting game, as he has the potential to be a dynamic slasher and offensive rebounder using his tools to get to the basket within a team's offense. He also will need to show better shot-making ability around the rim, as he currently is usually intent to just throw the ball in the direction of the basket rather than focusing on getting up a good look.
Defensively is where Summers will really need to make his living if he makes it in the NBA, as he great tools for a shooting guard with his lateral quickness, length, and ability to change directions fluidly, while having the fundamentals and effort level to go along with it. He shows a good stance off the ball and does a great job using his length to pester the opposition on the ball, being a tough match up in isolations. He's prone to being taken off the dribble against explosive first steps but is excellent when he gets in stride with his man, using his length to block and contest shots in the lane well. He also shows fluid hips and sticks with quick changes of direction very well.
Looking forward, Summers will have an uphill battle to make it in the league if he continues to play the way he has recently. Another strong performance in March as he had last season could definitely help himself and potentially sway teams making late decisions. The expected relative weakness of this draft class should help him get into consideration more easily, and his shooting, physical tools, and defensive ability gives him a chance of making it as a role player. Going into a situation where he can stick to his strengths in a running, open system with an emphasis on open jumpers would be best for him, and may be critical to his chances.