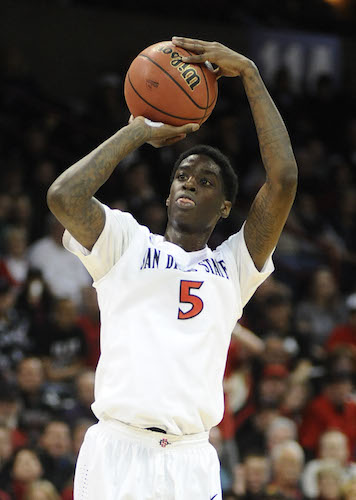 Kyle Nelson
Dwayne Polee
logged a solid freshman season at St. John's before
transferring to San Diego State
. After sitting for a out a year, Polee appeared to take a step back during his sophomore season, playing just nine minutes per game and never really establishing a role in San Diego State's offense. As a junior, Polee struggled with inconsistency for most of the regular season, but emerged as a key player in San Diego State's run to the Sweet 16. His work off of the bench earned him 6th Man of the Year honors in the Mountain West Conference and has contributed to the opinion that he is the
key
to Aztecs's chances of replicating their postseason success in 2014-2015. With loads of potential, but inconsistent results thus far, just how good is
Dwayne Polee
II and can he take the next step forward as a senior?
Polee certainly looks the part of an NBA small forward prospect, standing 6'7 with a 7'0 wingspan and a high center of gravity. He is also an elite athlete, both quick in transition and extremely explosive around the basket. He has the agility and second bounce that allow him to make plays all over the floor, and plays with an energy that maximizes his athleticism at this level. That being said and though he has ideal physical profile for either wing position, he will need to add some weight to his rail thin 195-pound frame.
For as intriguing as Polee is in terms of his physical profile, he struggled to consistently translate these advantages into consistent production. Yet, he ultimately finished the season averaging 18.8 points per 40 minutes pace adjusted and, though he spent his junior season coming off of the bench, he injected San Diego State's offense with perimeter shooting and dynamic finishes around the basket. In general, Polee improved in almost every statistical category while posting career marks in shooting efficiency and seeing three times as many possessions as he did during his sophomore season.
65% of his overall field goal attempts were jump shots and he made a respectable 37.9% of these looks. He was particularly effective in a catch-and-shoot capacity where he shot 40.3% and showed consistent NBA range. His shooting mechanics looked good, as well, and Polee shows a fluid shooting motion, a textbook release and high release point, and solid elevation. Additionally Polee had little trouble shooting with a man in his face, a function of his length and athleticism, and should be able to get his shot off at the next level in a variety of situations. That being said, he may want to address his dual tendencies to jump stop into his shooting motion and fall away from the basket, both of which are particularly problematic when he is wide open. At the end of the day, however, he made significant strides as a junior and his 45.7% 3FG over his last 10 games hint at his potential to continue to improve in this area.
Unfortunately, he is neither a very good nor comfortable shooter off of the dribble, which limits his ability to score from mid-range and points to probably his most significant weakness at this stage in his career. Polee's ball handling ability in general leaves much to be desired, as he tends to dribble the ball above his waist and lacks any sort of advanced moves. As a result, when he puts the ball on the floor, he tends to either turn the ball over or take a straight line drive at the basket, which disintegrate relative to how many defenders are in his vicinity. He simply cannot create and, at 22 years old, it remains to be seen just much he can continue to grow as an offensive player.
Most concerning, however, is the fact that Polee is a remarkably below average finisher around the basket and his shooting touch here is extremely suspect. He converted on just 47.7% of his attempts in this capacity, a number that is even less impressive when you remove his highlight reel dunks from consideration. Polee plays with outstanding energy, but playing with more control would probably go a long way in becoming a more efficient scorer.
For as limited as he is on the offensive end of the floor, Polee has the makings of an outstanding defensive player even if he has only scratched the surface of his potential. He has elite lateral quickness, agility and explosiveness and can face guard most players at either wing positions with little trouble. Additionally, his 2.4 steals and 1.4 blocks per 40 minutes pace adjusted are a testament to how his size and length, coupled with his energy, can disrupt play all over the floor. With an eye toward the NBA, he also defends the pick and roll well, particularly given how he scoots over screens and trails his man to the basket when he is beaten. The issue overall is that his awareness seems average: he bites on too many pump fakes, is very foul prone, finds himself out of position, and struggles to close out on shooters, among other issues. His strength will also do him few favors on the defensive end at the next level.
As he is a year older than most in his class, the question remains whether
Dwayne Polee
II can actually achieve the potential that he has displayed thus far in his career. Though he possesses the ideal physical profile for an NBA wing, his overall game lags behind in ways that may ultimately hinder his chances of getting there. While his perimeter shooting and defensive ability will undoubtedly keep him in the draft conversation as the season progresses, scouts will be looking for him to embrace a larger role in San Diego State's offense as a senior. Last March, Polee averaged 12 points per game while shooting 46.9% 3FG in a stretch that included San Diego State's run to the Sweet 16; one month prior he averaged 4.4 points per game while shooting 39.1% from inside of the arc and 22.2 from beyond. If
Dwayne Polee
II plays like the former player as a senior, then he will undoubtedly get serious looks from scouts as the season progresses.