Dwight Powell
Recent Tweets
All Tweets
DraftExpress: Top NBA Draft Prospects in the Pac-12 #3-5 http://t.co/1zwn79iHqp - Dwight Powell Kaleb Tarczewski C.J. Wilcox
2013-10-04 01:20:35
DraftExpress: RT @JeffEisenberg Not a huge surprise but Stanford announces Dwight Powell will be back next season. Should be one of Pac-12's best pl ...
2013-03-15 19:02:31
DraftExpress: Not a huge surprise but Stanford announces Dwight Powell will be back next season. Should be one of Pac-12's best players in 2013-14.
2013-03-15 18:40:43
DraftExpress: Bit soft but talented. Has upside. RT @BelgianYouthBB Thoughts on Dwight Powell? Improved a lot but I still feel he can be so much better
2012-12-19 18:38:13
DraftExpress: NIT Tip-off at MSG. Stanford up 46-35 on OK State at half. LeBryan Nash & Dwight Powell struggling. Josh Owens 17 pts, trying to get drafted
2011-11-23 07:53:30
Team: Stanford, Senior
Physicals
Positions
Rankings
Misc
H: 6' 10"
W: 212 lbs
Bday: 07/20/1991
(22 Years Old)

Current: PF
NBA: PF
Possible: PF

Pick: 39 in 2014 Mock Draft
Rank 8 in NCAA Seniors
Rank 43 in Top 100 Prospects
RSCI: 34

High School: IMG Academy
Hometown: Toronto, ON

Predraft Measurements
| Year | Source | Height w/o Shoes | Height w/shoes | Weight | Wingspan | Standing Reach | Body Fat | No Step Vert | Max Vert |
| --- | --- | --- | --- | --- | --- | --- | --- | --- | --- |
| 2009 | LeBron James Camp | NA | 6' 10" | 212 | 7' 0" | NA | NA | NA | NA |
| 2009 | Amare Stoudemire Camp | NA | 6' 10" | 212 | 7' 0" | NA | NA | NA | NA |



Basic Per Game Statistics

- Comprehensive Stats - Statistical Top 25s
| Year | League | Name | GP | Min | Pts | FG | FGA | FG% | 2Pt | 2PtA | 2P% | 3Pt | 3PtA | 3P% | FTM | FTA | FT% | Off | Def | TOT | Asts | Stls | Blks | TOs | PFs |
| --- | --- | --- | --- | --- | --- | --- | --- | --- | --- | --- | --- | --- | --- | --- | --- | --- | --- | --- | --- | --- | --- | --- | --- | --- | --- |
| 2013/14 | NCAA | Dwight Powell | 36 | 32.4 | 14.0 | 4.9 | 10.5 | 46.2 | 4.6 | 9.4 | 48.5 | 0.3 | 1.1 | 25.6 | 4.0 | 5.9 | 68.7 | 1.9 | 4.9 | 6.9 | 3.1 | 1.3 | 0.8 | 2.9 | 3.1 |

Player Page&nbsp&nbsp| Player Stats | Mock Draft History | Related Articles&nbsp&nbsp| Add to My Draft Express&nbsp
&nbsp
Trending Prospects: Dwight Powell
February 19, 2013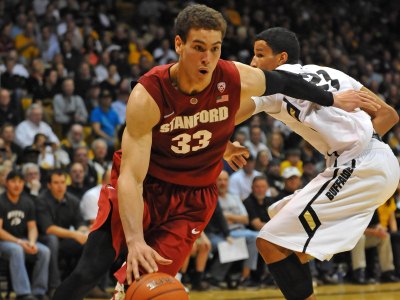 US Presswire



Kyle Nelson

While Dwight Powell entered Stanford as a consensus top-50 high school recruit, it took him until his junior season until he started to play like one. After struggling with prolonged bouts of inconsistency during his freshman and sophomore seasons, he has seemingly turned a corner. Now, averaging 15.8 points and 8.3 rebounds per game, Powell has battled through adversity to emerge as a top option for the Stanford Cardinal, a team that badly needs both his production and leadership.

Standing 6'10 with a wiry 235-pound frame and a 7'0 wingspan, Powell has excellent size for the power forward position. While he must continue to get stronger, Powell has done a good job of adding muscle to his frame without detracting from his intriguing athletic profile. While not the most explosive athlete, Powell is incredibly smooth, quick for his size, and very mobile overall. Ultimately, while Powell is likely another 20-pounds away his optimal playing size, he has the physical tools to excel as a power forward in the NBA.

His skill set certainly helps his cause as well, as perhaps the most impressive aspect of his increased productivity – he averages 19.4 points per 40 minutes pace adjusted, up from 12.7 as a junior – is his diverse skill set. Though nearly 65% of his scoring comes around the basket another 30% comes from jump shots from all over the floor. Furthermore, according to Synergy, Powell finds 22.4% of his offense in post-ups, 17.2% in isolation sets, 15% off of spot-up jump shots, and 10.8 off of cuts.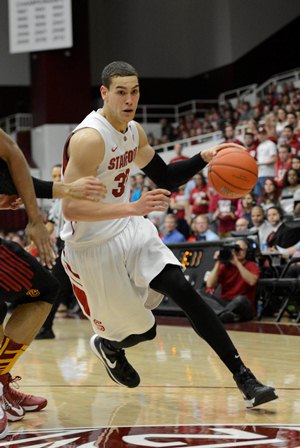 US Presswire



Entering his junior season, Powell had built up a reputation for playing soft in the post. On film, it is clear that he lacks the ideal strength, particularly in his core and lower body, to both hold his position on the block and to finish through contact. Many of his 3.1 turnovers per 40 minutes pace-adjusted come from simply losing control of the ball in the post. Furthermore, he is not a particularly efficient scorer inside, converting just 42.6% of his attempts out of post-ups and shooting a career low 47.5% from inside of the arc, which ranks him in the bottom of half of our top-100 prospects. He has, however, developed a solid right-handed jump hook and functional footwork pivoting on the block. The question remains whether he'll be able to score inside at the next level, especially given his struggles against PAC-12 competition.

He is at his best, however, away from the basket, operating in either spot-up or face-up capacities from the mid-range to the perimeter. By the numbers, Powell is not a particularly efficient jump shooter, making 32.1% of his 81 attempts, which are divided evenly between shots around the basket, from mid-range, and from beyond the arc. He is, by far, most effective shooting the ball from deep, where he makes 46.2% of his 1.4 attempts per 40 minutes pace adjusted while showing solid mechanics, complete with a quick release and a high release point. In addition to being a competent spot-up shooter, he has also shown the ability to occasionally get his shot off of the dribble from mid-range.

Powell's biggest strength is also his weakness, however, as his tendency to fall in love with his jump shot often results in him floating around the perimeter rather than banging in the post or attacking off the bounce. Unlike many spot-up shooting big men, the junior consistently flashes the ability to take his man off of the dribble, usually with a simple fake-and-go or rip through move. Able to put the ball on the floor and attack with either hand while showing excellent body control when finishing in the paint, Powell's quickness and functional ball-handling put a lot of pressure on opposing defenses.

On the defensive end, Powell's physical profile is intriguing even if the results are mixed. Though he displays good lateral quickness for his size, he does not seem to be the most focused or physical defender, which tends to limit his effectiveness staying in front of his man on the perimeter. Combined with his lack of bulk, his average awareness negatively affects his ability to guard bigger players in the post.

On the plus side, he looks far more patient and less foul prone as a junior, even if he still commits 4.0 fouls per 40 minutes pace adjusted. Additionally, his physical gifts allow him to contribute statistically in a variety of ways, to the tune of 1.0 steals and 1.4 blocks per 40 minutes pace adjusted.

On the whole, if Powell is going to reach his potential on the defensive end of the floor, he'll need to improve his intensity and toughness. He has all the tools to hold his own on this end of the floor, but he does not consistently make the most of his size and athleticism when defending one-on-one or crashing the glass.

In sum, while Powell has shown a significant amount of improvement thus far in his junior season, he still has a long way to go before realizing his potential. Compounding these question marks is the fact that he is a year older than the rest of his class. To this end, scouts wonder how much he can still improve from both a physical and a skill-level standpoint. Ultimately, however, Powell presents an intriguing combination of a legitimate face-up game with NBA caliber size and athleticism, which will keep scouts interested even if he does not significantly improve much further. A potential early-entry candidate for the 2013 draft, Powell is a player to keep an eye on moving forward.

[Read Full Article]

---
Top NBA Draft Prospects in the Pac-12, Part One (#1-5)
October 5, 2011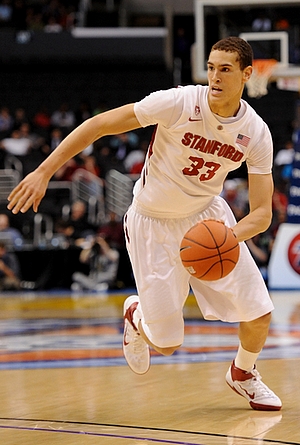 Icon SMI



Jonathan Givony

Arguably the most important recruit in head coach Johnny Dawkins' tenure at Stanford thus far, Dwight Powell came into college with huge expectations of turning around a program that has stagnated somewhat in recent years.

A little old for a sophomore (he turned 20 in July), Powell started playing basketball later than most, picking up the sport in Canada when he was 14 years old.

A mobile big man with a nice frame that is still a ways away from filling out, Powell shows good quickness and fluidity for his position to go along with solid size and length.

Besides his athleticism, Powell shows an intriguing skill-level as well as a good feel for the game. He was not the focal point of Stanford's offense, but was able to show flashes of talent in a variety of different areas and has a nice upside to grow into as his frame fills out.

Where Powell looks most comfortable right now is on the perimeter. He can put the ball on the floor nicely, utilizing shot fakes and beating his man off dribble impressively with a good first step and notable ball-handling skills, even if he can't always finish what he creates around the basket due to his lack of strength. He got to the free throw line at a decent rate last season, and converted a solid 68% of his attempts once there.

About 1/3rd of Powell's field goal attempts came on jumpers, but he was very inconsistent in this area, converting on just 26% of those shots, including 7-25 from beyond the 3-point line. Powell shows very nice shooting mechanics and should be able to develop into a capable floor-spacer in time, but he certainly wasn't a dangerous threat last year. This upcoming season should give us a better sense of Powell's potential in this area, something that will play a big part of his pro evaluation eventually.

Inside the post, Powell doesn't have much of a post game to speak of at the moment, as he just does not possess the lower body strength needed to establish deep enough position to get high percentage shots off. His hands, footwork and touch all show great potential, but he'll need to become a little tougher and scrappier to take advantage of his size closer to the rim. At the moment, he much prefers to sag out onto the perimeter.

Defensively is where Powell might be the furthest from being able to see serious playing time in the NBA right now. He struggled badly trying to keep opponents out of the paint as a freshman, getting backed down and pushed around at will, and not showing great toughness fighting back. Foul trouble hampered him in many of Stanford's contests, as he committed four or more fouls in 13 of their 31 games last season.

He was similarly ineffective out on the perimeter, as his fundamentals and awareness are just average, which is something he'll have to work on down the road. He's very mobile for a player his size, but lacks significant experience.

Powell didn't contribute much as either a rebounder or shot-blocker either—something he should be able to do more of in the future considering his physical tools.

All in all, Powell's freshman year was definitely a learning process, as the transition from high school to college was not a seamless process, even if he did show some intriguing flashes from time to time.

Nevertheless, he shows very good potential to continue to improve down the road, as he possesses a rare combination of size, fluidity, skills and feel for the game—albeit in a pretty raw package at the moment.

How his body fills out as he continues to mature physically will likely dictate the type of strides he's able to make over the next year or two. It may take some time as we've seen in the past from players in his mold, but the end result could be very much worth waiting for.

[Read Full Article]

---
Adidas Nations Tournament: Rest of the World
August 26, 2009
Slowly moving his way up the recruiting rankings, Dwight Powell (#67 Scout, #23 Rivals, #37 ESPN) had another solid showing here at the Adidas Nations camp, competing with the Canadian team, to wrap up a pretty successful summer.

Powell has good size for either frontcourt position, at 6-10 with a good frame that should put on weight in time, but is very underdeveloped at the moment. He runs the floor well and overall is a pretty mobile big man, fluid, although not terribly explosive, and probably a little fatigued by the end of this event.

Powell's main asset is likely his excellent basketball IQ, which shows up in almost everything he does. He understands how to operate in the half-court, and is a very unselfish passer who has no problem facing up from the high post, where he can also make mid-range jumpers with decent accuracy, or put the ball on the floor in a straight line. His footwork is fairly raw inside, and he doesn't have the strength to really do much down in the paint, but he is capable of finishing with either hand and shows nice touch around the basket. Powell isn't the toughest guy you'll find, and this shows up primarily on the defensive end, where he can get pushed around.

Powell recently trimmed his list down to Georgia Tech, Stanford and Harvard, which should tell you quite a bit about where his priorities lie (it appears that Stanford are in the lead right now). He's a guy that will need to spend a few years in college adding strength and improving his all-around game, but is clearly someone to keep an eye on down the road.

[Read Full Article]

---