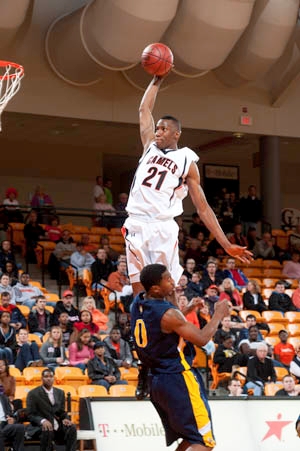 Matt Williams
A relative unknown coming into this season after a solid, but unspectacular junior campaign for the Campbell Camels in the Big South,
Eric Griffin
garnered some internet buzz thanks to this viral video of his dunks against North Carolina A&T:
#21 Eric Griffin, Campbell Camels
While his play above the rim brought him some initial interest, Griffin has earned the attention of NBA scouts through the extremely productive season he's having thus far. Clearly he is more than just a YouTube sensation, posting gaudy efficiency numbers and ranking as one of the more interesting mid-major prospects in the nation.
It is not entirely surprising that Griffin didn't emerge on the draft radar earlier in his career, considering his level of experience. Failing to make his Orlando high school team until his senior year, Griffin is a classic late bloomer who spent two seasons at the junior college level before arriving at Campbell in the fall of 2010, making this just his fifth year of organized basketball.
A long, lanky four man, Griffin bares a striking resemblance to 2010 draftee and current Jazz power forward
Jeremy Evans
from a physical standpoint. He has decent height for his position, but plays bigger thanks to his exceptional wingspan and the quickness in which he gets off his feet. An explosive leaper who runs the floor like a guard, Griffin is simply an outstanding athlete. He'll need to add considerable bulk to his extremely lanky frame if he's to hold his own against opposing big men at the professional level, though, which may be his biggest question mark moving forward.
Though Griffin's athleticism certainly piques the interest of scouts at first glance, his efficiency on the offensive end this season has been perhaps just as impressive. Spending a significant amount of time spotting up on the perimeter as a junior, Griffin has done the majority of his work in the paint as a senior. Establishing a low base and managing to get solid position on the block against stronger opponents, Griffin's teammates do a terrific job finding him in the post. Showing a strong work ethic and presenting a big target thanks to his long wingspan, Griffin does a nice job putting himself in scoring position against the lower level competition he faces.
When Griffin receives the ball on the block, he shows a basic, but promising post-game that includes a baby hook, turnaround jump, and even an occasional counter move or face-up drive. After connecting on 40% of his post-up field goal attempts as a junior, Griffin is finishing nearly 55% of his back to the basket shots so far this season according to Synergy Sports Technology.
Showing improved decisiveness and touch, Griffin can score over smaller defenders and use his quickness against stronger ones. His efficiency wavers at times when he doesn't make a quick move and is walled off by a bigger defender, and he remains fairly unpolished in terms of what moves he's using to score.
Away from the post, Griffin shows the same raw versatility that helps him impact the game offensively in the paint. Whether he's putting the ball on the floor and beating his man to the rim in an isolation situation, pushing the ball up the floor on the fast-break himself, or knocking down a jump shot after putting his defender on his heels with a jab, Griffin has some intriguing raw tools to work with on the perimeter.
His 65% shooting from the foul line and 6-17 shooting from beyond the arc are indicative of his jump shooting inconsistency at this point, but he has a high release point and seems to have some potential in this area considering how comfortable he looks knocking down shots in rhythm from time to time.
As a ball-handler, Griffin is not terribly polished, but shows a quick first step and can use his dribble to get to the basket when he is working out on the perimeter. He's still learning how to use his speed in half-court situations to slash to the rim, but his comfort level putting the ball on the deck has come a long way since his junior season, even if it is still only starting to develop.
Griffin has room for growth in a number of areas and could develop into a number of roles, but is a long ways away from being consistent in any one area at this point. His best tool as a NBA prospect right now is his ability to finish at the rim. Converting 80% of his shots around the basket according to Synergy, Griffin's explosive leaping ability makes him a threat to dunk over defenders in highlight reel fashion when he receives the ball cutting to the rim, running the floor in transition, or pulling down an offensive board. Though Griffin is only an above average rebounder on the offensive end, his explosiveness and ability to use fakes make him a tremendously efficient scorer in the paint at the level of competition he plays at.
Defensively, Griffin's main value is as a shot blocker. He's quick to rotate from the weakside and uses his explosiveness and length to deny would-be scorers emphatically. His lack of strength limits him to some degree on the NCAA level in the post and as a rebounder, and though he has the quickness to hedge the pick and roll as a pro and is a difficult matchup for face-up fours or big men who step away from the rim, his ability to pack weight on his frame will dictate his ability to capably defend the block one-on-one at the next level –a crucial sticking point in his development as a prospect.
As with all small school prospects, Griffin's level of competition will be criticized, and although he has produced at identical levels against the three BCS teams Campbell has played, he'll still have some questions to answer down the road regard his role at the next level, the position he'll be able to defend, and his ability to transition to playing top-flight competition on a nightly basis.
Despite all that, there is no questioning the upside Griffin possesses as a pro prospect with his physical attributes and budding skills, and as the season progresses, it is worth watching how far he can propel the Camels.
Considering the point he's at in his development, it would not be at all surprising to see Griffin convince a NBA team to take a flier on his potential at some point, be it this June or later in his career.
In the meantime, if he can help his team reach the NCAA Tournament for the second time in school history, and alleviate concerns about his frame in NBA workouts and the Portsmouth Invitational Tournament, he could help his cause considerably.