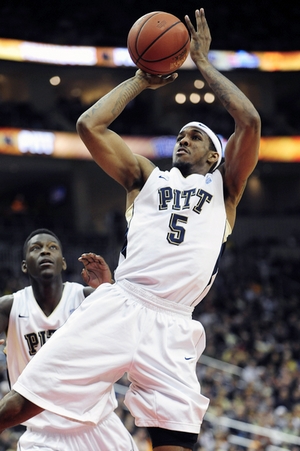 Kyle Nelson
Gilbert Brown
emerged as a legitimate NBA prospect after a solid junior season and he has continued to play a vital role for Pittsburgh Panthers as a senior.
At 6'6 with a long, 200-pound frame, Brown looks the part of an NBA player. He is a good athlete, as well, both explosive around the basket and quick in the open floor.
While Brown was never a particularly productive player to begin with, his scoring rate and shooting percentages have both decreased during his senior season as his minutes have risen, to the tune of 16.7 points per 40 minutes pace adjusted on 44.6% FG.
Brown plays a complimentary role on one of the
most efficient offenses
in college basketball, where over one-third of his offensive possessions are created for him in the form of spot-up opportunities. He has shown marked improvement as a shooter, shooting a a career-high 40.2% from beyond the arc on nearly five attempts per 40 minutes pace adjusted. His mechanics remain awkward and he is still most effective shooting with his feet set, but he has improved consistently throughout his collegiate career and he definitely has potential to play a role with his spot-up perimeter shooting ability at the next level.
Brown has not developed his shot-creating ability very much this season, something he likely won't be expected to do much of in the NBA. He's getting to the free throw line a bit less this season, and is not very efficient operating inside the arc. Just an average ball-handler at best, he tends to settle for mid-range jumpers in lieu of attacking the rim, which has caused his 2-point conversion rate to drop from 54% to 49% this season.
Though he is limited as a scorer at the collegiate level, Brown compensates by displaying excellent intangibles on the offensive end. He is a willing passer and teammate, exemplified by his career-high 1.60-assist/turnover ratio. Furthermore, he knows his limitations as a player and he rarely forces anything on the offensive end.
He is equally steady on defense, confirming his reputation as one of the most effective and versatile defenders at the collegiate level. He is a very good one-on-one defender and his quick hands, length, and excellent lateral quickness allow him to stay in front all but the quickest collegiate guards. With his ideal physical tools, toughness and college pedigree, there is no doubt that he has the potential to develop into an elite defender a the next level.
Though he will be 24-years-old by the start of the NBA season and there are question marks regarding whether he can consistently make NBA three-pointers with his awkward mechanics, Brown remains an intriguing prospect whose niche as a pro is already well-established. His intangibles and defensive abilities will certainly translate to the next level and, if he can continue to distinguish himself as a reliable spot-up shooter during the NCAA Tournament and Pre-Draft process, then there is a good possibility that he will find himself on a NBA team.