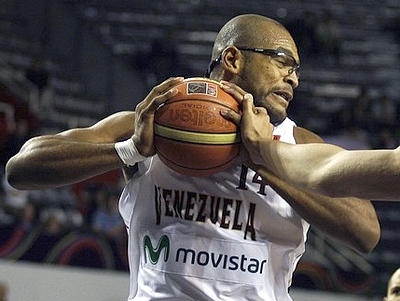 Matt Williams
Last time we checked in on
Greg Echenique
nearly four years ago, he and
Samardo Samuels
had joined forces to form one of the most dominant prep frontcourts in the country. Since then, Echenique finished his senior year
ranked in the RSCI top-100
, spent one and a half seasons at Rutgers, missed significant action because of surgery resulting from a detached retina, transferred out of the Big East to Creighton, and competed for the Venezuelan National Team at
the FIBA Americas Championship
. Starting his junior season, Echenique is one of the more imposing big men in mid-major basketball and one of the top NBA prospects in the Missouri Valley conference.
Standing 6'8 with a powerfully built frame, Echenique remains the same extremely physical interior presence we described in our last report, only now he's imposing his will on college big men. He doesn't have a big wingspan, which, at 6'8, renders him undersized from a NBA perspective, but the St. Benedict's product has re-shaped his 265-pound frame in recent years, looking significantly more trim that he did as a freshman and appearing a bit more explosive because of it.
Despite his perceived weight loss, Echenique is as strong as ever. He may not be the quickest or most explosive big man, and certainly isn't going to beat anyone up the floor in transition, but he can carve out position in the post, keep defenders on his back, and finish plays at the rim with dunks when he can gather himself.
It is Echenique's ability to create space for himself in the paint that makes him an effective player as one of his team's secondary options offensively. Able to establish deep position in the post and back his matchup down, Echenique creates and converts a fair amount of easy scoring opportunities for himself by virtue of his powerful lower body and fairly soft touch at the rim. According to Synergy Sports Technology, he connects on nearly 59% of his post-up shot attempts, which ranks among the top marks in the entire country. Though he isn't quite as effective when he is forced to operate from the mid-post and is not going to simply out-jump anyone, Echenique is a rugged back to the basket threat who typically relies on his ability to keep his man on his hip, shoot baby hooks with either hand, or utilize an occasional counter move to score.
Though Echenique's physical assertiveness is a big reason that he's effective when he can get a shot up on the block one-on-one, it also renders him fairly turnover prone. Making moves right in the teeth of the defense, Echenique gets tied up on occasion, gets stripped when he brings the ball down for even just a moment, and gets called for a charge every now and again. Moving forward, it will be important for him to do a better job dealing with double teams and be a bit more discerning when making his initial move off the catch.
Apart from his post scoring ability, virtually all of the center's other touches come in finishing situations, where Echenique appears to be at his best at this juncture. Attacking the rim immediately regardless of whether he's getting the ball while cutting to the rim or crashing the offensive glass, the junior looks to dunk the ball in traffic when he sees a crease or initiate contact as a finisher. Converting 65% of his attempts at the rim and
getting to the line almost as frequently as any player in our database per-field goal attempt
, Echenique's efficiency in catch-and-finish situations at the NCAA level is simply outstanding.
A terrific area rebounder and overall very active big man, Echenique is fairly limited on the offensive end away from the basket, essentially functioning as a pure center at the college level. He proves to be a half-way decent free throw shooter, converting his trips to the line at a solid 70% clip, but attempted just five total jump shots last season. His form is not terribly smooth, but appears to have some potential, and the implications of the development of his jump shot on his ability to play the power forward position long-term at the NBA level is worth keeping an eye on.
Defensively, Echenique's physical and aggressive mentality works in his favor. His lack of lateral quickness hurts him out on the perimeter and against quicker big men when they face up in the post, but he fights tirelessly for position on the block, boxes out well, and works extremely hard pursuing loose balls and contesting shots. Echenique needs to improve his fundamentals to mask his lack of speed on the perimeter, but his activity level make him a good shot blocker and overall defender in the college game despite his lack of size.
Considering that Echenique is a 6'8 center in the NCAA right now, the development of his defensive and offensive ability away from the rim will be the sticking point in what he'll bring to the table at the next level. He has the mentality scouts like to see in an undersized big man and experience playing against high-level competition on the international level. With two more full seasons of eligibility thanks to the medical redshirt he received in his final year at Rutgers, Echenique still has plenty of time to continue developing, and is a player whose prospects we'll surely visit in the future.