Iman Shumpert
Recent Tweets
All Tweets
DraftExpress: Derrick Favors Iman Shumpert Jeff Teague Jerry Bayless Arron Afflalo about to work out against the #adidasNations college counselors.
2013-08-04 22:06:00
DraftExpress: Derrick Favors Iman Shumpert Jeff Teague Jerry Bayless Arron Afflalo about to work out against the #adidas Nations college counselors.
2013-08-04 22:05:12
DraftExpress: Cross between Iman Shumpert and Joe Jackson. RT @tikelgcny: Thoughts on Kris Dunn? I'm a big Ed Cooley fan
2012-03-28 11:08:30
DraftExpress: At the I-95 Battle of Bridgeport in CT. In attendance, Tyreke Evans, Hasheem Thabeet, Nolan Smith, Iman Shumpert, Wesley Matthews (cnt'd)
2011-11-18 08:11:39
DraftExpress: Iman Shumpert going here, sources tell DX. Take that @WojYahooNBA !
2011-06-23 09:12:03
Top 25s - Full List
Team: Cavaliers
Physicals
Positions
Rankings
Salary
Misc
H: 6' 5"
W: 222 lbs
Bday: 06/26/1990
(25 Years Old)

Current: PG/SG
NBA: PG/SG
Possible: PG/SG

RSCI: 24

Agent: Happy Walters
Current Salary:$2,616,975

High School: Oak Park
Hometown: Oak Park, IL
Drafted: Pick 17 in 2011 by Knicks
Best Case: 6-5 Version Of Kyle Lowry
Worst Case: Keyon Dooling

Predraft Measurements
| Year | Source | Height w/o Shoes | Height w/shoes | Weight | Wingspan | Standing Reach | Body Fat | No Step Vert | Max Vert |
| --- | --- | --- | --- | --- | --- | --- | --- | --- | --- |
| 2011 | NBA Draft Combine | 6' 4.25" | 6' 5.5" | 222 | 6' 9.5" | 8' 3.5" | 6.5 | 36.5 | 42.0 |
| 2011 | Deron Williams Camp | NA | 6' 5" | 210 | 6' 7.5" | NA | NA | NA | NA |
| 2010 | LeBron James Camp | NA | 6' 5" | 210 | 6' 7.5" | NA | NA | NA | NA |
| 2009 | LeBron James Camp | NA | 6' 5.5" | 211 | 6' 9" | NA | NA | NA | NA |
| 2009 | Deron Williams Camp | NA | 6' 5.5" | 211 | 6' 9" | NA | NA | NA | NA |



Basic Per Game Statistics

- Comprehensive Stats - Statistical Top 25s
| Year | League | Name | GP | Min | Pts | FG | FGA | FG% | 2Pt | 2PtA | 2P% | 3Pt | 3PtA | 3P% | FTM | FTA | FT% | Off | Def | TOT | Asts | Stls | Blks | TOs | PFs |
| --- | --- | --- | --- | --- | --- | --- | --- | --- | --- | --- | --- | --- | --- | --- | --- | --- | --- | --- | --- | --- | --- | --- | --- | --- | --- |
| 2014/15 | NBA | Iman Shumpert | 24 | 26.0 | 9.3 | 3.7 | 9.0 | 40.9 | 2.7 | 6.2 | 43.6 | 1.0 | 2.8 | 34.8 | 1.0 | 1.5 | 67.6 | 0.9 | 2.5 | 3.4 | 3.3 | 1.3 | 0.1 | 1.8 | 2.8 |
| 2014/15 | NBA | Iman Shumpert | 58 | 27.8 | 7.8 | 2.8 | 7.2 | 39.0 | 1.5 | 3.4 | 44.2 | 1.3 | 3.8 | 34.5 | 0.8 | 1.2 | 71.6 | 1.0 | 3.2 | 4.2 | 1.4 | 1.3 | 0.5 | 1.1 | 2.1 |

Player Page&nbsp&nbsp| Player Stats | Mock Draft History | Related Articles&nbsp&nbsp| Add to My Draft Express&nbsp
&nbsp
Analyzing the NBA Combine Athletic Testing Results
May 27, 2011
Iman Shumpert stole the show at the combine, looking like clearly the most physically gifted player in this entire draft class. To start things off, his 36.5' standing vertical leap was the highest since Nick Young posted the top mark in our entire historical database (39.5') back in 2007.

[Read Full Article]

---
NBA Combine Interviews: Josh Selby, Nolan Smith, Shumpert, D. Morris
May 23, 2011
[Read Full Article]

---
Trending Prospects (2/17/2011)
February 17, 2011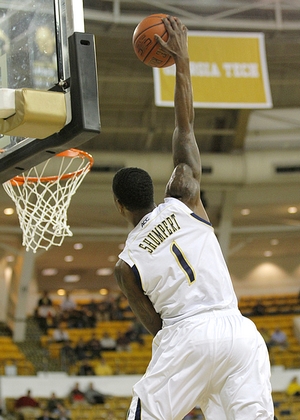 Icon SMI



Matt Kamalsky

A former McDonald's All-American, Iman Shumpert has played a prominent role in Georgia Tech's backcourt since stepping on campus as a freshman. A combo guard with a scorer's mentality, Shumpert attempted to find a balance between shooting and passing playing next to the likes of Lewis Clinch, Gani Lawal, and Derrick Favors as an underclassman. Now a junior, Shumpert has gotten the opportunity to shoulder the offensive load as the clear cut first option for Paul Hewitt's rebuilding Yellow Jackets, seeing his shot attempts per-40 minutes skyrocket from 11.3 last season to 17.3 this season. Despite reinforcing many of our conceptions about his weaknesses offensively, this has been a breakout season on a number of levels for the Illinois native.

As we've stated in past reports, the intrigue around Shumpert as a potential NBA player revolves around his exceptional physical profile for a player seeing time at the point guard position. Standing 6'4 with an extremely rangy frame, Shumpert is fluid, agile, deceptively quick, and an explosive two-foot leaper.

Though Shumpert has certainly played quite a bit of point guard throughout his career at Georgia Tech, he's spent more time off the ball recently. In his first two years in Atlanta, he struggled with his shot selection, liked to dominate the ball, and proved fairly turnover prone looking to set the table for others. Now forced to score out of necessity as a junior, Shumpert's passing numbers have declined, but he's turning the ball over far less, getting to the line quite a bit more, and has gotten more and more efficient as the season has gone on, even if his sub 40% shooting remains disconcerting.

He still has a significant amount of work ahead of him in terms of learning how to play winning basketball—as evidenced by the lackluster season is Georgia Tech is having (11-14 overall, 3-8 in ACC), but we have seen some progress individually on Shumpert's part, even if it's been mostly in a losing effort. Georgia Tech's degenerate offense has plenty to do with this obviously, but Shumpert can't escape criticism for how bad his team looks in the half-court, since he's often the main culprit.

Shumpert's desire to have the ball in his hands, his team's need for leadership, and the subtle improvements he's made offensively have regardless generated a number of extremely impressive performances from the young guard, including a 30 point outburst against UNC and a recent 27 point outing against Virginia Tech.

Still a streaky perimeter scorer, Shumpert is far too reliant on his jump shooting ability, and often looks to pull-up when he puts the ball on the floor. 68% of his shot attempts are of the jump-shot variety, but he knocks down just 28.4% of them, and gets even worse when pulling up off the dribble, making 19.5% of his pull-up attempts. While he's hitting his free throws at a very respectable rate, Shumpert's shooting still haven't caught up with his solid mechanics and remain by far his biggest weakness, especially when you look at the way he operates on the floor sometimes—usually taking the first shot available to him, regardless of whether it's a good or bad attempt.

Shumpert's most consistent contributions come in transition, where he can use his speed and first step most effectively. A solid finisher who has become more adept at drawing contact and finishing plays himself instead of forcing tough passes, Shumpert still flashes good court vision on occasion, but has a great deal of room to improve offensively on the whole.

The same can't be said for his play on the defensive end, where he has absolutely flourished this season. Combining excellent length and lateral quickness with good intensity, Shumpert is simply exceptional one-on-one, rebounds the ball at an outrageous rate for a guard, and leads our database in steals by a pretty considerable margin. Extremely active with his hands and feet, Shumpert does a great job maintaining his balance and denying penetration and has the physical tools to defend multiple positions in the NBA.

While Shumpert certainly hasn't had a stellar offensive season despite his productivity, he's made a lot of key improvements in other areas. If he lands on a team with a coach that can help him hone his shot selection, eliminate the inefficient parts of his game (mainly his stubborn insistence for settling for pull-up jumpers), and play to his strengths, the improvements he's made as a slasher, rebounder, and defender could make him a very useful player at the NBA level.

Though he projects as a roleplayer due to his lack of jump shooting ability and pure point guard play, Shumpert has the ability to compete with any guard in the country in workouts on a good day, and is a clear-cut sleeper prospect to watch should he enter the draft.

[Read Full Article]

---
Top NBA Draft Prospects in the ACC, Part Two (#6-10)
October 19, 2010
Jonathan Givony

Shumpert is the most important returning player on an underachieving Georgia Tech squad that made the NCAA tournament with a 7-9 record in the ACC. This could be the year that the former McDonald's All-American finally has his breakout season.

Shumpert looks the part of an NBA guard. He's a physical and athletic specimen, standing 6-4 with an excellent frame and an incredibly long wingspan. He's a smooth, fluid athlete for whom everything comes easily for. He shows very good quickness, a powerful first step and the explosiveness needed to play above the rim.

His offensive game lacks a great deal of polish at the moment. He's not a prolific scorer – at 12.5 points per-40 minutes, pace adjusted – and he doesn't have the efficiency to compensate. He converts just 38.5% of his field goals, rarely gets to the free throw line and struggles in particular inside the arc, where he converts a paltry 42% of his 2-point attempts.

Shumpert does an excellent job pushing the ball up the floor and getting his team out in transition, but he lacks the skill-level and the decision making ability to be overly effective once he gets into the opposing team's half of the court. He tends to settle for the first shot that becomes available to him, resulting in dozens of possessions that end with a contested pull-up jumper early in the shot clock, before any of his teammates have had the opportunity to touch the ball. He doesn't seem to know what his weaknesses are at the moment. He tends to play with the confidence of a guy who shot 58.5% from the field last season, not 38.5%.

As a shooter, Shumpert actually shows better potential than you would expect considering his conversion rates. He has nice mechanics on his jumper, particularly with his feet set, and was relatively effective last season in the rare occasion that an open shot was created for him on the perimeter.

Unfortunately, Shumpert's shot selection kills any chance of him being an efficient half-court player. Teams regularly sag off him and go underneath screens when he's running the pick-and-roll, and he tends to reward them for that by settling for awkward pull-up jumpers. Shumpert attempted nearly twice as many pull-up jumpers last season than he did with his feet set and only converted 27% of them. He seems to make just enough of them to convince himself to keep shooting, which is a big reason Georgia Tech's offense struggled so badly at times last season.

One of the things that makes Shumpert attractive as an NBA prospect is the fact that, at 6-4, he sees such heavy minutes at the point guard position for Georgia Tech. He shows flashes of excellent court vision, at times threading the needle impressively between defenders with a highlight reel-caliber bullet pass or an alley-oop lob. He can also create for others off the dribble a bit, especially in drive-and-dish situations and occasionally on the pick-and-roll.

Shumpert is clearly not a natural playmaker, though, as his team's half-court offense very often looks disjointed. 27% of his possessions end with a turnover, which ranks him in the top 10 in the NCAA on a per-possession basis in that category. That's down from his freshman season, though, when he ranked in the top five in turnovers per possession.

Shumpert makes too many unforced errors for a team to be able to trust him as their full-time distributor at the moment, trying to be overly flashy at times, suffering from mental lapses, and often being too careless and making bad decisions with ball. While clearly showing significant talent with the ball in his hands, Shumpert is going to need to learn to reel himself in eventually if he's to reach his full potential as a playmaker.

Shumpert's shot-creating ability is also in need of serious refinement, as he's currently not even close to taking advantage of his terrific physical attributes. Mostly a jump-shooter at the moment, Shumpert's ball-handling skills are fairly crude, as he drives left almost exclusively, cannot change directions with the ball, and is nowhere near as good at drawing fouls or finishing around the basket as you would expect considering his tools. He also doesn't show any semblance of a post-up game, which is a shame considering that he often towers over his opposition at the point guard spot.

Defensively is where teams are likely to be most intrigued by Shumpert's potential, as he has the physical tools to defend at least two and possibly three positions in the NBA with his excellent size and gigantic wingspan. A menace in the passing lanes, Shumpert has the footspeed and length to switch on every screen and absolutely smother opponents on the perimeter, and he had some incredibly impressive possessions last season already against some of the top offensive players in college basketball, such as Evan Turner, Greivis Vasquez, James Anderson and many others.

With that said, Shumpert is not the most fundamentally sound player you'll find, and still isn't playing up to his full potential on this end of the floor, often relaxing in his stance and swiping at the ball excessively, relying on his length to bail him out rather than working to deny his man a path to the basket. He seems to play with a bit of an aloof demeanor at times, not always putting a maximum effort in, which might explain the volatility he displayed from game to game in the ACC last season.

All in all, it's tough to ignore the physical tools and tantalizing flashes of talent that Shumpert displays on both ends of the floor. He's the type of player that could go into a private workout against lottery pick types and absolutely shock a team with his performance if they catch him on the right day.

As of right now, though, he has yet to find a way to play efficient, winning basketball on a regular basis in his first two seasons of college basketball. How much of that is a product of the team he plays for (always ultra talented, but often looking woefully disorganized) is a question that will be hotly debated when it's time for Shumpert to enter the draft, especially considering the way former Georgia Tech players have overachieved once reaching the NBA in the past.

If the light bulb ever comes on, and he learns to accept his role, Shumpert could be an exceptionally valuable player. He is still very young, not turning 21 until after the 2011 draft, so it's totally within realm of possibility that that happens at some point. What type of progress he manages to make in his junior season will be crucial for him.

[Read Full Article]

---
Top NBA Draft Prospects in the ACC Part Two (#6-10)
October 21, 2009
Scott Nadler

Georgia Tech's sophomore guard Iman Shumpert was thrown into the fire last season and called upon to shoulder much of the responsibility in the backcourt – an arduous task to say the least for a freshman on a young team. On the surface, Shumpert did a solid job and earned himself all freshman team honors in the ACC, despite the Yellow Jackets going 2-14 in the ACC and 11-18 overall. Further analyzing his production however, shows that Shumpert has good potential, but did struggle mightily and must make great improvements to solidify himself as a legitimate NBA prospect.

Even though Shumpert played the point for the majority of last season, he's naturally more of a modern day combo guard. At 6'4 and 200 pounds, Shumpert has good size and strength and has the ability to play on and off the basketball. He does have a tendency however to be a bit ball dominant – often over-dribbling the ball causing stagnant possessions. He can create his own shot in one on one situations and is also comfortable making plays for others, which shows his wide skill set. Athletically, he doesn't possess great blow by speed – lacking explosion on his drives to the basket, although he does get off the ground well once he's there and gets to the free throw line as well, shooting 4.2 free throws a game (65.6%).

To make up for his lack of speed, Shumpert has developed a nice midrange game, often getting off a decent shot in the half court by creating enough space with his dribble. He has great mechanics on his shot, but only shot 32% on his jump shots inside 17 feet, and a measly 16% on jump shots from 17 feet to inside the 3 point line according to Synergy Sports Technology. Overall, Shumpert was 19th worst amongst all players last season in field goal percentage , shooting just 39.1%. This low percentage is due in large part to his poor shot selection and lack of help on the perimeter.

His poor decision making skills as a whole, made Shumpert one of the most inefficient players in the country last season. Even with his double digit scoring average of 10.6 points a game, Shumpert scored only 0.85 points/possession which was 6th worst in our entire database . Furthermore, his ability to take care of the basketball was nothing to write home about either, as he coughed the ball up 3.7 times a game last year which accounted for 30% of his possessions, 3rd highest percentage in the nation .

On a positive note, Shumpert's high assist numbers brought his assist to turnover ratio to a very respectful 1.33. He averaged 5.7 assists per 40 pace adjusted which accounted for 40% of his possessions – impressive numbers for a freshman guard. He has very good vision and his size certainly contributes to that. In pick and roll situations, he showed the ability to make difficult passes to the roll man with either looks off the dribble or by seeing over the defense to find his target. He did force it from time to time, but it's encouraging to see his above average ability to see the floor.

On the defensive end, Shumpert's numbers don't reflect his true impact, or lack thereof, on this end of the floor. He averaged 2.1 steals a game which was good for 14th in the country , but his lack of discipline and gambling nature are the reasons for those high numbers. He's rarely in a stance and does a mediocre job at fighting through screens which could be a result of effort or conditioning. In addition, he fails to close out and contest open shots on many opportunities due to his roaming style which leaves him out of position. He does possess a long wingspan and thus should improve on this end of the court. As of now however, he has a long way to go.

Life will be a little bit easier this season for Shumpert with the addition of highly touted freshman big man Derrick Favors. Nonetheless, Shumpert will need to show that he can play under control and improve his overall efficiency. If he can do that, Paul Hewitt's squad will surely improve and have a chance to get back into the NCAA tournament.

[Read Full Article]

---
Jordan Brand Classic Scrimmage (Day Two)
April 19, 2008
Iman Shumpert continued to play his relatively quiet, but efficient style of basketball, never forcing the issue, but doing well when he picked his spots, finishing at the rim with a nice left-handed lay-up, showing some nice passing ability hitting a cutter off a crossover dribble, hitting a three-pointer with his nice mechanics, which are among the better here, and showing off his athleticism on an alley-oop dunk in the last minute the game when the scrimmage boiled down to a glorified dunk contest.

[Read Full Article]

---