Josh Riddell
In his first full season with the Missouri Tigers, Jabari Brown had a breakout year, finishing his redshirt junior campaign on the SEC All-Conference First Team, while averaging 21.7 points and 4.8 rebounds per 40 minutes pace adjusted. Entering the draft with a season of eligibility remaining, the 21 year old Brown is coming off a productive season even if his team did not make the NCAA Tournament.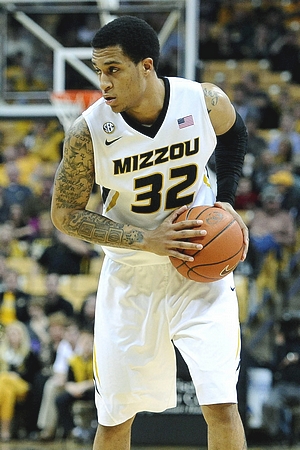 When we looked back at Brown's sophomore season with the Tigers, where he entered as a mid-season transfer from Oregon, he was little more than a
spot-up shooter
. He took on an expanded offensive role this season, increasing his usage rate from 20.6% to 26%, while simultaneously increasing his true shooting percentage from 58% to 63% which rates
fifth among shooting guards in our top 100 prospect rankings
.
Brown is still an excellent spot up shooter, making 39.4% of his catch and shoot opportunities. He's got deep range and terrific mechanics, making 41% of his overall 3-point attempts on a large quantity of attempts, which is his biggest selling point as a NBA prospect. Despite his tremendous shooting ability, he also made significant improvement this season in terms of his ability to attack defenses off the dribble by showing much more confidence in putting the ball on the floor when the three point shot is not available. He did a great job of using his strong frame to initiate contact around the basket this season, as his 8.3 free throw attempts per 40 minutes
ranked eighth
among all prospects in our top-100.
Although he was still primarily a jump-shooter this season (67% of his half-court attempts came on jumpers, down from 84% the year before), he showed an increased willingness to attack the rim, where he converted a solid 59% of his attempts around the basket, according to Synergy Sports Technology. Question marks remain about his ability to continue to do so effectively at the NBA level considering his average physical tools, but Brown can no longer be considered strictly a one-dimensional player, which certainly helps his draft prospects.
When Brown's penetration was cut off, he also showed more confidence in pulling up off the dribble, shooting 40% on 58 off the dribble jump-shots, according to Synergy Sports Technology. He made good decisions as to when to attack the rim and when to pull up for a jumper, which will be crucial when he plays in the NBA, as he will not always be able to beat his defender off the dribble and finish efficiently around the rim.
While Brown was fairly prolific in creating his own offense, he was equally poor at creating for others off the dribble, as he generated an assist on just 11% of his possessions,
the second worst
rate among shooting guards in our top-100 prospect rankings. While he didn't turn the ball over too frequently (13% of possessions), he is very single-minded in his approach. His pure point rating ranked
dead last
among Top-100 shooting guard prospects, which may make it difficult for teams to consider him a combo guard prospect, as his height suggests he might need to be. Even in a smaller role last season, Brown posted similar numbers, which indicates this probably isn't a fluke.
Last measured at 6'3" in shoes nearly four years ago, Brown's size is a bit disconcerting if he hasn't grown since then (a legit possibility as Missouri lists him as being 6-5), as he may have trouble getting his shot off against taller defenders, especially since he doesn't have superb length to complement his lack of size. Brown does possess above average speed and agility, which should help him continue to improve his ability to make plays off the dribble by being able to beat defenders with his first step.
On the defensive side of the ball, Brown's potential is limited due to his size and length, as he will likely have trouble contesting the jump shots of taller players or defending them in the post. Further compounding the issue is his often nonchalant demeanor on this end of the floor, as he often looks lackadaisical in his approach here—something that plagued Missouri's entire squad this season (KenPom 32nd most efficient offense, 160th defense). With better coaching and an increased focus on stopping opponents at the pro level, however, Brown's strength, quickness and solid feel for the game could allow him to improve his ability to stay in front of opponents or funnel them to the correct spots on the floor toward the help defense.
Projecting ahead to a potential NBA career, Brown has made his case to teams by becoming a more well-rounded offensive player. His three point shooting (41% last season) will be a necessary skill for him to earn playing time, but he should be able to carve out a niche if he can improve his defense and do a better job of staying within himself and creating offense for teammates. Brown has the potential to be a complementary offensive piece on the right team and could be drafted as high as late in the first round or somewhere in the second round to a team looking for a player with his skill-set.