Jakarr Sampson
Recent Tweets
All Tweets
DraftExpress: Notable Undrafted 4 Aaron Craft Jakarr Sampson Fuquan Edwin Markel Starks Shayne Whittington Casey Prather Chane Behanan Alex Kirk
2014-06-27 00:15:32
DraftExpress: Top NBA Draft Prospects in the Big East prospects #3-5 Chris Obekpa Jakarr Sampson Fuquan Edwin http://t.co/Rc2ZCDW0z9
2013-10-10 13:09:27
DraftExpress: Top NBA Draft Prospects in the Big East Part Three (#3-5) http://t.co/Rc2ZCDW0z9 - Chris Obekpa Jakarr Sampson Fuquan Edwin.
2013-10-09 19:05:54
DraftExpress: Poor outing from Jakarr Sampson at MSG tonight. Hope the rumors about him leaving St. John's aren't true. No guarantees he even gets drafted
2013-03-13 22:15:53
DraftExpress: NBA GM texts "if Jakarr Sampson doesn't get drafted hopefully @AdamZagoria or the regional scout he spoke w\/can get him a job next year."
2013-02-07 15:23:22
Team: 76ers
Physicals
Positions
Rankings
Salary
Misc
H: 6' 8"
W: 207 lbs
Bday: 03/20/1993
(22 Years Old)

Current: SF
NBA: SF
Possible: SF

RSCI: 38

Agent: Seth Cohen
Current Salary:$507,336

High School: Brewster Academy
Hometown: Akron, OH

Predraft Measurements
| Year | Source | Height w/o Shoes | Height w/shoes | Weight | Wingspan | Standing Reach | Body Fat | No Step Vert | Max Vert |
| --- | --- | --- | --- | --- | --- | --- | --- | --- | --- |
| 2014 | Clippers Workout | 6' 7.25" | 6' 8.5" | 207 | 7' 0" | 8' 7.5" | 5.8 | NA | NA |
| 2013 | LeBron James Camp | NA | 6' 7.5" | 208 | 6' 11" | NA | NA | NA | NA |
| 2013 | Big Man Skills Acad | NA | 6' 7.5" | 208 | 6' 11" | NA | NA | NA | NA |
| 2010 | LeBron James Camp | NA | 6' 7.5" | 192 | 6' 10.5" | NA | NA | NA | NA |
| 2010 | Kevin Durant Camp | NA | 6' 7.5" | 192 | 6' 10.5" | NA | NA | NA | NA |
| 2010 | NBA Top 100 Camp | 6' 6.5" | NA | 193 | 6' 11" | 8' 8" | NA | NA | NA |



Basic Per Game Statistics

- Comprehensive Stats - Statistical Top 25s
| Year | League | Name | GP | Min | Pts | FG | FGA | FG% | 2Pt | 2PtA | 2P% | 3Pt | 3PtA | 3P% | FTM | FTA | FT% | Off | Def | TOT | Asts | Stls | Blks | TOs | PFs |
| --- | --- | --- | --- | --- | --- | --- | --- | --- | --- | --- | --- | --- | --- | --- | --- | --- | --- | --- | --- | --- | --- | --- | --- | --- | --- |
| 2015/16 | NBA | Jakarr Sampson | 18 | 14.6 | 5.7 | 2.2 | 4.2 | 51.3 | 2.0 | 3.6 | 55.4 | 0.2 | 0.6 | 27.3 | 1.2 | 1.7 | 71.0 | 0.5 | 2.0 | 2.5 | 0.4 | 0.3 | 0.2 | 1.2 | 1.9 |

Player Page&nbsp&nbsp| Player Stats | Related Articles&nbsp&nbsp| Add to My Draft Express&nbsp
&nbsp
Top NBA Draft Prospects in the Big East, Part Three (#3-5)
October 9, 2013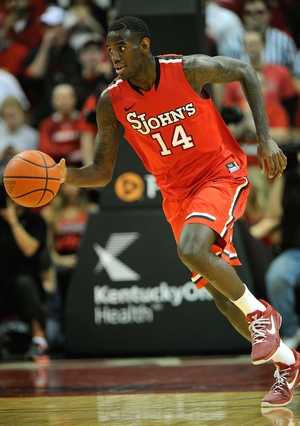 US Presswire



Kyle Nelson

Forced to spend a second year in prep school due to academic issues upon his initial enrollment, Jakarr Sampson's freshman campaign was exactly what St. John's needed following Maurice Harkless's departure to the NBA. Playing a significant role, Sampson was St. John's second leading scorer and its top rebounder on his way to being named Big East Rookie of the Year.

Yet, the Red Storm lost eight of its final 10 games and what appeared to be a promising season initially resulted in an 11th place Big East finish and a loss to Virginia in the second round of the NIT. After flirting with the idea of following Harkless to the NBA, Sampson ultimately returned to St. John's with the expectation of improving his draft prospects in his sophomore season.

At 6'8 with a 6'11 wingspan and a wiry 214-pound frame, Sampson looks the part of a prototypical NBA small forward. He is an impressive athlete, capable of exploding to the basket with solid quickness in the open floor. While Sampson will have to improve his skill-level and decision making ability to maximize his prowess in the half court, he is a very dangerous weapon in transition and with some added bulk should have little trouble holding his own physically at the next level.

While not overly efficient, Sampson was very prolific offensively as a freshman, averaging 18.3 points per 40 minutes pace adjusted, which included a 21-point outing at Syracuse and 18 points against Baylor. He led his team in usage rate and ranked third in the Big East shot attempts. His possessions came in a diverse array of play types, as he not only scored in transition and via hustle, but also moving off the ball and in one on one situations.

Yet, despite Sampson's versatility there are more than a few questions surrounding what he can actually bring to the table for an NBA team. Shooting just 46% from inside the arc, he one of the least efficient prospects in 2P% among returning players in our Top-100.

For all of his size and athletic advantages, he made just 53% of his shots around the basket from the power forward position, due in large part to his lack of strength, poor decision making skills and inability to dribble or finish with his off hand. He is limited to, more or less, straight line right-handed drives to the basket, not possessing much in the way of advanced ball-handling moves, and is susceptible to turnovers due to his high dribble and the predictability of his offensive game. Defenses like to sag off him because of how shaky his outside jumper is, and Sampson isn't capable of punishing them consistently enough.

With that said, Sampson shows potential as a shot-creator in the half-court, as he has an excellent first step and some raw ability to make pull-up jumpers off the dribble. Despite getting excellent elevation on his jumper and possessing a high release point, Sampson has limited range from the perimeter and is largely a non-threat with his feet set from beyond the arc, as he sports very poor shooting mechanics. He is more effective shooting off the dribble, mostly from the mid-range, where he made 40% of his attempts last season.

His lack of range hurts his NBA prospects significantly, though, as it's virtually impossible to find perimeter players these days that are not capable of making shots from beyond the arc at all. Sampson missed all eight of his three point field goal attempts last season, and his poor mechanics don't leave a lot of room for optimism regarding his ability to improve in this area, unless he completely retools his jump-shot.

For as mixed as his prospects are on the offensive end of the floor, Sampson looks like he can develop into a formidable defender in time, while already showing intriguing potential as a freshman. His size, length and lateral quickness allow him to stay in front of perimeter players and, thanks to his size, he should have little trouble guarding NBA small forwards as long as he continues to get stronger. His lack of strength hurts him, particularly, in trying to hold his position in the post, where he sees a good amount of time collegiately at the power forward position.

That said, he is capable of making an impact all over the floor, represented in part by his 1.3 steals and 1.3 blocks per 40 minutes pace adjusted, and he does a great job of staying involved throughout defensive possessions, even if he is better on than off of the ball at this point. Additionally, his 8.1 rebounds per 40 minutes pace adjusted ranks him as one of the best rebounding small forwards prospects among returning players in our top-100, even if he saw most of his time at the 4 last season .

Due to his struggles getting eligible for college, Sampson will turn 21 during his sophomore year, which may dampen scouts' enthusiasm somewhat regarding the extent of his upside. This will be an important season for him in turn, as it should give us a much better idea regarding his ability to develop an outside jump-shot to compliment his outstanding physical profile. St. John's is expected to be a lot better this year as well, which Sampson should play a significant role in as key player on both ends of the floor.

Scouts will be monitoring his progress closely, then, to see if he can develop into a more efficient scorer, with legitimate perimeter shooting range and better decision making ability. Given all that he brings to the table as a prospect, should he continue to improve, he should be able to help his draft stock significantly.

[Read Full Article]

---
2011 National Prep Showcase: Elite 2012 Prospects
November 23, 2011
Joe Treutlein

A player we evaluated here last year and who was supposed to be heading to St. John's this year, JaKarr Sampson (#32 ESPN 2011, #41 Scout 2011, #51 Rivals 2011) was declared academically ineligible prior to this season and is back in prep school for another year. Sampson would've been the Red Storm's highest rated recruit according to most services, and watching him here it's easy to see why.

Sampson is one of the most physically gifted players we observed this weekend, possessing excellent length and athleticism, great size for the small forward position (and solid size for a combo forward), and a skinny, but wiry strong frame. What sets him apart as a prospect, however, is his outstanding ability on the defensive end, as he possesses outstanding tools and equally strong fundamentals to go along with them.

Sampson plays a very aggressive style both on and off the ball on defense, getting right up into his man, keeping his center of gravity low, and constantly moving his feet. He does a great job both contesting perimeter shots and sticking to his man like glue on drives to the basket, while his combination of length and athleticism make him theoretically capable of possibly defending all five positions at the college level. His isolation fundamentals, lateral quickness, and ability to stick with his man off the ball are all at extremely high levels, and he should be able to immediately contribute in this regard from day one collegiately.

On the offensive end, Sampson is far more limited as a player and nowhere near as polished, but he's found ways to consistently contribute and has done a good job learning to play to his strengths in his extended pre-collegiate career. The area Sampson is most effective contributing on offense is attacking on cuts and offensive rebounds, utilizing his physical tools and relentless motor to constantly look for straight lines to the rim. He is always looking for backdoor cut opportunities and is equally aggressive jetting to the rim as soon as a teammate puts a shot in the air, and he uses his tools very well to finish in these situations, something we didn't always see last year.

As far as his more conventional offense goes, Sampson is about as raw as you can get, being a very weak ball-handler and shooter. Sampson's shooting form is pretty bad, as he brings the ball across his body with an awkward motion with poor mechanics and equally poor accuracy. His dribble-drive game is marginally further along, due solely to his flashes of a great first step, but he doesn't really possess the control to take advantage of it on mostly straight-line drives, let alone anything else.

Looking forward, Sampson's excellent abilities on the defensive end, offensive glass, scoring on off-ball cuts, and his physical tools should allow him to be an instant impact college player in the right situation, and make him an intriguing role player prospect down the road. Given his prolonged time in prep school and the potentially low ceiling for his offensive skill set, Sampson may not develop into much more than what he already is, but his combination of skills and tools make him a potentially interesting and valuable prospect in the future.

[Read Full Article]

---
2010 National Prep Showcase: Elite 2011 Prospects
November 23, 2010
Jonathan Givony

The most highly touted player in Steve Lavin's 2011 recruiting class at a resurging St. John's program, Jakarr Sampson (#22 Scout, #44 Rivals, #33 ESPN) showed both the good and the bad of his game this weekend in New Haven.

An incredibly long and athletic forward with prototypical physical tools for an NBA small forward, Sampson isn't terribly skilled at this point, but would be a useful player to have on any team's roster.

Sampson's best attributes as a prospect mainly revolve around his work on the defensive end. He has the lateral quickness to guard pretty much any position, and will regularly step out onto the perimeter and create havoc with his ability to put pressure on the ball. Sampson is an active, pesky defender who plays with great intensity, and likes to get his hands in all kinds of places to come up with extra possessions for his team. He has excellent timing getting in the passing lanes and rotating for blocked shots from the weak side, and has a knack for coming up with rebounds, particularly on the offensive glass.

Offensively, Sampson is still a work in progress, and seems to have both the skill-set and mentality of a complimentary player, which isn't necessarily a bad thing. He can handle the ball in transition a bit and will get to the rim on occasion thanks to his quick first step, but isn't much of a shot-creator and lacks the strength and footwork to take advantage of his superior size in mismatch situations in the post. To reach his full potential as a prospect, he'll need to improve on his perimeter shooting ability, starting with his shooting mechanics, which aren't very good. Sampson's experience level and overall feel for the game isn't off charts, but he's more than willing to make the extra pass and appears to be an excellent teammate.

Despite Sampson's lofty recruiting rankings, St. John's fans shouldn't look at him as being any kind of savior, as he's more of a terrific role player than a true go-to guy and might need some time to get his feet wet in the college game. Nevertheless, Sampson has considerable upside thanks to his physical tools and versatility, and could emerge as a very interesting prospect down the road if he continues to improve his all-around polish.

[Read Full Article]

---