Team: Southern Illinois
Physicals
Positions
Salary
Misc
H: 6' 1"
W: 168 lbs
Bday: 09/13/1984
(31 Years Old)

Current: PG/SG
NBA: PG
Possible: PG/SG

Agent: Bill Neff

High School: Helias
Hometown: Jefferson City, MO
Best Case: Tyronn Lue
Worst Case: DeJuan Collins

Predraft Measurements
| Year | Source | Height w/o Shoes | Height w/shoes | Weight | Wingspan | Standing Reach | Body Fat | No Step Vert | Max Vert |
| --- | --- | --- | --- | --- | --- | --- | --- | --- | --- |
| 2007 | NBA Pre-Draft Camp | 5' 11.5" | 6' 0.75" | 168 | 6' 2.5" | 7' 9.5" | 5.0 | 28.5 | 33.0 |
| 2007 | Portsmouth | 6' 0.75" | 6' 2" | 166 | 6' 2.75" | NA | NA | NA | NA |



Basic Per Game Statistics

- Comprehensive Stats - Statistical Top 25s

Player Page&nbsp&nbsp| Player Stats | Related Articles&nbsp&nbsp| Add to My Draft Express&nbsp
&nbsp
2007-08 D-League Draft/Season Preview
November 1, 2007
Another top prospect in this draft, Tatum should be looked at as the perfect building block for a team to build around. Tatum is a rookie out of Southern Illinois, fresh off an outstanding run leading his team to the Sweet 16 of the NCAA Tournament. Tatum is a combo guard who has shown excellent glimpses of potential in terms of running a team. Heís also a lock-down defender thanks to his tenacity and smarts, as well as an accomplished perimeter shooter from college range. Tatum is a good fit for the D-League because of his excellent intangibles and unselfish mentality, which is often just as important at this level as talent is.

[Read Full Article]

---
Orlando Pre-Draft Camp: Day One
May 30, 2007
Tatum is looking to capitalize on his strong PIT showing with another presentation of his solid two-way skills. Tatum was known as a pure scoring guard at Southern Illinois, but he opened some eyes in Portsmouth with his high assist and low turnover totals.

Tatum revisited his feature matchup against DaShaun Wood, from the championship game at PIT. After starting off slowly, Tatum used his solid ball-handling and strong change of direction to set Wood up on a number of possessions. Defensively, after going through an initial adjustment period, Tatum recovered to use excellent foot and handwork to harass Wood and contain his dribble penetration, especially on the final court.

[Read Full Article]

---
Portsmouth Invitational Tournament, Day Four (part two)
April 9, 2007
Jamaal Tatum did exactly what he set out to accomplish in the PIT by taking the reins of his team and leading the charge during a spirited championship game. Tatum needed to show that he could run the point during his three game stint, and he did exactly that, finishing with over eight assists per contest while keeping his turnovers down.

Tatum progressed substantially in each game he played. He started off over-dribbling during his first outing, though it should be noted that he didnít turn the ball over or take poor shots. But between the first and second game Tatum made adjustments and must have cut down his clock usage by at least half while still maintaining his ability to make plays for both teammates and for himself.

Tatumís best attribute may be his defensive ability. Tatum has excellent athletic ability and can move his feet with the quickest of guards. He stays low and in sound fundamental position while using his hands and keeping a constantly changing distance between himself and his opponent which makes it extremely difficult for anyone to advance the ball. This was never more evident than in the championship game where he held tourney MVP DeShaun Wood in check for at least 80 percent of the time they were matched up.

Offensively, Tatum can shoot the outside shot, pull-up from mid-range, and even finish up high on the inside on occasion. His ability in all these areas isnít completely polished yet, but his shot is smooth and consistent and itís not hard to project him developing his arsenal to a point where it is difficult to deal with. Tatum could benefit from adding some runners and other floating shots in the lane, as larger, faster big men will certainly take away most of his finishes around the hoop.

Overall, Tatum looks like he may have potential as a backup point guard on the NBA level. There are certainly points in the league that have less ability than Tatum has on both sides of the ball. Like most of the players in Portsmouth, Tatumís chances of success will depend on his determination to outwork everyone he goes up against. Pushing the limits of his ability hasnít been a problem for Tatum thus far and if he continues to shot the proactive mentality and positive demeanor that he showed at Portsmouth he may become a coachís favorite somewhere down the line.

[Read Full Article]

---
NBA Draft Diary: Jamaal Tatum
April 8, 2007
Ask Jamaal Tatum about all of his success during the 2006-07 season and he will be quick to throw much of the credit towards his teammates. The Missouri Valley Conference Player of the Year is as humble as they come and is quick to make sure those around him get recognized just as much as he does.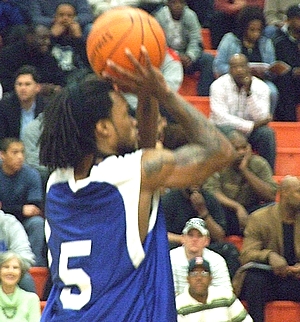 Jonathan Givony/DraftExpress



ďI mean [winning player of the year], thatís a good feeling in itself. Then knowing how hard my teammates worked to get me to that point, because if they didnít put in the hard work that they did, if they didnít come out to compete every game, I never would have gotten the award. So a lot of that award goes to them and how much hard work they put in to help me succeed, and to help us win the conference,Ē Tatum said.

For Tatum and the Salukis, it was quite a ride this past season, as Southern Illinois finished with a 29-7 record overall and was ranked 14th in the final regular season AP Polls. Losing to Creighton in the MVC Championship Game didnít seem to slow down the momentum of the Salukis who earned a #4 seed in the tournament. Tatum wasnít looking at his team as just another mid-major conference team once the tournament started either.

ďWe didnít want to be one of those teams that are a Cinderella story, but a team that opponents are going to fear in the tournament when they know that they have to face us,Ē he said.

On the same token, Tatum said he felt that Southern Illinoisís success in the tournament was a representation of the entire Missouri Valley Conference. He mentioned some of the snubs that had befallen the MVC in the last couple of seasons and that the Salukis ability to compete with the best spoke well of the entire conference.

In addition to all of his success on the court though, Tatum has found just as much success in the classroom. His 3.57 GPA in Speech Communications not only earned him Missouri Valley Conference Scholar Athlete of the Year, but he was named an Academic All-American as well. While maintaining such a strong showing in the classroom and on the court may seem like a daunting task, Tatum is quick once again to simplify things and not draw an abundance of attention to himself.

ďYou canít let yourself get behind, thatís the number one thing,Ē he said. Iím in constant contact with my teachers; Iím making sure they know things as soon as I know them. If weíre going out of town and I know the date and time weíre leaving, Iím informing them, and Iím giving them the paper work they need to fill out for me so I know what Iím going to be missing.Ē

Tatum further credited taking simple responsibility for his work as one of the keys to his success in the classroom.

With the college basketball season having come to an end, life certainly hasnít slowed down by any means for Tatum. The senior appeared in the NABC-All Star game on March 30th as a member of the National team. For Tatum, though, the best part of the whole experience wasnít the game, but the opportunity to spend time off the court with the gameís other participants.

ďI got to meet so many guys from so many different schools, and all of them were real cool guys to be around,Ē he said. You think when youíre at your school that youíve got the best guys, but then you get outside of your school and you meet other guys that remind you so much of the guys that you go to school with. It makes you appreciate the guys you go to school with even more, as well as the guys you just met.Ē

One of the perks of being chosen to play in the NABC All-Star game was the trip to Atlanta and the tickets for the Final Four that the players were given. Tatum said getting to go to the Final Four was a great experience, and that all college players dream about getting to play in an atmosphere of that magnitude. With only a few meetings and practices to attend however, the players were left with plenty of free time to socialize with one another.

ďI had a conversation with Jarrius Jackson [of Texas Tech] about how Bobby Knight was as a coach,Ē Tatum said. We all just laughed and told stories about our schools, our programs, crazy coaches we may have had, and crazy situations weíve been in.Ē

With the conclusion of his trip to Atlanta, it was on to Virginia for the Portsmouth Invitational Tournament, where he has been a member of the Cherry, Bekaert & Holland team for the duration of the tournament. For Tatum it was another opportunity to showcase his talents on the basketball court in front of scouts before the NBA summer pre-draft camps.

At the time of this interview, Tatum had completed his first practice with his team and was preparing for his first game later in the day. At the time of publishing, we know that Tatum led his team all the way to the championship game, putting up 17 points, 7 rebounds and 7 assists in the third game and averaging a total of 13.6 points per game and 8.3 assists for the tournament.

Tatum was once again teammates with Justin Doellman of Xavier, a player he has some experience with already.

ďJustin was a guy that played on my team at the NABC All-Star game so I was familiar with him,Ē Tatum said. ďHe was a great player and I knew what he was capable of doing. I mean there are other guys Iíve seen before, you know what kind of game they have, and of course its going to be kind of fun to play with new players after having played with the same players for so long. Itís kind of fun to get out and play with different kinds of players and play different kinds of basketball.Ē

Now the key for Tatum is to come out and impress the scouts enough to hear his name called on draft day this upcoming summer.

ďI think the main thing and pretty much the only thing is I have to play my game,Ē he said. ďI canít worry about what scouts want or what people want to see, I have to play my game. I have to do the same things Iíve been doing to get to this point.Ē

Tatum stated that the strengths of his game lie in his defense and his mid-range shooting abilities.

Between practices, games, and the constant pressure of performing in front of pro scouts, one would think that Tatum would get some time to relax once off the court; but that hasnít been the case. Like so many other players at Portsmouth, Tatum is in the process of searching for an agent.

ďItís been a little bit of everything,Ē he said in regards to the hiring process. ďItís been exciting, itís been stressful, and itís been overwhelming; itís been everything you can imagine. Itís like the college recruiting process, times ten. Now itís kind of like youíre on the level of not just being an amateur deciding what college you want to go to, but being a professional and what agent you want to hire.Ē

Despite the stresses of the search for someone to represent him at the next level, Tatum said itís a plus having agents approach him because it means he is doing something right.

Tatum said the agent hiring process has been made a little easier by the fact that he has his family helping him with the decision. At this point Tatum says he has narrowed his choices down to three or four possible options.

With all of the ups and downs and the uncertainty that comes with being a potential draft pick Tatum has managed to stay upbeat about everything, which has continued to be his style, not just with basketball, but with life.

ďItís really been a great experience,Ē he said.

[Read Full Article]

---
Portsmouth Invitational Tournament: Day Three
April 7, 2007
Jamaal Tatum today did an excellent job improving on some of the weaknesses he showed in the previous game while also maintaining or improving all of the strengths he displayed. In the previous game, Tatum did a fairly good job running his team, but dominated the ball a bit, hurting the offensive rhythm of the team at times. Today, he didnít over-dribble at all, while still being able to consistently create offense for his teammates and keep everyone involved. He didnít shoot as well in this game, but still had an overall efficient game, and is continuing his campaign to prove he can effectively play the pure point guard position.

Tatum got into the lane very well today, both getting to the rim himself to score and dishing the ball out to his teammates for open perimeter jumpers or lay-ups around the basket. He does a good job drawing contact at the hoop, and is constantly putting pressure on the defense with his excellent first step and hard-nose in your face mentality. When a clear option to the rim isnít available, Tatum did a nice job finding the open man on drive and dish plays, being highly unselfish and showing pretty good awareness for where his teammates are. Heís a good ball-handler and very smart finding openings to make good decisions, as he showed down the stretch using a screen to get into the paint and then knock down a pretty floater to give his team a clutch basket that was influential for the win.

Defensively, Tatum is a pesky guy who likes to get right in his manís grill and put outstanding pressure on the ball. His lateral quickness is very solid, and he has the type of aggressive mentality about him that can be very bothersome.

[Read Full Article]

---
Portsmouth Invitational Tournament: Day Two
April 5, 2007
Jamaal Tatum had an interesting game, on one hand dominating the ball unnecessarily for long stretches, but on the other not making very many mistakes once he started looking to score or get his teammates involved, making some nice baskets himself and doing a good job creating for others. Tatum scored most of his points off perimeter shots, hitting a pull-up three-pointer and a long pull-up two pointer in succession at one point in the game. He also drew a foul coming off a curl for a three-point attempt, netting him three free throws. His other two field goals in the game came on a fadeaway baseline jumper that he was also fouled on for an and-1 opportunity, and on a lay-up off the glass in the halfcourt. Tatum didnít miss a shot in the game, so he obviously picked his spots for his own scoring.

In terms of distributing the ball, while Tatum didnít run the smoothest offense, mostly due to his unnecessary dribbling around with no direction, he did a fairly good job getting open shots for his teammates, doing so in a variety of ways, including on drive-and-dishes, kickouts from behind the three-point arc, and dishing out passes in transition, including one perfectly precise bounce pass through two opposing defenders.

Tatum is normally known for his strong defense, but he was a bit inconsistent in this game, on one hand showing excellent energy throughout to get in the face of his opponent, but also over-exerting at times and opening up lanes for his man to dribble through when he tried too hard to make a play.

Overall, Tatum had a good game, but if he wants to continue to prove how well he can play the point guard position, heíd be well-advised to dominate the ball a bit less and have a more smoothly operating offense, without many breaks in passing due to needless dribbling. If he can find that balance of not holding onto the ball too much but still making plays for himself and others, he would help improve his stock for both the NBA and Europe.

[Read Full Article]

---
NCAA Tournament: Stock Watch (Sweet 16, Thursday games)--Stock Up
March 23, 2007
It wonít feel right to see Southern Illinois next year without Jamaal Tatum running the show, dreadlocks bouncing up and down as he inspires all sorts of fear and loathing amongst ball-handling opposition. But while tonight did end up being the last time we will hear from Tatum at the NCAA level, the senior managed to leave a lasting impression on his way out the door. He scored 17 second half points, pushing #1 seed Kansas to the brink, and keyed the Salukisí fearsome defense, no less suffocating here against Bill Selfís lineup of burger boys than it was in the MVC.

Tatum didnít get off to a great start in this one, scoring just two points in the first half and generally only looking for his offense with the shot clock winding down and the ball far from the basket. Tatum would slowly pick up steam throughout the second half, though, first heating up from the outside and then finding success taking the ball to the basket as the game wore on. The defense was nothing we havenít seen from Tatum or SIU as a team, and Kansasí ball-handlers were clearly rattled by the near-inexplicable amount of pressure the Salukis could exert in the backcourt. Kansas committed 19 turnovers on the game, and Tatum was a big part of this Ė even in transition he found ways to make plays, stopping the ball before an easy shot could be created or coming up with a steal on an initial pass that could have led to a run situation for the Jayhawks.

Tatum isnít a standout athlete at this level of competition, but has decent height and makes up for any sort of lack in physical gifs with his intensity and physicality. This was by far the best season of his career, and he should have earned himself an invite to Portsmouth with his scintillating tourney play. Tatum might be somewhat of a long shot to stick at the next level, as he is more of a perfect fit for the style that SIU plays and certainly not a true point guard. But there are other teams out there looking to play the same way, and there will always be a well-paying job for a competitor like Jamal Tatum.

[Read Full Article]

---