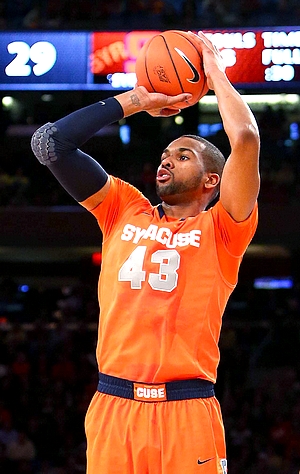 Joe Treutlein
After significantly expanding his role and making solid improvements to his game throughout his four-year college career,
James Southerland
developed into a key component of Syracuse's Final Four run as a senior, most notably with his excellent perimeter shooting ability.
Standing 6-8 with good length and a narrow frame,
James Southerland
is a decent overall athlete, being relatively mobile, though not one to blow you away with quickness or explosiveness. His style of play is one that doesn't rely heavily on athleticism on the offensive end of the court, however, as evidenced by the fact that 214 of his 280 half-court shot attempts charted by Synergy Sports Technology were of the jump shot variety.
Southerland's offensive game begins (and for the most part ends) with his jump shot, specifically from the three-point range. 6.2 of his 10.5 field-goal attempts per game came from behind the arc his senior season, where he shot 39.8% for the season.
Southerland sports a very quick and compact shooting motion, having little trouble getting off high-quality shot attempts in most situations. The majority of his looks are of the spot-up, feet-set variety, but he also sees a good deal of work catching-and-shooting on the move coming off screens as well. Southerland does an excellent job moving without the ball constantly in Syracuse's offense, and also does a solid job maintaining his balance when shooting on the move, doing a good job of setting his feet and squaring to the basket regardless of the direction he's going.
While Southerland is predominantly a three-point shooting specialist, he also shows flashes of a mid-range game, being comfortable spotting up or coming off screens for spot-up jumpers from really anywhere on the floor, from free-throw line extended to even the mid post. While this probably isn't something that could develop into a staple for him, it does give him some versatility and provides offenses with a safety valve option late in the shot clock.
The rest of Southerland's offensive game is not featured often, with off-ball cuts to the basket being the most noteworthy of his non-shooting skills. Southerland actually does a good job finishing with power in these situations, not being afraid to go up hard for strong finishes, which allows him to be a good finisher overall in these situations. He shows decent ability both in the half court and in transition, though without anything in the line of ball-handling skills, he's very limited in this regard. Just 8.5% of Southerland's offense comes in isolation or pick and roll situations, and not a single one of those possessions resulted in a shot at the basket, highlighting just how reliant he is on his jump-shot for offense.
On the defensive end, as is the case with most Syracuse players (especially forwards), it's incredibly difficult to glean much of anything in regards to Southerland's ability to defend at an NBA level due to the Orange's strict 3-2 zone. On the positive side, Southerland played nearly 30 minutes per game for the country's fifth best defense according to kenpom.com, and is an active and attentive player in their scheme. On the other hand, however, he's rarely tested in isolation situations in the perimeter or on the low block, and it's questionable whether he has the lateral quickness to guard NBA 3's or the size and strength to guard NBA 4's, likely leaving him without an ideal position on the defensive end.
Southerland's rebounding ability is also not particularly impressive on either end of the floor, as he pulled down just 7.0 rebounds per 40 minutes pace adjusted while seeing plenty of minutes as Syracuse's de facto power forward, something that is concerning if an NBA team views him as a power forward.
Looking forward, Southerland's shooting ability combined with decent physical tools should yield him plenty of chances to find a spot in the NBA initially and down the road, but questions about what position he will play, how effective a defender he'll be, and what else he can contribute when his shot isn't falling could be difficult to overcome. Doing the best he can to improve his physical tools, rebounding, and defense should be his priorities in the pre-draft process, and the rest will likely be dependent on whether he can find himself in a situation with a team that can take advantage of his particular skills.