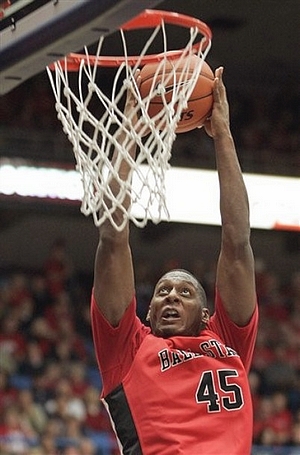 Joe Treutlein
A four year starter who has always flown under the radar in the MAC conference,
Jarrod Jones
has steadily improved his production and efficiency every year at Ball State while consistently seeing around 30 minutes per game. Jones has continued that improvement this season, while showing some intriguing flashes of skills against good competition, which should get him some extra looks at the pro level.
Standing 6'9 with a decent frame and very good length, Jones is an average athlete by NBA standars, more smooth than explosive, but still capable of elevating when he's in space with momentum. He has good fluidity, coordination, and feel for the game, making good use of the skills he possesses.
Jones does most of his damage operating in the post at this level, showing a solid array of simple moves, relying predominantly on a very good right-handed hook shot. He shows no problems establishing deep position and getting separation against low to mid-conference competition, scoring with ease in these situations. He also flashes a nice power drop-step and a turnaround jumper that he uses out to 15 feet, but his success level drops considerably as he gets farther from the basket.
There are some concerns projecting his post game to the next level, as he has yet to prove he can score at the same rate against NBA sized big men, but he's had strong outings against Arizona and Butler this season, not backing down from the tougher opposition. His ability to get separation for his shots is certainly reduced in these situations, and has to rely more on toughness to go into his man and draw fouls, something that may not get it done at the next level, where teams aren't likely to run plays for him much anyway.
The less used aspects of Jones' game are actually more intriguing projecting to the next level, especially with his recently improved jump shot. After not hitting any three-pointers his first three years in college, Jones is 5-for-7 thus far this season while bumping his free-throw percentage up from 67% to 86%. He shows solid form with a high release and a deliberate but not terribly slow shooting motion, but obviously it's hard to tell if the results are a fluke due to the small sample size.
Jones' improvements from the perimeter haven't yet translated to the mid-range either, where he is very inconsistent with his shots, probably a product of taking many of them off-balanced or off the dribble. Not used much in pick-and-pop situations, Jones doesn't get many open catch-and-shoot looks from the mid-range, something he could do well with at the next level.
In terms of his slashing game, Jones shows a nice feel operating off the ball, along with good hands and touch for finishing in traffic. He's mostly a below the rim player in the half-court, but does a good job using his length to finish around the rim and isn't afraid of drawing contact.
On the defensive end, Jones is a mixed bag, not really showing much in his ability to contest shots coming from the weak-side, blocking just 1.3 shots per 40 minutes this year. He doesn't really have the athletic tools to be a major factor here, but does a better job in man-to-man post defense, where he makes good use of his length and shows a high effort level. He's still fairly raw from a fundamentals standpoint, but moves pretty well laterally for his size and appears to have the tools to be a solid post defender. He's less tested on the perimeter, where he looks very out of his comfort zone, not being put into isolation situations often.
The biggest problem for Jones looking forward is he's just a pedestrian rebounder, averaging 10.5 rebounds per 40 minutes this season, more damning due to his team's relatively weak schedule. He certainly has the tools to be more effective here, and will probably need to really assert himself in this area if he wants to find a place in the NBA in time.
Looking forward, Jones is someone to keep an eye on for the rest of the season, as he's fairly young for his class, not turning 22 until May. His steady learning curve in his time in college combined with his developing jumper, good length, and versatile framework of skills will make him someone who could find his way into the league if a team thinks he's worth developing, especially if he can improve his efforts on the glass.
Jones is a likely candidate for the Portsmouth Invitational Tournament in April, and could continue to benefit his draft stock by leading his team to a strong record and an NCAA Tournament berth, but won't be helped by the lack of quality competition remaining on his schedule.