John Jenkins
Recent Tweets
All Tweets
DraftExpress: Trying to explain the NBA rookie class to European coaches I'm with. John Jenkins is "the new Trajan Langdon." Then the real one walks by...
2012-07-13 04:30:38
DraftExpress: Atlanta is on the clock at 23, and we already know the next three picks (John Jenkins, Jared Cunningham, Tony Wroten). The information era.
2012-06-28 09:47:26
DraftExpress: Vandy confirms. RT @WojYahooNBA: Likely leaving school, sources say: John Jenkins and Dominic Cheek. Likely staying: Duke's Mason Plumlee.
2012-04-09 07:21:19
DraftExpress: DX Trending Prospects 2/19: John Jenkins, Hollis Thompson, Kim English, Elijah Johnson - http://t.co/dom0hYfj
2012-02-19 10:30:11
DraftExpress: 2nd game in Meadowlands just tipped. Oregon State-Vanderbilt. Great matchup here between Jared Cunningham and Jeff Taylor / John Jenkins.
2011-11-21 09:08:43
Top 25s - Full List
Team: Hawks College Team: Mavericks
Physicals
Positions
Rankings
Salary
Misc
H: 6' 4"
W: 212 lbs
Bday: 03/06/1991
(24 Years Old)

Current: SG
NBA: SG
Possible: SG

RSCI: 29

Agent: Bill Duffy
Current Salary:$1,312,920

High School: Station Camp
Hometown: Gallatin, TN
Drafted: Pick 23 in 2012 by Hawks
Best Case: Anthony Morrow
Worst Case: Andy Rautins

Predraft Measurements
| Year | Source | Height w/o Shoes | Height w/shoes | Weight | Wingspan | Standing Reach | Body Fat | No Step Vert | Max Vert |
| --- | --- | --- | --- | --- | --- | --- | --- | --- | --- |
| 2012 | NBA Draft Combine | 6' 3.25" | 6' 4.25" | 212 | 6' 8.5" | 8' 2" | 7.1 | 30.5 | 36.5 |



Basic Per Game Statistics

- Comprehensive Stats - Statistical Top 25s
| Year | League | Name | GP | Min | Pts | FG | FGA | FG% | 2Pt | 2PtA | 2P% | 3Pt | 3PtA | 3P% | FTM | FTA | FT% | Off | Def | TOT | Asts | Stls | Blks | TOs | PFs |
| --- | --- | --- | --- | --- | --- | --- | --- | --- | --- | --- | --- | --- | --- | --- | --- | --- | --- | --- | --- | --- | --- | --- | --- | --- | --- |
| 2015/16 | NBA | John Jenkins | 6 | 10.0 | 4.2 | 1.7 | 4.5 | 37.0 | 1.5 | 3.2 | 47.4 | 0.2 | 1.3 | 12.5 | 0.7 | 0.7 | 100.0 | 0.3 | 1.3 | 1.7 | 0.8 | 0.2 | 0.0 | 1.0 | 0.3 |

Player Page&nbsp&nbsp| Player Stats | Mock Draft History | Related Articles&nbsp&nbsp| Add to My Draft Express&nbsp
&nbsp
NBA Combine Interviews: Ross, Jenkins, Taylor
June 14, 2012
[Read Full Article]

---
Trending Prospects (2/19/2012)
February 19, 2012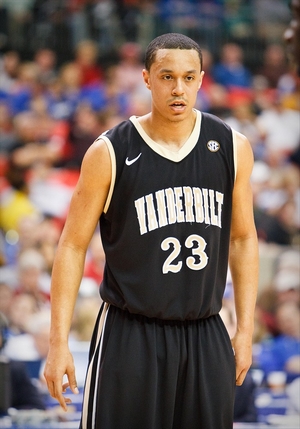 Icon SMI



Joe Treutlein

Coming off a breakout sophomore season in which he led the Commodores in scoring, Jenkins has mostly held his pace as a junior, again leading Vanderbilt in scoring with 19.5 points per game for the 11th ranked offense in the NCAA according to kenpom.com.

Besides improving his 3-point percentages from 41% to 44% (an important development), Jenkins' stat line as a junior is practically a carbon copy of what he posted last year, and his outlook from an NBA perspective also remains largely the same from the last time we profiled him. One of the best shooters in the country with great versatility in getting his shot off, Jenkins has one clear-cut, high-level NBA skill, but still struggles to consistently stand out in other areas.

Looking at Jenkins' shooting game, there is ample reason to be optimistic about how it could translate to the NBA, as he has quite a few things working in his favor. For one, unlike most high-scoring NCAA shooting guards, Jenkins spends a good deal of time operating off the ball and often has short possessions when the ball comes his way. In likely transitioning to a much lower usage rate in the NBA, he already possesses the skills and tendencies fitting for that role.

Further, Jenkins is also at his best when he is operating as a spot-up shooter, coming off screens, or catching and going into a quick one or two-dribble pull-up. He's much more comfortable and efficient in these situations as opposed to operating in pure isolations, which he'll be seeing less of in the NBA.

Already sporting an outstanding TS% of 65% and an equally strong ratio of just 0.12 Turnovers:Possessions, Jenkins could actually become even more efficient in the NBA, where he should benefit from less defensive attention and the chance to be more selective with his looks.

Despite being a below average athlete and slightly undersized for the two-guard spot, there isn't much reason to believe Jenkins will have trouble getting his perimeter shot off against bigger, more athletic opponents in the NBA, as he's also unlikely to see the frequent double teams and traps he currently does as Vanderbilt's #1 option. He would probably excel most in a ball movement-heavy, up tempo offense that can get him the ball in space and on the move, where he possesses great mechanics and decision-making skills to get off high efficiency shots with ease.

In analyzing the rest of Jenkins' offensive game, he's still fairly limited at the NCAA level and there are question marks about what else other than shooting he could consistently contribute with in the NBA. Jenkins struggles both getting a good step on his man on dribble-drives and elevating for high-percentage shots in the lane, as he's held back by his below average athletic tools. He can make up for this somewhat with a strong mid-range game and if he better develops his floater, but it's hard to see him consistently contributing going to the basket in the short term.

Jenkins also could stand to improve as a passer, something he doesn't do much of for the Commodores with just 1.1 assists per game. He shows decent vision and ability making simple passes from the perimeter to cutters when he's looking, but often just isn't asked to do that in his team's offense, where he is heavily relied on for his scoring. Adjusting well here and expanding this area of his game could be helpful to his long term prospects, as this is the most likely area he can contribute something outside of his perimeter shooting.

Defensively, Jenkins' limitations are still evident, as he lacks the lateral quickness to consistently stay in front of guards, something that could be even more of a problem in the NBA. His effort level and fundamentals are solid enough, and he's decent from a positional defense standpoint, but it'll likely be a struggle for him to ever be an average defender in the NBA. Going to a team where he's very well utilized offensively to offset his defensive shortcomings will be key to how large an impact he has in his career.

Looking forward, Jenkins is an interesting prospect due to his one extremely potent skill, but his success will largely be dependent on where he's drafted due to his obvious limitations. Because he appears to be a truly elite shooter and has the intangible qualities well suited to his likely role, he should have a good chance of carving himself out a niche in the NBA, but how well he does will be very tied to the offensive scheme he plays in and how he's utilized by his coach. Maximizing his defensive and athletic abilities should be his biggest priority in pre-draft and beyond, as he likely largely is what he is from an offensive standpoint.

[Read Full Article]

---
Trending Prospects (3/11/2011)
March 11, 2011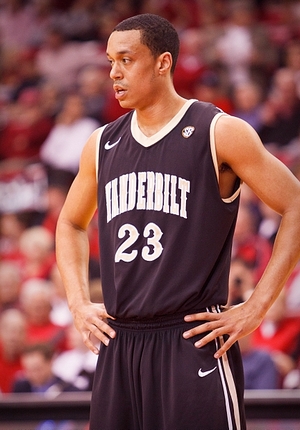 Icon SMI



Kyle Nelson

After playing a role as a shooting specialist during his freshman season, Vanderbilt sophomore guard John Jenkins is averaging an efficient 19.4 points per game for the NCAA Tournament-bound Commodores.

Jenkins still underwhelms from a physical perspective at 6'4 with average length and an unimpressive frame. He is just an average athlete, as well, lacking elite quickness and explosiveness.

Jenkins has one of the best looking strokes in all of college basketball, showing fluid mechanics, a lightning quick release, and a consistent release point. He is effective spotting up, utilizing screens, and pulling up off of the dribble. Though his shot selection has been inconsistent at times this season, he should be able to translate his jump-shot fairly seamlessly to the NBA level. He's made 41% of his 8.4 attempts from beyond the arc per 40 minutes pace adjusted on the year.

Inside of the arc, Jenkins is still most effective pulling up off of the dribble, but has managed to become a more efficient finisher, converting 54% of his 2-point attempts, up from 45% last season. His mid-range game is developing nicely, as he has successfully incorporated a pull-up jump shot into his offensive arsenal. He is getting to the foul line quite a bit more as well—nearly twice as often per-minute--where he converts on an outstanding 89% of his free throw attempts.

Jenkins is still limited, however, by his below average shot-creating ability. In addition to predictably deferring to his left hand almost 70% of possessions, Jenkins continues to struggles off of the dribble due to his lack of advanced ball-handling skills. His lack of strength does not help here, but his first step does not look great either. He tends to dribble himself into bad situations without looking for his teammates.

Jenkins is just an average collegiate defender and will likely struggle at the next level in this area. He has trouble staying in front of most collegiate guards due to his poor lateral quickness and lack of strength. Furthermore, his weaknesses are amplified by inconsistent effort level, which he must improve if he wants to play a role in the NBA.

Jenkins has indicated that he plans on exploring his draft stock this summer and will consider entering the draft if he is a lock for the first round. While the NBA values elite shooters, Jenkins still has work to do in proving that he will not be a one dimensional player and a defensive liability. Players in this mold (Jason Kapono, Kyle Korver, etc) are not quite en vogue as much these days due to their shortcomings defensively. If Jenkins can lead finish out his sophomore season on a high note, he will have plenty of opportunities to show NBA decision makers in private workouts that he can do more than that at the next level, and attempt to boost his stock solidly into the first round.

[Read Full Article]

---
Top NBA Draft Prospects in the SEC, Part Two (#6-10)
September 30, 2010
Kyle Nelson

Despite assembling its most talented roster in recent memory, Vanderbilt underachieved in the post-season and lost to Murray State in the first round of the NCAA Tournament. Vanderbilt returns a talented veteran team, however, and, in addition to All-SEC wing Jeff Taylor, shooting guard John Jenkins looks to build on a promising freshman campaign and play a more prominent role.

At 6'4, Jenkins has decent size for the shooting guard position, but he must continue to get stronger and add muscle to his frame. He is just an average athlete, as well, not particularly explosive around the basket or unbelievably quick on the perimeter.

While Jenkins does not stand out physically, he is without a doubt an outstanding shooter. Despite being just a freshman last season, he was according to all metrics the best perimeter shooter in our database, rankings first in both 3-pointers made per-40 and in accuracy, shooting a blistering 48.4% from beyond the arc.

Though his mechanics are unconventional, and at times inconsistent, Jenkins has a very quick release and has range out to the NBA three-point line. He showed prowess shooting from a standstill and with a hand in his face, where he created space with crafty moves off of the dribble or by fading away. Jenkins also moves very well without the ball and utilizes screens well to find space and openings along the three-point line. He converted a ridiculous 55% of his catch and shoot jumpers last season according to the data at our disposal, and is all in all one of the most efficient players in all of college basketball. 64% of his field goal attempts come from beyond the arc, which in his case, is a very good thing.

Jenkins is less impressive inside of the arc, where he shot a sub-par 44.7% and attempted just 3.2 free throws per 40 minutes pace adjusted. Jenkins rarely journeyed into the lane last season, but he had trouble finishing around the basket when he did, largely due to his lack of ideal strength and explosiveness.

He did show flashes of potential from mid-range last season, however, with an arsenal of step-back and pull-up jumpers. His above-average ball handling abilities helped him create space and, if he can become more confident in his abilities, it looks as though he should continue to improve in the future.

Jenkins struggled on the defensive end as a freshman largely due to his below-average lateral quickness. While his awareness is decent, quicker guards were able to blow by him on the perimeter.

John Jenkins is by no means a complete player at this point, but he proved himself to be a dependable, albeit one-dimensional, offensive contributor. That one dimension is an incredibly valuable one, though, and could easily earn him a role in the NBA if he's able to at least be respectable on the defensive side of the ball. This coming season, he must continue to score efficiently and take care of the basketball as a sophomore while shouldering a greater load of Vanderbilt's offense. Though it is still early, Jenkins established himself as an NBA prospect last season and scouts will be watching to see how he adjusts in an expanded role.

[Read Full Article]

---