Team: Lakers
Physicals
Positions
Salary
Misc
H: 6' 5"
W: 186 lbs
Bday: 06/07/1992
(23 Years Old)

Current: PG/SG
NBA: PG/SG
Possible: PG

Agent: Mike George
Current Salary:$507,336

High School: Wagner
Hometown: San Antonio, TX
Drafted: Pick 46 in 2014 by Wizards

Predraft Measurements
| Year | Source | Height w/o Shoes | Height w/shoes | Weight | Wingspan | Standing Reach | Body Fat | No Step Vert | Max Vert |
| --- | --- | --- | --- | --- | --- | --- | --- | --- | --- |
| 2014 | NBA Draft Combine | 6' 3.25" | 6' 5" | 186 | 6' 8" | 8' 2" | 4.3 | 33.0 | 38.5 |
| 2012 | Kevin Durant Camp | NA | 6' 4.5" | 184 | 6' 7.5" | NA | NA | NA | NA |



Basic Per Game Statistics

- Comprehensive Stats - Statistical Top 25s
| Year | League | Name | GP | Min | Pts | FG | FGA | FG% | 2Pt | 2PtA | 2P% | 3Pt | 3PtA | 3P% | FTM | FTA | FT% | Off | Def | TOT | Asts | Stls | Blks | TOs | PFs |
| --- | --- | --- | --- | --- | --- | --- | --- | --- | --- | --- | --- | --- | --- | --- | --- | --- | --- | --- | --- | --- | --- | --- | --- | --- | --- |
| 2015/16 | NBA | Jordan Clarkson | 15 | 31.1 | 15.2 | 6.1 | 13.0 | 46.7 | 4.5 | 9.4 | 48.2 | 1.5 | 3.6 | 42.6 | 1.5 | 2.1 | 74.2 | 0.9 | 2.1 | 2.9 | 2.1 | 1.1 | 0.3 | 1.9 | 1.6 |

Player Page&nbsp&nbsp| Player Stats | Mock Draft History | Related Articles&nbsp&nbsp| Add to My Draft Express&nbsp
&nbsp
Situational Statistics: the 2014 Point Guard Crop
June 18, 2014
Jordan Clarkson doesn't stand out on paper looking at his full body of work as he ranks just average scoring .933 points per possession overall, but much of that is the result of a late season shooting slump. The Missouri guard was solid on the pick and roll, ranking 3rd among players in this group using 6 possessions per-game and 5th scoring .92 points per possession. He got to the rim in the half court as often as any guard on this list other than Elfrid Payton and converted a well above average 56.3% of his 4.5 shots in finishing situations per-game.

The challenge for Clarkson will be regaining the touch he showed early in the year. Ranking 16th among 17 guards making 27.9% of his jump shots on the year, Clarkson was making a much more respectable 35.6% of his jumpers over the first 11 games of Missouri's season. He compensated to some degree with his floater, which he converted at a 3rd ranked 46.1% clip, but becomes a much more dangerous scorer when his shot is falling, especially considering how poorly his traditional passing metrics rank among his peers.

[Read Full Article]

---
Jordan Clarkson 2014 NBA Pre-Draft Workout and Interview Video
June 11, 2014
Footage of Jordan Clarkson working out in preparation for the 2014 NBA Draft, with commentary from Clarkson and his trainer Jay Hernandez.



Filmed and edited by: Farhod Family
Twitter: twitter.com/farhaaaad
Website: http://farhod.com



Previous 2014 NBA Draft Workout Videos


-Kyle Anderson
-Jabari Parker
-Joal Embiid
-Jerami Grant
-Glenn Robinson III
-Khem Birch
-Gary Harris
-Noah Vonleh
-T.J. Warren
-Elfrid Payton
-Zach LaVine
-Aaron Gordon
-Doug McDermott
-Nik Stauskas
-Adreian Payne
-K.J. McDaniels
-Sean Kilpatrick
-Joe Harris

[Read Full Article]

---
Jordan Clarkson Scouting Video
June 11, 2014
Mike Schmitz breaks down the strengths and weaknesses of Missouri's Jordan Clarkson, who has impressed NBA teams recently with his performance in private workouts.



All of our video scouting reports from this season can be found here.

[Read Full Article]

---
2014 NBA Combine Interviews: Smart, Fair, Clarkson
May 20, 2014
[Read Full Article]

---
Jordan Clarkson Updated Scouting Report
May 6, 2014
Matt Kamalsky

Jordan Clarkson had an immediate impact for Frank Haith's Missouri program after sitting out the entire 2012-2013 season as a transfer. Averaging 17.5 points and 3.4 assists per-game, he earned All-SEC 2nd Team honors, ranking among the most productive guards in the conference.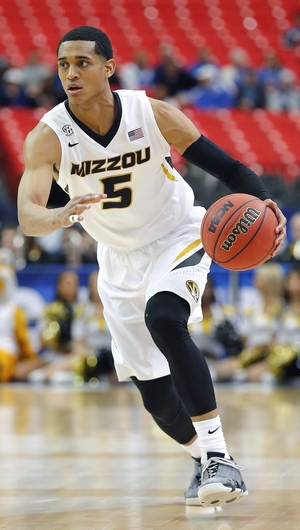 US Presswire



Helping the Tigers get off to a 12-1 start, Clarkson picked off where he left off two years ago at Tulsa, where he garnered All-Conference USA 1st team honors in 2012. Despite the team's early success, and Clarkson's hot start, they struggled down the stretch, going 9-9 in-conference before losing in the second round of the NIT to Southern Miss, leading to an exodus of the team's key figures. Frank Haith opted to fill the vacant Head Coaching position at Tulsa, while his two best players, Clarkson and the team's leading scorer, Jabari Brown, declared for the 2014 NBA Draft.

Clarkson is an intriguing prospect thanks in large part to his size for a primary ball-handler and solid athleticism. Measured 6'4.5 in shoes with a 6'7.5 wingspan (in 2012), he has terrific size for a point guard to go along with good, but not spectacular, athleticism. Though his 193-pound frame still has some room for development, there's plenty to like about Clarkson from a physical perspective.

Averaging 11.5 points and 2.1 rebounds per-game as a freshman, Clarkson was a significant contributor in each of his three seasons at the college level. He took a considerable step forward as a scorer and playmaker assuming the role of first option as a sophomore at Tulsa before transferring, and while he showed improvement in some areas as a redshirt junior as Mizzou, he took a step back in some key areas as well, leaving some questions about how he'll fit in at the NBA level.

Using 28% of Missouri's possessions, Clarkson shouldered a considerable load for the Tigers offensively. Though he finished as the team's second leading scorer, he was its most important player offensively, charged with manufacturing shots for himself and others extensively on the pick and roll and in isolation situations, two things he did as frequently as almost any player in the country as the creative force behind much of what his team looked to do offensively.

A smooth athlete who is more fluid than shifty or explosive with the ball in his hands, Clarkson nonetheless showed the ability to get to the basket off the dribble in the half court at the college level. Possessing just an average first step, using his off-arm extensively to create space, and looking shaky at times trying to navigate through traffic, the redshirt junior is capable of finding seams when dribbling off ball screens or attacking one-on-one where his rangy strides and aggressiveness help him get into the paint. Though he's not a great ball-handler or an overly explosive leaper, he uses simple crossovers, spin moves, and euro-steps to find angles the rim, where he can finish with touch or use his size to get his floater off over defenders. Making 56% of his shots in finishing situations, sinking 46% of his floaters, and getting to the line 6.4 times per-40 minutes pace adjusted, Clarkson was most effective scoring around the rim and attacking the basket in transition at the college level, something that remains to be seen how it might translate against higher level competition.

Clarkson was not as prolific or effective away from the rim last season, and teams began to make a concerted effort to find ways to keep him away from the basket as they game-planned for Missouri as the season wore on. Shooting the ball with a low, somewhat awkward release point, Clarkson connected on just 25% of his catch and shoot jump shots. He was only marginally better off the dribble, making 32% of his pull-ups. With defenders not respecting his jump shot, Clarkson struggled to turn the corner and get to the rim some nights. His ability to become a reliable shooter will play a key role in his development as a pro, but there is certainly some hope as he made 37% of his jumpers as a sophomore at Tulsa in 2011-2012, playing almost exclusively off the ball.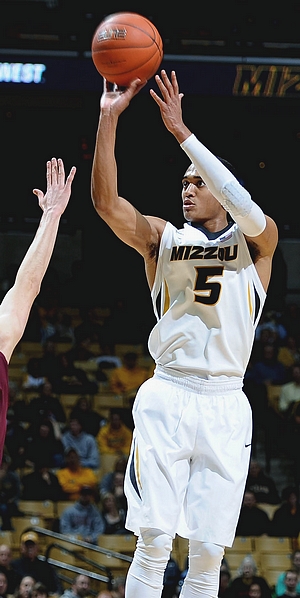 US Presswire



Aside from his scoring ability, Clarkson was a bit of a mixed bag last season, as it appeared he was still learning how to play the point guard position. Pushing off frequently, dribbling his way into trouble, and leaving his feet without recourse at times, his decision-making isn't ideal, which contributed to him ranking dead last among the 15 point guards in our Top-100 prospects in both Assist to Turnover ratio and Pure Point Ratio. He does a nice job finding the open man, and will make some creative passes in drive and dish situations, but questions remain about whether he can be trusted to run a team at the next level. Missouri wasn't overly successful with him at the helm, as they were not invited to the NCAA Tournament in what was considered a weak SEC this year.

Defensively, Clarkson's size is a plus when he's closing out shooters or contesting shots inside the arc, and he puts in decent effort at times when he's fully engaged, but his lack of great lateral speed limits his ability stay in front of quicker guards. Playing quite a bit of zone last season, Missouri's defensive scheme's masked that fact effectively for stretches, and while Clarkson has the tools to be solid on this end of the floor, his limited quickness and length don't afford him great potential defensively at either guard spot.

With Clarkson's three-point shooting regressing from 37% as a sophomore to 28% this year and his two-point percentage fall from 54% over the first 15 games of the year to 47% over the last 20, the San Antonio native didn't have a tremendously efficient season as teams began to hone in on him, but he still ranked among the top scorers in the SEC. Learning that his father had been diagnosed with cancer in early February, this was not an easy season for Clarkson off the floor either. NBA teams will certainly be intrigued by his size and scoring instincts, but it will be Clarkson's ability to show promise as a point guard and jump shooter in workouts that could dictate where he lands on draft day. A candidate to hear his name called in the top half of the second round, or possibly even in the late first if a team truly falls in love with him, Clarkson is a player to keep an eye on in the draft process as some of his weaknesses are ones he could still improve on in a different setting.

[Read Full Article]

---
Top NBA Prospects in the SEC, Part Five (#10-14)
October 21, 2013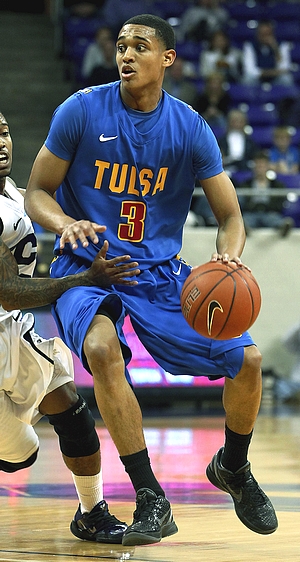 US Presswire



Joe Treutlein

Following a strong sophomore season at Tulsa in the 2011-2012 season, Jordan Clarkson sat out last year after transferring to Missouri. With three of the Tigers' top four scorers no longer with the team this season, Clarkson should have abundant opportunities to earn a significant role on the court, potentially even at the point guard position.

Standing 6'4 with a solid 6'7.5 wingspan and a decent frame, Clarkson is a good overall athlete, being pretty good with both his quickness and explosiveness, but not being a stand out in either area. He makes up for it somewhat by being a very heady and crafty player, getting the most out of his abilities off the dribble.

On the offensive end, Clarkson is a versatile inside-out threat who was relied on to create a lot of his own shots while at Tulsa, seeing most of his possessions come out of isolations or pick-and-rolls. He has great ability to get his defender off balance and create separation, having an excellent command of jab steps, ball fakes, crossovers, and rip moves, frequently using them to get himself open on the perimeter.

Clarkson relied on his jump shot slightly more than his ability to get to the basket, as he attempted shots off the dribble at a nearly 2:1 margin compared to catch-and-shoot jumpers at Tulsa. He's respectable pulling up for a shot in space, both from the mid-range and beyond the arc, but is a much better shooter with his feet set when he has the time to get off a shot comfortably. He has a minor hitch in his shooting motion, something that makes things a bit awkward on his pull-ups at times, but is no problem at all on his spot-up attempts.

Despite the fact that Clarkson saw so many of his shots coming of the off-the-dribble variety, he still shot 37.4% from behind the arc as a sophomore, a respectable number that could improve this year if he's allowed to play a more balanced role on what's likely to be a much more talented Missouri squad.

In terms of attacking the basket, Clarkson is a very skilled player who uses the tools at his disposal exceptionally well. He doesn't have the blazing first step to consistently get by his man, nor great size or leaping ability to shoot over players in the lane, but he has excellent touch around the basket both on lay-ups and runners, while he also takes good angles and shows good body control to get shot attempts off with defenders in the area.

The biggest problem for Clarkson's game projecting to the next level is how his dribble-drive game will translate, as despite his success at the college level, many of his shot attempts in these situations are made in very small windows over defenders, and even with all his strong traits, he's still just a decent finisher at this level as it is. Projecting this to the NBA where he'd be matched up against much larger and more athletic competition, it's questionable if he could succeed in the same way barring significant improvement physically or skill-wise.

On the defensive end, Clarkson shows a great fundamental base and effort level, frequently playing up on his man whenever he has the ball, but his lateral quickness is often exploited, especially when matched against smaller guards. To his credit, he does a great job recovering and staying with his man when he does give up a first step, and uses his length well to contest shots from the side and behind, but it's tough to see him not being at a disadvantage in quickness on this end of the floor at the next level.

Looking forward, Clarkson has a solid groundwork of skills with his very good shot-creating and shot-making abilities along with his inside-out offensive game, but his lack of standout physical attributes on both ends of the floor make the next level an uphill climb at this stage. Clarkson's best bet from an NBA perspective would likely be to further excel with his perimeter shooting game, which is the area least tied to his athleticism and most likely to easily translate in the pros, and he could have good opportunity to take a step forward there when he's playing what's likely a much less ball-dominant role for the Tigers.

[Read Full Article]

---