Juvonte Reddic
Recent Tweets
All Tweets
DraftExpress: Also at the Nike Skills Academy Noah Vonleh Jahii Carson Mitch McGary Willie Cauley-Stein Juvonte Reddic Khem Birch and many more.
2013-06-26 17:28:50
DraftExpress: DX Trending Prospects (1\/7) - Scouting reports on Kelly Olynyk Laurence Bowers Elias Harris and Juvonte Reddic http://t.co/JA5RzVyw
2013-01-07 15:03:05
DraftExpress: DX Trending Prospects (1\/7\/2012)- Kelly Olynyk Laurence Bowers Elias Harris Juvonte Reddic http://t.co/JA5RzVyw
2013-01-06 23:49:21
Team: VCU, Senior
Physicals
Positions
Rankings
Misc
H: 6' 9"
W: 225 lbs
Bday: 05/23/1992
(21 Years Old)

Current: PF
NBA: PF
Possible: PF

Rank 21 in NCAA Seniors
Rank 98 in Top 100 Prospects

High School: Quality Education Academy
Hometown: Winston-Salem, NC

Predraft Measurements
| Height w/o Shoes | Height w/shoes | Weight | Wingspan | Standing Reach | Body Fat | No Step Vert | Max Vert | Bench Press | Lane Agility | 3/4 Court Sprint | Class Rank |
| --- | --- | --- | --- | --- | --- | --- | --- | --- | --- | --- | --- |
| NA | 6' 9.5" | 248 | 6' 11.5" | NA | NA | NA | NA | NA | NA | NA | NA |



Basic Per Game Statistics

- Comprehensive Stats - Statistical Top 25s
| Year | League | Name | GP | Min | Pts | FG | FGA | FG% | 2Pt | 2PtA | 2P% | 3Pt | 3PtA | 3P% | FTM | FTA | FT% | Off | Def | TOT | Asts | Stls | Blks | TOs | PFs |
| --- | --- | --- | --- | --- | --- | --- | --- | --- | --- | --- | --- | --- | --- | --- | --- | --- | --- | --- | --- | --- | --- | --- | --- | --- | --- |
| 2013/14 | NCAA | Juvonte Reddic | 31 | 27.7 | 12.5 | 4.9 | 9.5 | 51.9 | 4.8 | 9.2 | 52.4 | 0.1 | 0.3 | 33.3 | 2.5 | 4.6 | 54.9 | 3.6 | 4.9 | 8.5 | 0.7 | 1.4 | 1.1 | 1.7 | 2.1 |

Player Page&nbsp&nbsp| Player Stats | Related Articles&nbsp&nbsp| Add to My Draft Express&nbsp
&nbsp
Trending Prospects (1/7/2012)
January 6, 2013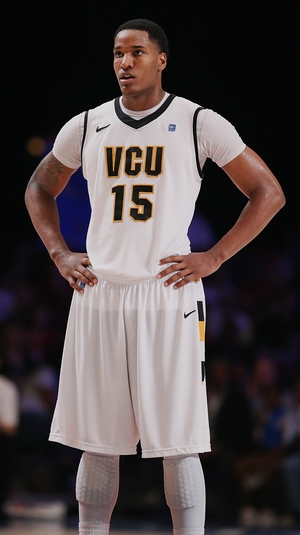 US Presswire



Joe Treutlein

After making solid strides his first two seasons in college, Juvonte Reddic has taken another big step forward thus far as a junior, noticeably increasing his production and efficiency across the board without an increase in minutes.

Standing 6'9 with decent length, a solid frame, and very good athleticism, Reddic has a good physical profile for a power forward, though he could still stand to fill out his frame some, specifically by adding more lower body strength. Reddic shows a good first step on the perimeter and is capable of making some very rangy strides on face-ups and post-ups, but he doesn't always elevate well around the basket in half-court situations and isn't the best at powering through contact.

On the offensive end, Reddic does most of his damage within five feet of the basket, where he scores on a variety of cuts, offensive rebounds, and post-ups. He has an active motor that helps him get open in scoring position frequently, while he shows good touch and isn't afraid to throw down a dunk when the opportunity arises. He is active on the offensive glass and shows good touch around the rim, but he does struggle to finish when bodied up against physical competition, as he's prone to getting pushed around down low.

Reddic's post-up game is still developing, but he has a few nice assets to work with already, namely a solid turnaround jumper and a very nice right-handed hook shot, possessing a very high release point. He isn't the best at backing down his man or establishing deep position, but he operates very well from the mid-post area, where his rangy strides and ability to turn into his man for a face-up make him very versatile. He shows flashes of very effective, instinctual footwork at times, but still is raw in this area overall, and relies a lot on his solid go-to moves and the athleticism and size advantages he has against a lot of his competition. Still, this is an area of his game that is progressing nicely, while he has a lot more room to grow.

Reddic's face-up game is also intriguing, but is not nearly as far along as his post-up game at this stage. While Reddic has a great first step for a big man along with solid touch and control on his drives, he doesn't possess great ball-handling and is only really dangerous on straight line drives without much help defense involved. He does, however, show decent instincts transitioning quickly from face-up to post-up game (and vice versa) when operating in the mid and high posts, but is still raw overall with his skills. He also shows flashes of a mid-range jumper (he has a respectable 23 points on 25 attempts this season according to Synergy Sports Technology), and that's definitely something to watch out for more of in the future.

Defensively, Reddic is not especially impressive in any particular area at this stage, being very raw fundamentally, much more so than on the offensive end. While he shows a good activity level and the ability to disrupt plays on the weak side using his length and athleticism, his post-up defense is below average due to a lack of court awareness and fundamentals. He frequently overplays or gets beat easily by his man, not always moving his feet laterally or by being backed down due to not getting any leverage. He shows more flashes on the perimeter, where his tools and effort allow him to contest some shots, and he probably has some potential in isolation and pick-and-roll defense as a power forward as well, but he's rarely tested at this stage, and just doesn't appear to have the fundamental base necessary to be highly effective in any regard just yet.

Reddic has managed to steadily improve his pace-adjusted rebounding each of his three years in college, but still is below average overall. Given his tools and the motor he shows in other areas of his game, this is clearly something he should be putting a higher focus on, and he definitely has considerably more potential in this area.

Looking forward, Reddic is an intriguing prospect due to his size, athleticism, and the foundations of offensive skills that he's been building, but likely needs to make some notable improvements with his lower body strength, defense, and rebounding, all of which are well within his power to do. He still has a ways to go in his development at this stage, but he's shown a steep learning curve in his three years on campus, and is someone to keep an eye on down the road, even if he doesn't find himself in serious draft discussions next season.

[Read Full Article]

---