Derek Bodner
After playing just under 10 minutes per game for Thad Matta and the Buckeyes as a freshman, the loss of Amir Williams and Sam Thompson to graduation opened up quite a bit of playing time in Ohio State's frontcourt rotation. Keita Bates-Diop was one of the primary beneficiaries of their departures, seeing his playing time rise to over 30 minutes per game and showing the ability to stuff a stat sheet to the tune of 11.8 points, 6.4 rebounds, 1.1 assists, 1.2 blocks, and 0.7 steals per game.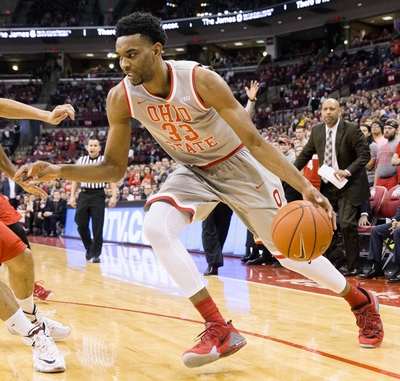 Standing 6'7" with exceptionally long arms and a frame that looks like it can fill out over time, Bates-Diop's NBA intrigue starts around that physical profile. Add in his mobility and coordination and Bates-Diop has the chance to develop into a player who can defend multiple positions, especially as his body continues to physically mature down the line.
In order to really maximize that potential, Bates-Diop is going to have to continue to evolve as an offensive player as well, and that begins with his jump shot. While Bates-Diop shot 46.2% from three-point range on an extremely small sample size of 39 attempts as a freshman, the 32.4% he shot as a sophomore is likely more in line with where he stands as a shooter, and more indicative of the amount of work he still has to put in to become reliable from deep.
Bates-Diop's form on his jump shot could be a cause for some of his inconsistency, as it's not the most sound and fluid release in college basketball. His release is slightly out in front of his body, with a slight hitch halfway through and a left elbow that has a tendency to flair out to the side. Improving on some of these moving parts could dramatically help increase his consistency, and creating gravity from the corners would do wonders to help Bates-Diop's viability as a Three-and-D candidate at the next level, and give him a clear role he can fill.
Bates-Diop's jumper shows even less progress on the move, where he's not much of a threat at all to shoot either off the dribble or running off a screen. While Bates-Diop doesn't project to be a high-level shot creator off the pick and roll, giving defenders something to think about would help open up his dribble drive game.
He does show some potential as a slasher, despite not creating many driving lanes by nature of his jump shot forcing defenders to close out. Bates-Diop has a relatively quick first step, with long, rangy strides that can cover ground in a hurry. While Bates-Diop doesn't have a ton of wiggle in his game to create separation off the dribble, he's not a complete non-ball-handler, either, with enough confidence to dribble in traffic with either hand, and could be realistically expected to show continued improvement in this area down the line.
When Bates-Diop does get to the hoop his length, athleticism, and solid touch and body control around the hoop serve him well, allowing him to connect on 64.9% of his field goal attempts around the basket, per Synergy Sports. Part of this efficiency is no doubt influenced by selectivity in his attempts and by playing a limited role, but he has the chance to be effective at the rim if his perimeter shot, and his ability to create, matures.
That being said, the defensive side of the court is where Bates-Diop's future is, and where he makes the most consistent impact as of now. His length, lateral quickness, and ability to cover ground effectively allow him to be a decent off-ball shot blocker. When Bates-Diop is fully engaged, he shows the ability to be a real stopper defensively, and has the quickness, perimeter mobility, and length to defend multiple positions, something which you can't have enough of in today's NBA.
That "when engaged" comment is still a problem for Bates-Diop, however, as he'll go stretches without appearing to give consistent effort, at times appearing either disinterested or unsure of himself, and leave plays on the court as a result. He also struggles quite a bit to recognize, and fight through, screens on the perimeter, and still needs to continue to fill out his frame to compete more consistently on the defensive glass, where his 6.3 defensive rebounds per 40 minutes, pace adjusted, is a relatively low output for somebody who played quite a bit as a small ball power forward. Bates-Diop struggles to hold ground as of now, and adding strength to his core and lower body would help quite a bit in this regard.
Bates-Diop has quite a bit of potential as a shutdown, versatile defender who has shown just enough offensively to tease two-way potential. Still, he has to become more consistent on both ends of the court, with his effort level and physical maturation holding him back from reaching his true defensive potential, and his inconsistent outside shot a roadblock to filling a clearly defined offensive role in the NBA. Should he be able to improve upon those weaknesses, and find a way to ramp up his inconsistent motor, there's clear NBA role player potential in Bates-Diop's game.