Top NBA Prospects in the Big 10, Part Nine: #11-15
October 28, 2015
Jonathan Givony

The #25 player in the 2014 high school class according to the RSCI, Keita Bates-Diop played a fairly minor role for Ohio State as a freshman playing under 10 minutes per game. Still, he showed some impressive flashes of potential in that short time, solidifying himself as a player to keep an eye on as his career moves along.

The intrigue around Bates-Diop beings with his impressive physical profile. Standing 6-7, with a pterodactyl wingspan (reported to be around 7-4), and an ideal basketball frame (listed at 190 as a freshman, now 235 by Ohio State), Bates-Diop stands out immediately the moment he steps on the floor. He's not quite as athletic as he looks on first glance, but is smooth and fluid, and may still have considerable room to improve his quickness and explosiveness as he gets closer to reaching full physical maturity.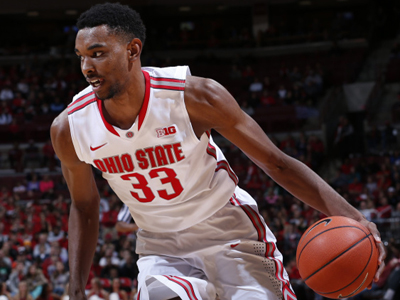 US Presswire
Forced to make the transition from high school power forward to collegiate wing, Bates-Diop was a little more advanced skill-wise as a freshman than you might suspect. He hit 18 of his 39 (46%) attempts from beyond the arc, showing nice confidence in his perimeter shooting ability late in the year hitting a couple of huge jumpers in the NCAA Tournament. He has good shooting mechanics from the waist up, with a compact, repeatable stroke. He is capable of creating separation nicely with a high release and good elevation, even if he tends to jump too far forward while leaning back excessively when rushed, not always fully getting his legs underneath him.
While the small sample size from last season leaves something to be desired, Bates-Diop should be able to develop into a good perimeter shooter, which will be very important considering his limitations in other areas.
He wasn't really asked to trusted to do anything off the bounce last year, as it was very clear in the handful of possessions that he did put the ball on the floor that he has a lot of room to grow here. While capable of attacking opponents in a straight line smoothly with long, rangy strides, Bates-Diop struggles when forced to change directions, lacked the strength and/or explosiveness to finish many of the plays created for him, and had a difficult time when forced to use his left hand around the basket.
Although his freakish length allows him to finish around the basket while barely jumping, and he converted an impressive 61% of his attempts inside the paint in the half-court, Bates-Diop still has room to improve here as his skill-level and explosiveness evolve.
Defensively, Bates-Diop was somewhat caught between positions as a freshman, which may help explain why he played as few minutes as he did. He wasn't strong enough to guard most power forwards, while he was a little too upright and naive to be trusted to guard smaller guys consistently on the perimeter.
Bates-Diop showed many of the issues most young players do in making the transition from high school to college, biting on pump fakes, losing his concentration off the ball, helping unnecessarily off his man, getting burned off the dribble, and generally not being solid or consistent enough to be trusted against better competition.
Nevertheless, he shows significant potential here, even if he doesn't always really know what he's doing at the moment. Bates-Diop's combination of size and length can absolutely suffocate ball-handlers on the perimeter, which could be an incredible weapon as he learns to get in a low stance and move his feet effectively against smaller players. He can close out on shooters from extreme vantage points and still get a hand up to bother a shot, and even when he does get beat off the dribble, can rotate back into the paint and make a play impressively at the rim.
Bates-Diop showed great flashes of defensive potential in small doses, executing a number of plays last season that only a handful of players in college basketball can even think of making. That showed up to an extent in the boxscore, as he generated 2.3 blocks, 1.3 steals and 8.2 rebounds per-40 minutes, even if the tiny sample size again throws some caution to the wind.
While Bates-Diop's lack of experience was evident last year, it still didn't prevent him from getting on the floor in some crucial moments for Ohio State, which certainly tells you something. He came onto the court late in the Round of 64 NCAA Tournament game against VCU for example, and had some huge plays that sealed the win for his team hitting a pair of key 3-pointers and dishing off a transition assist.
With Sam Thompson (who played 32 minutes per game) graduated, there should be more of an opportunity for Bates-Diop to see playing time for Ohio State as a sophomore, especially now that he's reportedly added significant bulk to his frame in the offseason.
Although Bates-Diop only averaged 3.8 points and 2.1 rebounds per game as a freshman, he'll get plenty of attention from NBA scouts if he continues to progress as expected.
[
Read Full Article
]