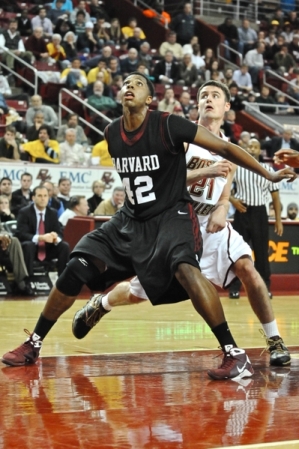 Derek Bodner
Keith Wright
returns for his senior year at Harvard after a junior season that saw him capture the Ivy League player of the year award, while his team earned their most wins in school history. The Crimson fell a basket short of the Ivy League championship and their first NCAA tournament appearance in over 60 years.
Harvard returns all of their major contributors from that 23 win team, none more important than
Keith Wright
. The 6'8" big man improved his contributions across the board, increasing his minutes (32.3 minutes per game, up from 21.4), scoring output (19.1 points per 40 minutes, pace adjusted, from 16.2), rebounding (10.7, from 8.3), and efficiency (61% true shooting percentage, up from 57%), taking the leadership role on a young Crimson team from the departed
Jeremy Lin
.
Wright would be undersized for the power forward spot at the next level at 6'8", but has solid length and wide shoulders, although he could stand to improve his frame a little bit more. Not a leaper by NBA standards, Wright operates primarily under the basket, an athletic limitation that may be tough to overcome.
Wright gets the majority of his offense in the post, where he is quicker and stronger than most of his defenders and has solid footwork. He does a good job of sealing his defender and creating room for an entry pass, and he has a quick spinning hook over either shoulder as well as a strong drop step that he converts with efficiency. His touch around the hoop is only average, he doesn't get to the line at an exceptional rate, and he appears to be bothered by length, something that puts into question how well, if at all, this staple of his game would translate to the next level.
The majority of the rest of his offense comes off of cuts to the basket and offensive rebounds. His 4.1 offensive rebounds per 40 minutes pace adjusted are in the top half of our database for power forward prospects, and he converts these at an excellent clip, in the top percentile according to Synergy Sports Technology. He does a good job of gathering himself quickly, keeping the ball high, and going up before the defense has re-set itself.
Wright's ability as a jump shooter is perhaps the most unknown part of his game, and a crucial area he has to prove if he wants to stick to a roster at the next level. Wright attempted very few jump shots last year for the Crimson, certainly not enough of a sample size to prove consistency. But on the rare occasions he did, he appeared to have consistent form and good results out to mid-range, something strengthened by his free throw percentage, which is at 72% through his first three years.
While Wright doesn't show great quickness or ball-handling skills, and doesn't appear to be poised to become a face-up threat at the next level even with an established threat as a jump shooter, it would allow him to transition to being a role player, as his post-game has questions on how well it would translate.
Defensively, Wright appears to give solid effort, and his length allows him to be effective as a weak side help defender. He has some physical limitations on this end of the court, as he isn't all that quick laterally, something that is sure to become more of an issue at the next level. He also isn't all that explosive off his feet, and it's questionable whether he would be the shot blocking threat he currently is. He also appears at times to get lost off the ball, particularly on over rotations, and is slow to recover.
On the defensive glass, his 6.6 defensive rebounds per 40 minutes is a fairly pedestrian number, especially for a guy who at most times was the tallest guy on the floor for his team. This can in part be explained by his role as a weak side help defender, but too often he was out of position when the shot went in the air, without the athleticism to get back and recover.
With the Crimson returning their core personnel from a 23 win team, led by senior forward
Keith Wright
, along with the continued improvement coach Tommy Amaker has shown since taking over the club in 2008, and a relatively weak schedule, they have a great chance to win the Ivy League and return to the NCAA tournament for the first time since the Truman administration. A little more exposure against legitimate competition, with continued expansion of his game as a jump shooter, may be enough to see Wright get a more extended look during the pre-draft process, or perhaps an invite to summer league and/or training camp.