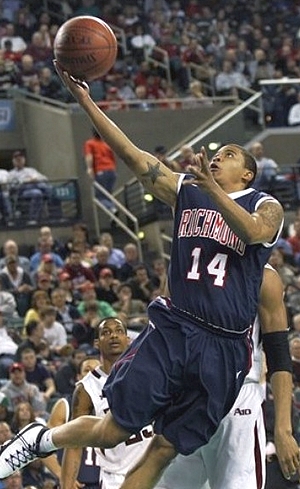 Kyle Nelson
Kevin Anderson
has built up quite a resume throughout his four year career at Richmond. He was named the Atlantic 10 Conference Player of the Year last season over Xavier's
Jordan Crawford
, and was recently named the Atlantic 10 Tournament's Most Outstanding Player award. He's led the Richmond Spiders to consecutive NCAA Tournament appearances for the first time in 20 years, and has established himself as one of the best point guards in college basketball over the past two seasons.
Though Anderson is Richmond's point guard, he is a natural scorer who looks more comfortable looking for his own offense—something that works well at this level. This is a major issue in projecting his NBA future, though, considering that he is generously listed at 6'0 without an impressive frame or significant length. He is just an average athlete by NBA standards as well, lacking elite quickness or explosiveness.
Anderson is a savvy offensive player, however, capable of compensating somewhat for his lack of blazing quickness with his aggressiveness and scoring instincts. He is fearless operating in isolation sets and he has the ability to get to the rim or to the foul line despite not having an outstanding first step. He does struggle to finish with contact, however, due to his average physical tools.
Anderson also excels at scoring out of the pick and roll, as he is capable of stopping on a dime and pulling up from mid-range. He has developed into a good shot creator throughout his time at Richmond, something that bodes well for his future. This season he's shooting a career high 42.7% from beyond the arc on 5.4 attempts per 40 minutes pace adjusted. He is a rare player that excels with a hand in his face, making a remarkable 57.1% of his guarded catch and shoot opportunities. He is strangely below average when wide open, however, making just 25.6% of his attempts.
Though Anderson is not a pure point guard and displays average court vision at best, he has proven to be a capable distributor at times, particularly in drive and dish situations. He has also limited his turnovers as a senior, posting a career low 2.4 turnovers and a career high 3.8 assists per 40 minutes pace adjusted. This versatility and potential to function as more of a facilitator should serve him well in the future.
Defensively, Anderson will likely always be at a disadvantage because of his below average size and unimpressive lateral quickness. He is tough, however, and plays with energy despite his physical limitations. He seems to possess solid intangibles, as well, communicating with his teammates and maintaining awareness in defensive rotations.
While the NBA appears be a long shot at this point, Anderson will have plenty of opportunities to show scouts otherwise in the NCAA Tournament and at the Portsmouth Invitational Tournament. If things don't work out for him in the NBA, though, his tough demeanor, scoring prowess, and aggressiveness on both sides of the ball make him an ideal candidate for a long and productive career overseas.