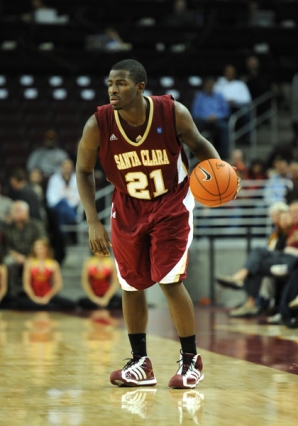 Joey Whelan
Kevin Foster
proved to be one of the most prolific shooters in the NCAA last year, leading the country in both 3-pointers made and attempted. The Texas native's resume already includes Freshman All-American, First-Team All-WCC and CIT Most Valuable Player honors. All of this just sets the bar higher as the Broncos enter the 2011-12 season.
Physically, Foster has the size of a point guard, though he is very much a shoot-first player. While his height might be somewhat of a drawback at the next level, he makes up for it in other ways. The junior has a good wingspan for his size and is very solidly built at nearly 220 pounds, resembling a running back more than he does a basketball player. Foster has decent open floor speed, but he can't be described as anything more than an average athlete at best by NBA standards.
If you had never seen Foster play before, simply watching a few minutes of tape would tell you most of what you need to know: he's a gunner. According to Synergy Sports, 84% of his shots last season were classified as jumpers and 64% of all his field goal attempts were three-pointers (he attempted an outrageous 10 per game last year).
His release is pretty fluid, though his elbow flairs out on occasion, but this is due more to his tendency to rush as opposed to a true mechanical problem with his shot. When able to set his feet, Foster is deadly, connecting on 44% of all catch and shoot opportunities. When shooting off the dribble however, this mark plummets to just 29%. Unfortunately he attempted more jumpers off the dribble than with his feet set, which begins to explain why he was such an inefficient scorer last season, making just 39% of his overall field goal attempts and 37% of his 3s.
Foster averaged 18.9 field goal shots attempts per-40 minutes pace adjusted last season, which ranks tops amongst all returning prospects in college basketball. Needless to say based on his shooting percentages and team record (19-14 regular season, 8-6 in the WCC) his shot selection can be downright atrocious at times. It isn't unusual to see him pull up a good three or four feet behind the arc in transition for a contested three, even very early on in the shot clock. When not rushed, Foster is actually a good shooter off the dribble, able to elevate and fire when attacking off of screens; he just needs to do a better job of picking his spots. Santa Clara recognizes this and is constantly screening his defender, with pick-and-roll sets and shots off screens accounting for 42% of the junior's possessions last season.
When Foster opts to attack the basket – which happens more often than your typical spot-up shooter – he sees mostly mixed results. His lack of athleticism, average ball-handling skills and poor decision making all work against him. He has a difficult time creating high percentage opportunities for himself at his size, the reason he converts a paltry 42% of his 2-point attempts and turns the ball over at a fairly high rate.
Defensively, Foster has his struggles as well, largely due to his lack of size and the huge offensive load he shoulders for Santa Clara. He doesn't contest jumpers aggressively and often gets lost on the perimeter chasing his man. He doesn't have particularly good lateral quickness and his footwork is suspect at this point. Foster's strength helps him though as he is able to body up smaller guards and muscle them off their line of attack. Still, he has significant work to do here considering the significant rise in competition he'll encounter outside of the WCC.
Overall, Foster has his work cut out for him if he's to make an NBA roster. Undersized scorers and gunners like him have made it in the NBA, but that usually hinges on their ability to adjust to a more limited role. The good news is Foster likely has two more full collegiate seasons to refine his shot selection, improve as a facilitator and make strides as a defender—things he'll have to do in order to give himself a fighting chance.