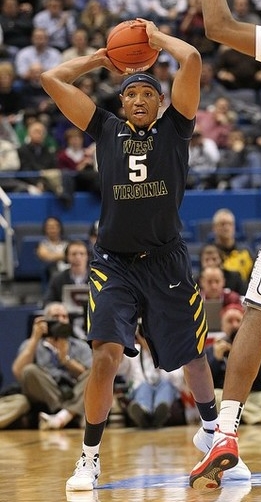 Derek Bodner
Kevin Jones
has bounced back from a disappointing junior season in a major way, leading the Big East in points and rebounds while currently ranking second in field goal percentage, leading a very young West Virginia Mountaineers team to an impressive 12-5 record.
Jones has seen his scoring increase substantially, from 15.7 points per 40 minutes pace adjusted to 20.5, while also increasing his efficiency to what is by far a career best, reestablishing himself as a consistent inside-outside threat that is a tough matchup at the collegiate level.
From a physical standpoint, not much has changed with regard to Jones' physical profile. He has added some upper body strength, but he's still a undersized, but lengthy forward with below average athleticism that runs the floor unconventionally and plays mostly below the rim.
His offensive skill-set is still largely the same, albeit at a much improved rate and efficiency. He plays a fair amount in the post, and he's shooting a tremendous 60.9% from the field in post-up situations, which at a rate of 1.241 points per possession is better than 95% NCAA players, according to Synergy Sports Technology.
This is somewhat deceiving, however, because he likes to use this to setup a lot of face-up and turnaround jump shots out of these sets, which he is very efficient at. While not a major back to the basket threat, he does show good touch and a decent -- albeit not overly advanced -- set of moves that includes hook shots over either shoulder, a drop step, and fade-aways. He doesn't have tremendous lower body strength, and may have trouble establishing good post position at the next level.
His biggest asset when creating for himself is that short range jumper. He has improved his mid-range game, and while he can make the occasional collegiate three, the further out he gets the more his form looks suspect, and his efficiency drops.
When shooting from distance it appears there is too much contact with his palms, which may cause some of his problems with consistency. For somebody who is likely play further away from the basket at the next level his inability to establish himself as a reliable long range shooter (23% 3P) is perhaps the only negative so far in a senior season that has otherwise surpassed all reasonable expectations.
Jones has tremendous hands and great touch around the basket with either hand, and does a very good job of finding seams in the defense. He's also turned himself into an excellent rebounder, as his 4.8 offensive rebounds per 40 minutes pace adjusted is one of the better marks in our database, and he converts them at an excellent clip.
He does a good job of crashing the boards at every opportunity, fighting for position early and with a quick second jump, and has the aforementioned good touch around the basket. These two traits more than anything are extremely positive traits to possess when he makes the transition at the next level to less of a featured role.
Another major benefit for a potential role player is that he turns the ball over at a very low rate. In fact, his 1.5 turnovers per 40 minutes pace adjusted ranks as the 5th best rate in the top 100 prospects in our database.
The biggest change in Jones this year, and the one that may improve his draft stock even more than his re-found scoring touch, has been his defensive rebounding. Never known as a particularly effective defensive rebounder in the past, Jones has increased his productivity drastically, making it one of his strengths. His 7.5 defensive rebounds per 40 minutes pace adjusted represent a respectable number for a power forward, particularly notable for somebody who had averaged 4.5 and 5.0 the previous two seasons.
Whether it was head coach Bob Huggins getting through to him or feedback from his time in the NBA draft process last year, Jones is doing a much better job of boxing out and bodying up on the defensive glass and getting the ball at its highest point. Perhaps most importantly, he's consistently showing the energy level and focus on this end of the court that wasn't always there in years past.
Considering West Virginia did not lose any dominant defensive rebounders from last year's mediocre defensive rebounding team, the improvement cannot easily be explained through a change in role or personnel. Regardless of why, Jones' improvement on the defensive glass is a big boon to his potential value as a role player at the next level.
Defensively, Jones is an effective collegiate player, but one with some definite physical limitations. He has turned himself into a very good post defender, using his length well and denying position early in the possession. That being said, he definitely could use some added lower body strength to translate this to the next level, as he is going to be undersized for the power forward position. He's also not explosive enough of an athlete to be a shot blocking threat, and his lateral mobility is probably going to cause him problems on the perimeter.
With that said, it's tough to ignore the competitive spirit and instincts he brings to the table, reminding some of
Chuck Hayes
with the way he finds ways to get the job done through a combination of scrappiness and intelligence.
Jones improvement this year has breathed new life into his status as a prospect. Showing improvements in his short to medium range jump shot, and his marked improvements on the defensive glass, along with his ability to finish off the ball and also be an effective offensive rebounder, makes his transition to a lesser role at the next level a smoother one. Jones still has the same physical and athletic limitations that limit his upside as a prospect, but so far it appears his decision to return for his senior year has been a success.
While it's easy to rule out players in his mold quickly due to his obvious deficiencies, Jones has been winning over scouts all year with the leadership and competitiveness he displays and by simply being an outstanding teammate. He's highly unlikely to be a difference maker in the NBA, but has everything needed to be a quality rotation player on a winning team.