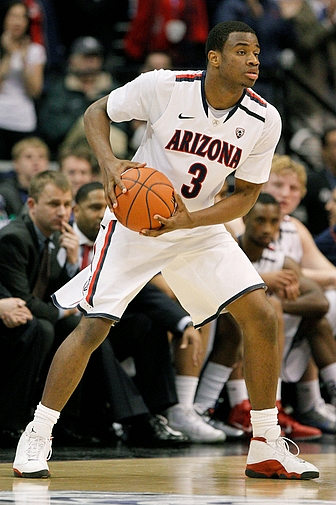 Matt Williams
Kevin Parrom
didn't have a breakout year on a national level as a sophomore, but he made some significant strides in his development that are certainly worth noting. Despite being in the news recently
after being shot above the knee
while visiting family in the Bronx, Parrom is already back in Arizona and should play a key role for the Wildcats this season. With
Derrick Williams
out of the picture, Parrom will have a chance to take a big step forward this season and could emerge as a prospect with continued development.
Standing 6'6 with a solid wingspan and a frame that has the potential for growth, Parrom has nice size for the wing position at the next level. While he isn't a bad athlete, the South Kent product is not overly explosive with his first step or as a finisher around the rim. He relies on his long strides to turn the corner when he slashes through the paint and is generally a below-the-rim player making his athleticism less than ideal for the next level.
The most significant development in Parrom's game from his freshman to sophomore year was the improvement of his jump shot. Looking far more comfortable with his mechanics and follow-through in his second season with Wildcats, Parrom went from being a liability when spotting-up to knocking down 42% of his attempts from beyond the arc last season. Considering that nearly two-thirds of his shot attempts are jumpers, this was a necessary step for the rising junior.
The young wing's improvement as a shooter did wonders for the rest of his game. While he is not one to blow-by his man off the dribble, Parrom is smooth with the ball in his hands and uses subtle changes of direction to make plays in traffic around the rim. He could stand to improve his ball-handling ability, especially with his left hand, but can take what defenders give him. He finished at a 64.5% rate last season according to Synergy Sports Technology, and while Parrom is by no means a dangerous one-on-one threat, he makes the most of his trips inside the arc.
His ability to finish as efficiently as he does inside is indicative of his improved decision-making and feel for the game. Parrom takes a contested jumper from time to time, but for the most part, is a savvy offensive player. He seldom appears to be in a rush, is willing to slow down and let the game come to him, and proves to have very good vision as a passer. Parrom is a candidate to pick up some of the slack left behind by
Derrick Williams
, and will need to continue improving his perimeter shot and floor game to make the most of his opportunity to show what he can do offensively.
On the defensive end, Parrom lacks the lateral quickness to deny penetration consistently, but not for lack of trying. The young wing shows fairly consistent intensity, and his solid steal-rate is a byproduct of the way he sticks with plays. Parrom did a better job last season not using his hands when he got beat, but needs to continue improving his fundamentals to compensate for his weaknesses. He's already a fairly good rebounder for his position and a solid team defender which are both good signs.
While Parrom may not have the upside of some of the other players in our PAC-12 rankings, he's a solid player who could emerge as a niche prospect should he continue getting better. He took a big step forward last year, and as long as he's healthy again this year, could be in position to make similar gains.