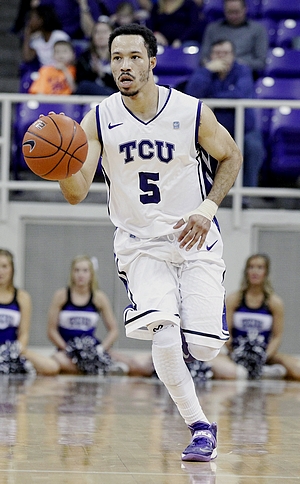 Josh Riddell
TCU has not had much basketball success after their transfer to the Big XII conference, winning just two league games in 2012-13 and having a disastrous winless conference season last year. After starting his career in the Mountain West conference, where he was named MWC Freshman of the Year, Kyan Anderson has had plenty of individual success in the Big XII, culminating in being named to the All-Conference Honorable Mention team last season, but it has not resulted in much success at the team level, something he'll certainly be looking to change as a senior.
Anderson is one of the most productive returning collegiate players around, as he averaged 19.5 points, 2.8 rebounds and 5.0 assists per 40 minutes pace adjusted, on strong efficiency marks, posting an excellent 61% true shooting percentage. As he enters his senior season, Anderson will need to have another productive campaign for TCU to not get rolled over again in the Big 12, while trying to show that he still has room to improve and translate his terrific productivity to the NBA level.
Anderson has several ways to put the ball in the basket at the collegiate level as he showed by being one of the most prolific and efficient scorers in the Big 12 last year. One of his most translatable skills is his ability to make outside shots, as he hit an excellent 40% of his three pointers last season on 106 attempts. He is a solid jump shooter overall, as he made 41.3% of his overall jump shots and showed comfort both in catch and shoot situations, where he shot 36.4% on 66 attempts and shots off the dribble, where he made an outstanding 47.7% of his 65 attempts. Anderson is forced to take a lot of very difficult shots handling the ball for a stagnant offense as the shot-clock runs down, and he's able to make these at a much higher rate than you'd expect.
Anderson has terrific ability to stop on a dime and pull-up off the dribble with a quick release and good elevation, showing he might be able to have some success getting his shot off comfortably against taller guards. Anyone that can create space and knock down shots the way he can, while being a primary ball-handler, will get a long look from NBA teams, as there simply aren't enough players like him coming out of the college ranks each year.
Physically, Anderson may have some trouble holding his own against NBA guards, as he is currently listed at 6'0", 175 pounds. None of his physical tools are especially impressive, as he does not possess elite strength or length to make up for his small size. With that said, Anderson has nice quickness and a solid vertical leap, which helps compensate for his average size.
Anderson is improved greatly as a finisher at the rim as a junior, shown in his 57.9% field goal percentage at the rim according to Synergy Sports Technology, although he did so on just 57 attempts. This is a step up from his sophomore campaign, where he shot only 47% on 34 attempts according to Synergy Sports Technology. He also more than doubled his free throw rate, earning 7 per-40 minutes pace adjusted, up from just 3.3 the year before.
A strong ball-handler, Anderson shows a nice extra gear he can go to to keep defenders off-balance, giving him just enough of a cushion to get to the rim and either find the open man or draw a foul. He's got solid body control and the ability to play at different speeds, which helps him score as efficiently as he did last season despite being surrounded by some very average offensive talent by Big 12 standards.
While he has success breaking down people off the dribble and getting to the rim, some of his success can be attributed to the fact that he's very selective with his forays to the rim, only attacking the basket when there is no rim protection available. When there is a shotblocker patrolling the paint, he struggles to finish at the rim, often throwing up a wild attempt, but to his credit he knows his limitations and doesn't try to force the issue too often. There are some question marks he'll have to answer about how he'll fare against bigger and more talented athletes at the next level, though, primarily due to his size.
Anderson has nice vision and can find the open teammate, averaging
5.0 assists per 40 minutes pace adjusted
last season, which is around average compared to other point guards. He delivers crisp, creative, accurate passes and finds a very nice balance between being a playmaker and scorer, leading you to wonder how much better he might look if he was surrounded by more talent.
Anderson committed
3.4 turnovers per 40 minutes pace adjusted
, which is on the high side but is also a product of having the ball in his hands all the time and being asked to create the majority of the TCU offense. NBA teams will want to see how Anderson can handle running a team while balancing his role as being the primary scorer.
Anderson's biggest hurdle from an NBA standpoint might revolve around his play on the defensive end. He struggles to guard collegiate players at this size, and his collection of physical tools suggest he will have similar issues against NBA players. A similar issue with many point guard prospects this year, he
blocked just one shot last season
. He isn't quick enough to keep up with ball handlers and has trouble contesting jump shots on the perimeter due to his lack of length.
In his senior season, Anderson will look to lead the young TCU team to a more successful Big XII conference season. Anderson has a well-rounded offensive skill set, showcasing a variety of ways to score from multiple places on the court. From a draft perspective, Anderson doesn't have the highest ceiling due to his age and average height, but he has a few things going for him with his ability to score efficiently from all over the floor and also make plays for others. Due to his difficult situation at TCU, he'll probably need to show well in pre-draft settings, starting at the Portsmouth Invitational Tournament, to show that he can translate his individual success on a losing team to better competition. However, another productive season from the point guard spot for TCU, possibly helping his team be more competitive the Big 12, could certainly improve his NBA standing.