Lior Eliyahu
Recent Tweets
All Tweets
DraftExpress: Lior Eliyahu will join the Timberwolves for Summer League in Las Vegas. Has a real chance to make their team it sounds.
2012-06-26 10:17:01
DraftExpress: RT @WojYahooNBA: Houston has also included the rights to Israeli Lior Eliyahu in the deal to Minnesota, a source said.
2012-06-26 10:00:49
DraftExpress: First points for Lior Eliyahu. What a bad Final Four for him. After a very good season too. 61-51 Panathinaikos. 6:30 to go.
2011-05-08 12:08:04
Top 25s - Full List
Team: Hapoel Jerusalem
Physicals
Positions
Misc
H: 6' 9"
W: 210 lbs
Bday: 09/09/1985
(30 Years Old)

Current: PF
NBA: PF
Possible: PF

High School:
Hometown: Ramat Gan, Israel
Drafted: Pick 44 in 2006 by Magic
Best Case: Ersan Ilyasova
Worst Case: Stefano Mancinelli




Basic Per Game Statistics

- Comprehensive Stats - Statistical Top 25s
| Year | League | Name | GP | Min | Pts | FG | FGA | FG% | 2Pt | 2PtA | 2P% | 3Pt | 3PtA | 3P% | FTM | FTA | FT% | Off | Def | TOT | Asts | Stls | Blks | TOs | PFs |
| --- | --- | --- | --- | --- | --- | --- | --- | --- | --- | --- | --- | --- | --- | --- | --- | --- | --- | --- | --- | --- | --- | --- | --- | --- | --- |
| 2015/16 | Eurocup | Lior Eliyahu | 4 | 19.3 | 10.3 | 4.8 | 9.5 | 50.0 | 4.8 | 9.5 | 50.0 | 0.0 | 0.0 | &nbsp | 0.8 | 1.3 | 60.0 | 1.0 | 2.0 | 3.0 | 1.8 | 0.3 | 0.0 | 0.8 | 2.8 |

Player Page&nbsp&nbsp| Player Stats | Related Articles&nbsp&nbsp| Add to My Draft Express&nbsp
&nbsp
European Roundup: Emir Preldzic Blossoming in the Euroleague
December 30, 2008
Few, if any, Euroleague players have performed as well in the month of December as Maccabi Tel Aviv's promising young forward Lior Eliyahu. After a fast start in both domestic and international play, the former Houston second-round pick hit a slump in November, spending more time on the bench in foul trouble than on the court helping his team battle through the toughest part of their Group A schedule. The turmoil the team suffered on the bench—replacing head coach Effi Birnbaum and his erratic rotations with legendary Pini Gershon—also played a large part in his struggles. Fortunately for Maccabi, Eliyahu has managed to regain the confidence of the new coaching staff, and the result has been three straight Euroleague wins, highlighted by three straight double-doubles from Eliyahu, to go along with back-to-back twenty point outings in the Israeli Premier League.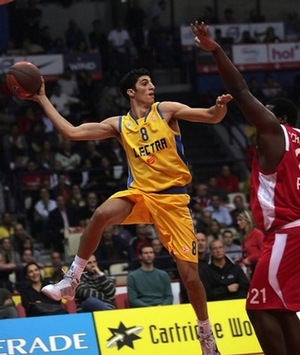 Getty Images



After taking a step back last season in terms of playing time and production, the 23 year old forward has made the most of his opportunities this year. Despite not having the physical strength to be a major contributor on the block, or having the jump shot to be an efficient perimeter scorer, Eliyahu has used the tremendous length and athleticism advantage he enjoys over many of his match ups to effectively compensate for his lack of a true position. He's scoring 15 points per game (6th best) in the Euroleague in just 26 minutes, grabbing over 7 rebounds (ranking 9th) and dishing out an impressive 2.4 assists (2nd amongst power forwards). Perhaps most startling is the fact that he's shooting a ridiculous 68% from the field, good for third best in the Euroleague.

There's a lot to like about the way Eliyahu has been playing on the offensive end, as he has done a tremendous job not only getting open for easy baskets around the rim, but also creating his own looks from in close off the dribble. He's always been very good at moving without the ball, a characteristic that lets him take advantage of his high-effort level to be productive. In his last five games, he's done a great job running the pick and roll, timing his cuts from the high-post to the basket, and getting up the floor in transition.

When Eliyahu isn't getting easy looks at the rim, he has shown the athleticism and ball-handling ability to get to the rim against most defenders. Eliyahu has notoriously settled for a lot of floaters in the lane, and while he doesn't always take his drives all the way to the rim, he has been much more aggressive once he has his man on his hip. He shows a nice step-back spin-move over his right shoulder and uses a sweeping half-hook over his left that allows him to get his shot off with little trouble. While he takes very few jump shots, his ability to create space for mid-to-short-range shots often allows him to compensate for that weakness. His touch in the post is nothing short of amazing, as he not only has huge hands that help him steer the ball exactly toward his target, but is also extremely fluid and coordinated (and highly unorthodox) with his moves. His feel for putting the ball in the net is clearly in an elite category amongst European big men.

Despite adding a few moves to his repertoire, Eliyahu's ball-handling still leaves something to be desired, particularly with his left hand. His new found aggressiveness had made him a bit more turnover prone than he has been in the past, and he could stand to be more controlled with the ball when he attacks the rim.

The most impressive aspect of Eliyahu's recent performances has been his ability to finish the looks he creates for himself. His length and leaping ability make him a solid finisher at the rim, but he still struggles with contact to some extent. He often looks to avoid contact by taking inside shots moving away from the rim, but manages to make such shots with surprising success. In recent games against Air Avellino and Bnei Hasharon, more than half of Eliyahu's shot attempts came on swooping drives that he finished moving away the basket once he was met with a defender at the rim. For a player that gets as many looks around the basket as Eliyahu does, added physical strength and improved free throw shooting could make him that much more efficient; something that isn't easy for a player shooting almost 70% from the field. Continuing to work on his jump-shot and free throw stroke could pay huge dividends from him down the road considering how good of a scorer he already is.

The biggest improvement to Eliyahu's defensive game has also paid dividends for him on the offensive end. He has been rebounding at a significantly higher rate in December then he was in the early-going, and his meteoric rise in PER can be largely attributed to his improved effort on the glass. He's shown a willingness to rebound outside of his area, and has been using his length and athleticism to much greater extent than he used to. While he is still boxing out well, the aggressiveness he has shown when pursuing a missed shot off the rim has improved dramatically (to the tune of three straight games of 10 of more rebounds in Euroleague play and a 17 rebound effort against Cibona). He has gotten quite a few tip ins recently, and is doing a good job filling the lane behind his teammates when they take shots around the basket.

Eliyahu's length and lateral quickness should theoretically give him the ability to effectively defend the perimeter very effectively, but unfortunately this has been an area he's struggled in throughout his career. His awareness, focus and intensity are often very lacking on this end, and his lack of physical toughness has often been criticized. Eliyahu doesn't offer much as a shot blocker, usually not getting into position quickly enough to contest shots at the rim. He's also prone to fouling in the post, so his move to playing more on the perimeter defensively has certainly been a major contributor to his increased playing time.

Despite not showing any incredible new wrinkles in the areas that he has historically struggled in, Eliyahu's recent play has been nothing short of remarkable. Last season seemed to temper some of Houston's enthusiasm toward adding him to their roster, but if he continues to play at such a high level, he could very well be in the mix for a spot on the opening-day roster in 2009. Eliyahu doesn't have the tools to be a consistent contributor on the NBA yet, but he's still young, and has become very good at using the tools that he does have, which are, albeit unconventional, actually very unique. His ability to run the floor, move off the ball, pass unselfishly, rebound the ball, and make shots around the rim while defended could, at the least, make him an asset in trade negotiations.

[Read Full Article]

---
Euroleague Final Four Preview
April 30, 2008
Eliyahu has spent the better part of this season glued to the bench, as he just doesn't seem to bring what current head coach Tzvika Sherf is looking for in terms of toughness, defense and rebounding. He's a flat-out scorer who probably needs a change of scenery at this point to show the Houston Rockets that he is capable of playing in the NBA after he was drafted by them in 2006.

[Read Full Article]

---
Blogging Through Israel (part five)
November 18, 2006
Lior Eliyahu started off the game strong, and was very solid in his 27 minutes. At the beginning of the game, he was fouled out in transition going to the basket, and was able to score after rebounding his own miss on the second free throw attempt. His good use of movement off the ball continued to create easy scoring opportunities and free throw attempts. Eliyahu will need to work on being stronger with the ball, as it's too easy for a defender now to rip the ball away while he's going to the hoop. He will also need to work on absorbing contact better after being fouled, but this should come with further development to his body. Eliyahu's shooting stroke worked a little better against Joventut, though his mechanics still need a ton of work. He uses his body really well to rebound the basketball, and has long arms that allow him to collect rebounds even if he's out of position. Right now, he needs some work before playing in the NBA, but the potential is there. Lior Eliyahu finished the game with 14 points on 6/7 from the field, and 12 rebounds, including 3 on the offensive end.

[Read Full Article]

---
Blogging Through Israel (part four)
November 16, 2006
Lior Eliyahu didn't have a great game, though he really didn't get the minutes to redeem himself after a few mistakes. He had some trouble catching the ball in this game, and by the time he gained control, the defense had already adjusted and taken away his scoring opportunity. He continued to make some very nice cuts to the basket, and once again was in the right place at the right time. He also made a couple jumpers from around 17 feet, despite his shaky shooting stroke. Eliyahu played well on the defensive end, and was able to hold his position in the paint against bigger players. He finished the game with 8 points on 4 of 8 from the field, and 4 rebounds in 20 minutes.

[Read Full Article]

---
Blogging Through Israel (part three)
November 10, 2006
Lior Eliyahu, whose draft rights belong to the Houston Rockets, played an excellent game despite foul trouble. Most people thought Eiliyahu would have to play small forward in the NBA, but the Rockets want him to play power forward in the NBA. He moves very well off the ball, and scored his first 4 points of the game on open dunks off of cuts from the weak side. Eliyahu has been known to have the tendency to only drive to the right side of the floor, and early on, he did drive from above the three point line on the left to the right side of the hoop for a layup. Later in the game, he did drive to the left on three different occasions, and he was able to finish twice. Eliyahu has two main weaknesses which will need improvement before he tries to make the jump to the NBA. His defense needs a lot of work, as evidenced by the foul trouble he struggled with throughout the game. He misses a lot of rotations playing help defense, and is a liability against quicker players who beat him off the dribble. The other thing that must improve is his outside shooting. He didn't take any shots in the game outside of 15 feet. He missed his first two free throw attempts, and his shooting mechanics need a lot of work. These two weaknesses will be less of a problem for Eliyahu if he's playing as a face the basket 4, but he needs to bulk up first if this will happen in the NBA. He has a good frame for adding weight, but his body is undeveloped. Eliyahu finished the game with 18 points on 8/9 from the field, and 5 rebounds in 25 minutes.

[Read Full Article]

---
An American Perspective on Europe: The Wings
June 27, 2006
A player that not many expected to keep his name in the draft, Lior Eliyahu is taking a calculated risking and betting on the fact that his outstanding combination of current production and future potential gets him drafted in the 2nd round.

Eliyahu, "the Diamond" as he's called in Israel, is one of the most prolific International players in his age group. Despite breaking his hand midway through the season and ruining plenty of excellent momentum he had going for him, he still managed to average 16 points, 6 rebounds, 3 assists, 1.3 steals and 0.7 blocks in 27 minutes per game, being named to the FIBA Eurocup allstar game along the way.

Eliyahu is a mismatch anyway you slice it, slithery around the basket, crafty with his moves, quick and explosive, and extremely intelligent and confident in everything he does. He has good size at 6-9, excellent length and extremely big hands.

Eliyahu does plenty of damage around the painted area with his deadly touch at the rim, and is capable of stepping outside and knocking down a 3-pointer if he has time to set his feet. Running the floor in transition with a true point guard is where he really shines. Possibly the biggest improvement we've seen this past season is in his ball-handling skills—once being quite limited in the moves he could make on the perimeter to now being capable of putting the ball on the floor and making his way to the hoop fairly effectively. His passing has also improved by leaps and bounds, as evidenced by the 3.1 assists per game he averaged this past season in the Israeli league, up from 1.7 the year before.

Eliyahu has great instincts for the game and plays with the type of purpose you love to see from someone so young. He challenges players much older than him on a regular basis and has no problem stepping up to take clutch shots when the game is on the line. Seeing the improvement Eliyahu has made from being just another average Joe two-three years ago to one of the top players in the world at his age leaves some optimism about his work ethic and potential to continue to improve.

As a basketball player, there is little doubt that Eliyahu can compete with the best of them. The doubt that does exist revolves mostly around how he fits in at the NBA level, particularly in terms of his position on the floor. Eliyahu plays mostly power forward in Europe and is so effective largely because of the mismatches he creates. In the NBA he might be forced to slide down a spot and become a small forward, and this is where he will encounter some problems.

First and foremost would be defensively, where he's already lackluster at any position and in any league he plays in. He lacks the lateral quickness to defend most of the explosive small forwards we find in the NBA, and probably isn't strong enough to defend bigger power forwards in the post. Seeing him getting burned on a defensive rotation or picking up foolish fouls is not rare even in the Israeli league, which at times forces him to sit on the bench when his team needs him on the court.

Second would be his perimeter shot. Eliyahu's mechanics are very flawed and he lacks range, quickness and consistency on his jump-shot. He can knock down 3-pointers when he has time to set his feet, but struggles when forced to put the ball on the floor and pull-up off the dribble.

Lastly would be his shot-creating ability. Eliyahu's ball-handling skills have improved considerably over the past year, but he will need to continue to work on his entire perimeter game to effectively make the move to small forward.

What makes Eliyahu intriguing for plenty of teams drafting in the 2nd round is the fact that he is in no position to force a guaranteed tender from them this summer, as he is still a soldier in the Israeli Defense Force. What's even better is that he will be playing for one of the top teams in the world outside the NBA in Maccabi Tel Aviv next season, which should surely help prepare him for the league if he continues to develop. With more teams scrapping traditional positions altogether and throwing out the most talented players they have on the floor, Eliyahu could be an intriguing face-up power forward for an up-tempo team. He has the talent, physical attributes and mentality to play in the NBA, it's his overall polish that needs plenty of work. Luckily for him and the team that drafts him, though, time is on their side.

[Read Full Article]

---
RBK Treviso Eurocamp 2006: The Final Cut
June 15, 2006
Mixed feelings about Lior Eliyahu. On one hand, he has looked quite athletic, enjoys a very promising body for the small forward position (he's 6-9 on shoes), has delivered plenty of hustle, actively chasing the boards or going for loose balls, and has been kind of effective near the basket. However, we've greatly missed more of a perimeter game. Lior is playing power forward in Galil Elyon, and that's not helping him to maximize his potential, which is at the small forward position.

[Read Full Article]

---
Lior Eliyahu NBA Draft Scouting Report
July 3, 2005


Strengths


Eliyahu has a prototypical body for an NBA small forward, minus a couple of pounds. He has great size at 6-8 or maybe even the 6-9 as he's listed by his team, with an excellent wingspan and big hands. He is very athletic for a European prospect, with good quickness and foot speed and the ability to get off the floor and finish.

Offensively, he shoots a very high percentage (63%) because most of his offense comes from 15 feet and in. His shot selection is usually very good, especially when you consider his age and the level he plays at. He is smart and slithery around the basket, and really has a knack for scoring around the basket. Thanks to his long arms, athletic ability, footwork and a super soft touch, he is almost automatic in the paint. Eliyahu really has a nose for the ball. He scores a lot of points just by being in the right place at the right time.

Having a quick first step and long enough strides to make it to the basket from the perimeter with only two dribbles, Eliyahu has a lot of potential in the slashing department. He has shown that he can finish creatively around the basket, with a nice little floater or even a half hook shot in the lane. He can hit the three pointer if he's open, but he's much better from mid-range.

Eliyahu is an intelligent player who excels moving off the ball. He doesn't have much of a position in the half court offense, but that also makes him extremely tough to guard as he just loves to roam around the floor and create havoc wherever he goes with his quickness and long arms. In transition is where he really excels, really knowing where to run and place himself on the fast break to help his team come up with the points, and often being the one who finishes the play himself with an athletic dunk. The fact that he runs the floor like a deer really helps him in this aspect.

Unlike most European draft prospects his age, Eluyahu is already an extremely productive player. He plays a ton of minutes amongst grown men and puts up numbers consistently every single night, in every competition he plays in, despite the fact that he is only 19. In the FIBA Europe league this year (12 games), he averaged 19 points a game and 6 rebounds on 70% from the field and 44% shooting from behind the arc in only 29 minutes per game. In the Israeli league playoffs (10 games), he averaged 16 points and 6 rebounds (62% FG, 42% 3P) in 24 minutes per game.

Eliyahu has made some incredible strides in his game over the past two years. If he continues to work and improve in a similar fashion over the next few years, the sky is limit for this kid and he will certainly make the NBA. He appears to have the right attitude towards the game, being willing to pass the ball when needed, but also not shying away from taking things on himself and putting the ball in the basket. He has a large upside to improve, but must continue to work on his many weaknesses.



Weaknesses


Because of the lack of size, athletic ability and emphasis on skill development in the youth categories in Israel, Eliyahu was played in the post for most of his career as a junior. Therefore it's going to be an uphill battle for him to make the full conversion to becoming a wing player, despite the fact that he has the physical attributes and then some to do so. Right now he is a positionless player for the NBA.

First and foremost, Eliyahu must improve his ball-handling skills, especially with his left hand. He almost always goes right at this point, something that will certainly be exploited more now that he is becoming more of a focal point in the opposing team's scouting report. Regardless of the direction he is going in, he dribbles the ball loose and very high, although his long strides and quick first step help him in this area. He can create his own shot most of the time in the Israeli league (the fact that he is a huge mismatch here helps as well), but he'll have to improve greatly in this area to have any thoughts of doing so in the NBA. Things like slashing and pulling up off the dribble or creating space for himself to get his shot off on the perimeter are way out of his league at this point.

Second is his defense. In the junior categories players like him are placed in the paint in the middle of a zone defense. He has very little experience guarding the perimeter, and is therefore a defensive liability anyway you slice it at this point. His lateral footwork is poor, using his hands way too much and therefore often finding himself in foul trouble in the process. His team defense isn't much better either, although this steams more from a lack of effort along with a poor understanding of the team defense. Eliayhu gets lost often here, failing to rotate and get out and guard the perimeter, and just not using his length and athleticism enough to bother the players he is guarding. He does have a lot of potential in this area, though, due to his length. This already helps him out a lot in the passing lanes and blocking shots, but not enough in his on the ball defense beyond the stats. Part of the reason that he's not a great defender is the fact that he's lacking strength at this point. Eliyahu has a great frame, but he still needs to add some bulk in the weight room or else he'll be pushed around.

Possibly his biggest weakness and the thing he needs to work the hardest on is his outside shot. His mechanics are horrendous, to go along with a slow release and very little elevation on his jump shot. He can not create a three pointer for himself off the dribble, being strictly a threat from outside only if he is left wide open and has time to set himself up. Eliyahu needs to get with a shooting coach ASAP to correct his mechanics and teach him how to get his shot off under pressure and on the move. Otherwise his chances at making and sticking in the NBA as a SF are low.



Competition


Eliyahu plays for Galil Elyon, a tradition rich team who can claim to be the only team in Israel to win a championship in Israel in the last 35 years besides Maccabi Tel Aviv. He is coached by Oded Katash, one of the best guards in Israeli basketball history. Galil participated in the FIBA Europe league, a Pan-European league for mostly third tier teams from all over the continent. As noted above, Eliyahu did incredibly well there by any standards regardless of his age. In the domestic Israeli league Eliyahu started off slowly until he eventually became the 1st or 2nd option offensively on his team, being a huge part in their success in finishing 2nd in the league and doing an outstanding job down the stretch in the playoffs.

The competition in Israel is good, but not great. Although for a prospect his age who is looking for steady minutes in a friendly environment where he can work on his all-around game, it's basically perfect.



Outlook


Eliyahu is currently in the midst of serving a mandatory three year stint in the Israeli army. This might make it impossible for him to come to the States to train, do workouts, measurements, physicals and all the other things that draft prospects are expected to do in order to be taken seriously for the draft. Looking at where he is at skill wise, he would have to make some pretty huge strides anyway to be considered a lock for the 1st round in the 2006 draft regardless. The burden is on him at the moment to continue to work on his perimeter skills, particularly his ball-handling, defense and outside shooting if he wants to have a shot at the 1st round next year or in his automatically eligible year in 2007. How much he works to improve in those areas will ultimately decide if he gets drafted, and if so, how high. Right now he is a 2nd round prospect for either next year or the year after.



[Read Full Article]

---