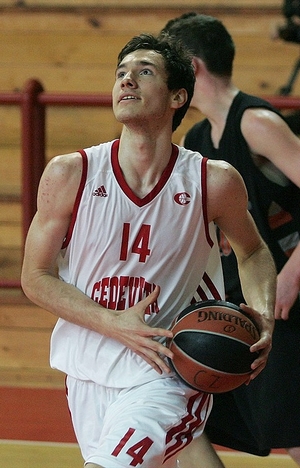 Jonathan Givony
Strengths:
-Great size for a wing player
-Excellent frame
-Very good athlete
-Elegant ball-handler
-Can create his own shot effectively in the half-court
-Good potential on the pick and roll
-Highly creative player. Can find teammates in impressive fashion. 5.8 assists per-40
-Strong finisher around the basket. Can play above the rim
-Plays through contact
-Very good potential defensively. Gets in a low stance, moves feet and can stay in front of smaller player
-Gets in the passing lanes frequently.
-Fiery, competitive player
Weaknesses:
-A little wild at times. Tries to do too much. Turnover prone. 4.7 turnovers per-40 in Belgrade
-Inconsistent shooter for most of his career thus far. Showed solid mechanics and looks to be improving in this area. Still knocked down only 25% of his 3-point attempts in Belgrade and 67% of his free throws.
-Body language can be very poor at times. Blames, belittles, complains to teammates when things aren't going his way. Doesn't appear to be the most pleasant guy around.
Outlook:
Looked to be the most promising long-term prospect at the tournament. Already seeing some minor minutes at the senior level with Cedevita in the Adriatic League and EuroCup, and clearly that's paying off. Size, athleticism, defensive prowess and ability to operate off the dribble give him excellent long-term potential. Needs to continue to improve as an outside shooter, but already appears to be making nice strides. On-court behavior and demeanor is somewhat of a concern, and somewhat scouts would certainly like to see him improve on as he matures. MVP of the Jordan Brand Classic International game in 2013.