Top NBA Prospects in the Non-BCS Conferences, Part Six: (#26-30)
November 13, 2013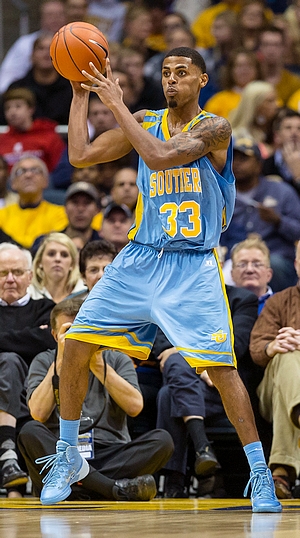 US Presswire



Kyle Nelson

Malcolm Miller's journey to Southern University was hardly typical. He passed up offers from high major programs out of high school in order to stay closer to his son, ultimately landing at South Plains Junior College. He once again attracted high major interest as a standout player for South Plains, where he played alongside of Ole Miss guard Marshall Henderson, but was kicked off the team for failing a drug test.

At the end of the day, only Southern University was willing to take a chance on Miller, and he did not let them down. After returning from a broken thumb, the 6'6 junior helped Southern upset Texas A&M, win the SWAC Tournament Championship, and scare Gonzaga in the first round of the NCAA Tournament on his way to being named both SWAC Newcomer of the Year and All-SWAC First Team. Now a senior, Miller is no longer flying under the radar and has emerged as the top NBA prospect in the SWAC thanks to his terrific shooting ability.

At 6'6 with a wiry 200-pound frame, Miller has solid size and length for both wing positions, even though he must continue to add muscle on to his lanky frame. Though Miller runs the floor well, he is not a particularly impressive athlete, lacking the quickness, agility, and explosiveness expected of wings at the next level.

Miller had a very impressive freshman season on the offensive end of the floor, ranking 10th in our database in PER while averaging 23.6 points per 40 minutes pace adjusted. Furthermore, he distinguished himself as one of the most accurate perimeter shooters in college basketball while ranking as one of the most efficient overall small forward prospects in our database. Yet, moving behind the very impressive numbers reveals the fact that he did not fare particularly well against high major competition outside of his 17 point performance against Texas A&M.

According to Synergy Sports Technology, 72.7% of his overall field goal attempts are jump shots. Miller is at his best in this area, making a tremendous 46% of his 9.4 three point field goal attempts per 40 minutes pace adjusted. While his mechanics are unconventional, he is a particularly formidable shooter with his feet set, equally effective spotting up, as a trailer in transition, or running off of screens.

Likewise, he showed the ability at the SWAC level to score from mid-range, and is able to use a crossover or step back to get space and launch a jumper from 15-20 feet. Against higher-level competition, however, his average ball-handling ability and struggles to use his left hand render him somewhat one-dimensional.

Miller was very effective as a finisher closer to the basket, making 60% of his overall attempts, but he rarely was able to take advantage of that last season. While he is basically limited to line drives to the rim, he has solid shooting touch and body control, which allows him to finish difficult looks at the SWAC level. He does not draw many fouls, however, and attempts only 3.8 free throws per 40 minutes pace adjusted, showing how limited he can be in this area. Somewhat tellingly, he struggles significantly more as a slasher against better competition, a combination of his shaky ball-handling skills and below average athleticism.

Miller's defensive abilities are a bit more difficult to evaluate. For one, he did not play that often against high major competition and, at times, he was asked to defend the power forward position. Although it's difficult to draw too many conclusions from the grainy footage against SWAC competition, Miller does seem to be a capable defender when he's dialed-in, yet his focus is not always there and his average lateral quickness and subpar fundamentals leaves him few options against better players. His 1.6 steals, 1.0 blocks, and 9.0 rebounds, all per 40 minutes pace adjusted represent the type of damage he can do on the defensive end, but it remains to be seen just how competitive he can be night-in-and-night-out against better players.

Looking forward to his senior season, Miller's prospects are more than a bit unclear. For one, it's difficult to see what he could provide an NBA roster outside of his perimeter shooting, as he's neither an adept shot creator nor standout defender. His lack of strength and average athletic profile may also hold him back against better competition. Early season games against #6 Arizona, #10 Florida, #17 Marquette, and #25 Baylor should help him to answer many of these questions, as he will have the opportunity to prove himself against some of the best perimeter players in college basketball. With a better out of conference schedule and in a much-improved SWAC, Miller should have plenty of chances as a senior to show scouts that he is worth serious draft consideration come spring.

[Read Full Article]

---