Marco Belinelli
Recent Tweets
All Tweets
DraftExpress: Marco Belinelli scored 37 points in his summer league debut. Anthony Randolph scored 47 points in a summer league game. Marcus Banks had 42.
2013-07-13 22:01:14
Top 25s - Full List
Team: Bulls College Team: Kings
Physicals
Positions
Salary
Misc
H: 6' 5"
W: 192 lbs
Bday: 03/25/1986
(29 Years Old)

Current: SG
NBA: SG
Possible: SG

Agent: Sam Goldfeder
Current Salary:$2,873,750

High School:
Hometown: San Giovanni, Italy
Drafted: Pick 18 in 2007 by Warriors
Best Case: Mike Miller
Worst Case: Jiri Welsch




Basic Per Game Statistics

- Comprehensive Stats - Statistical Top 25s
| Year | League | Name | GP | Min | Pts | FG | FGA | FG% | 2Pt | 2PtA | 2P% | 3Pt | 3PtA | 3P% | FTM | FTA | FT% | Off | Def | TOT | Asts | Stls | Blks | TOs | PFs |
| --- | --- | --- | --- | --- | --- | --- | --- | --- | --- | --- | --- | --- | --- | --- | --- | --- | --- | --- | --- | --- | --- | --- | --- | --- | --- |
| 2015/16 | NBA | Marco Belinelli | 17 | 28.4 | 13.1 | 4.1 | 10.3 | 39.4 | 2.1 | 5.1 | 40.7 | 2.0 | 5.2 | 38.2 | 2.9 | 3.5 | 84.7 | 0.2 | 1.4 | 1.5 | 2.5 | 0.7 | 0.1 | 1.6 | 1.9 |

Player Page&nbsp&nbsp| Player Stats | Mock Draft History | Related Articles&nbsp&nbsp| Add to My Draft Express&nbsp
&nbsp
Las Vegas Summer League Day Three
July 14, 2008
Belinelli put on a tremendous performance, showing the same offensive prowess that he did last season. Forced and made shots from all over the place when he got hot early in the second. Though he took quite a few questionable shots, Belinelli shot a solid percentage from the field. Heíll take a lot of jumpers off balance with a hand in his face, but when heís in the zone, it really doesnít matter. Despite his prowess as a shooter, he showed some nice slashing ability too, getting to the rim and going to the line. Heís not a great finisher in traffic, but aims to get to the line when he gets in the paint. His aggressiveness as a scorer is his claim to fame, but he also showed good court vision today. His flair for passing made for a couple of nice highlight reel no-looks that ended with dunks for his teammates. This is an ideal level of play for Belinelli, since his defensive deficiencies are taken advantage of and he has free reign offensively. Whether he can translate that to the NBA at some point remains doubtful.

[Read Full Article]

---
DraftExpress All-Summer League: First Team
July 23, 2007
Marco Belinelli gave the Golden State Warriors plenty to think about with the offensive display he put on during the Summer League. Excluding his awful 0-9 3-point shooting night against Kevin Durant in his last game of the summer league, Belinelli shot a ridiculous 12-18 (66%) from behind the 3-point line in his first three games, showing absolutely no problem whatsoever making the transition to NBA range and converting most of his attempts in extremely difficult fashion.

Belinelliís first game was his most impressive. For that matter, it might have been the most impressive performance of the entire summer league. He scored 37 points on 14-20 shooting, and did it in every way imaginableócoming off screens, pulling up in transition, going to the basket after a pump-fake, and more. He takes and makes incredibly difficult looks with a quick, fluid flick of the wrist, exuding confidence and even arrogance as he drains shot after shot from well beyond the NBA arc. A volume shooter through and through, he is going to fit in perfectly into Don Nelsonís system in that regard already starting next year.

Belinelli has a quick first step and pretty solid ball-handling skills. In Italy he was criticized for not making enough use of it at times, preferring to settle for step-back fadeaways instead of taking the ball to the basket and getting to the free throw line. Here in Vegas he showed more of an inclination to put his physical tools to use, going to the line 16 times in 4 contests. The advanced way in which he uses shot-fakes helps him out greatly in this regard, as once he establishes the credibility of his shot itís extremely ease for him to get his defender off balance just by threatening to hoist up a jumper. NBA defenders will likely learn to force him to put the ball on the floor eventually, because his percentages drop significantly when heís pulling up off the dribble rather than spotting up or coming off a curl.

On the negative side, Belinelliís shot-selection ranges from questionable to baffling depending on how easily his looks are falling on any given night. When heís on, heís incredible, but when heís off, heís just terrible. We saw both sides of the coin in this regard in Vegas, and it will be interesting to see how his confidence (as well as the confidence of his coaching staff in him) holds up as the NBA season moves on.

Defensively, Belinelli is going to struggle, plain and simple. His lack of strength is something that opposing coaches are going to want to take advantage of, and you could already see the way he was targeted on ISO situations on the perimeter in Vegas due to his lackadaisical footwork. It would have been nice to see Belinelli make more of an effort to stand out in some other parts of the game besides his shooting as well, as 1.8 rebounds per game in 37 minutes is terrible regardless of the position he plays. At any rate, Belinelli fell into the perfect situation as far as heís concerned in regards to highlighting his strengths and minimizing his weaknesses. There should be plenty of touches for him as well next season.

[Read Full Article]

---
2007 RBK Eurocamp: Day Two (Part One)
June 11, 2007
Considering that this was his last day here before flying out to workout for the Washington Wizards on the 12th, we made sure to pay extra attention to the exploits of the highest rated 2007 draft prospect at the camp. The end conclusion was that he certainly seemed to play better than he had the day before, even if it still didnít seem like he really wanted to be here from his body language.

Belinelli made much more of an effort to attack the basket by putting the ball on the floor, drawing eight fouls for his effort as well as picking up 5 turnovers in the process. He showed a very nice first step and decent ball-handling skills, dunking the ball emphatically in transition (reminding us of his excellent athleticism), and also causing some foolish turnovers.

He mixed in his shooting touch quite a bit on the way, shaking his man violently and executing some very complex off the dribble fade away moves, contorting his body exaggeratively to make things probably more complicated than he needed them to be. His stroke is a thing of beauty when he decides to set his feet and follow through on the simple catch and shoot, as he did quite nicely on one opportunity when left wide open. In the NBA 3-point shooting drills Belinelli wasnít quite as good as you may have thought, going 3/10 on the first series and then 7/10 on the next.

All in all, this probably wasnít the kind of camp Belinelli needed to really push his stock higher than it was coming in here. Heís a solid player, but pulling out of the draft and working on having a much better year next season (both individually and team-wise) doesnít sound like that bad of an idea anymore.

[Read Full Article]

---
2007 RBK Eurocamp: Day One
June 10, 2007
It went wrong from the very beginning for Marco Belinelli. Being probably the most expected player from the bunch that finally made it to the camp, he was the only one arriving late for the morning drills. And he's certainly not looking like the most enthusiastic guy out there, as if he doesn't really want to be here.

It's always surprising when a guy projected in the first round, or even on the bubble, shows up for a pre-draft camp. Not being a lock after a pretty disappointing season in Bologna (regardless of his scoring averages in the domestic competition), Belinelli still had very serious first round consideration. Actually his presence could be a nice indicator that he wasn't that much confident about his options of getting into the privileged round.

Yesterday's show couldn't have helped his cause, though. He had a horrible shooting day, reproducing his struggles during the season.

You can feel he's a special guy out there, like if he had a different status, a star status, from most of the players here (a bit like happens with Ponkrashov or Mbemba), and of course he doesn't shy away when it comes to shooting the ball regardless of his situation on the court. That was the biggest problem in yesterday's performance, his shot selection.

We already know Belinelli, he's capable of knocking down the wildest shots, but he's not consistent doing it, hasn't been all season long, and stubbornly continues trying off-the-dribble, unbalanced, one-legged impulsed fade-away attempts with little chances of success. Yesterday he only hit a couple of perimeter jumpers, not by coincidence two orthodox, balanced, and open shots.

Marco looked a lot better when he decided to put the ball on the floor to penetrate. He went a few times all the way to the basket, showing nice quickness and general athleticism, but also good ball-handling, footwork and ability to finish around the rim. Still, more often he settled for off-the-dribble passes, easily finding the open man, several times in the corner on the three-point line, greatly helping the offensive flow of his team.

You can see the great talent Belinelli enjoys, his excellent feel for the game, every time he attacks the basket. Actually he should be much more active in this area, even building his game from his slashing abilities and letting the perimeter shooting options come to him. Instead, he keeps shooting and shooting, regardless of his position, hurting his effectiveness on court.

Unless he dramatically improves in the remaining days of the camp, chances are he will opt to pull out and wait another year to increase his options of hitting the first round. If he decides to stay in, we were told that he has a $600,000 buyout in his contract.

[Read Full Article]

---
Euroleague Prospects (Part 3, Stock Down)
February 22, 2007
After an impressive game against the United States in the World Championship in Japan, Marco Belinelliís stock took a bit of a hit in the Euroleague season. Heís come down to earth a bit as defenses have keyed on him much more intensively, struggling with his shot during a good part of the campaign and showing a pretty one dimensional offensive game. Belinelli has been very reluctant to drive to the basket, instead settling mostly for tough, long range jumpers that didnít fall at any kind of consistent clip. The fact that he can get his shot off against any kind of opposition might have a lot to do with Belinelliís lack of aggressiveness when speaking about slashing game. Marco is a jump-shooter in the truest sense, possessing beautiful form on his shot and being able to knock down 3-pointers from almost anywhere on the floor. Whether coming off a screen, shooting off the dribble or simply elevating over an opponent for a fade-away shot, Belinelli shows a high release point, deep range and exceptional touch.

Even if he relies too heavily on his shot to produce points, Marco shows flashes of possessing a solid all-around offensive game. The problem is that he hasnít shown the willingness to put it all together just yet. He has a good first step and nice athleticism, and is a solid ball-handler with pretty good court vision. Often you got the feel that Marco doesnít make full use of his abilities and could do so much more on the court, instead of just settling for 3ís from the perimeter. His defensive effort is also above average when he decides to apply himself, using his decent lateral quickness and long arms to disrupt opponents and deny dribble penetrations.

Whether he declares this year or waits until 2008 when he will be automatically eligible, Belinelli has the makings of first round pick. Even though his shooting percentages dropped and his team struggled to qualify for the Top-16, heís still one of the best shooting guard prospects around. He is also a pretty safe bet, considering that he has that one skill that he could utilize from day one on the NBA court - his shot. With time and good coaching, the rest of his game should develop as well, meaning he has the potential to become more than just a spot-up shooting threat.

[Read Full Article]

---
Roundup: Belinelli Looking for Redemption
December 19, 2006
Coming off a frustrating Euroleague showing against Le Mans, where he only scored 5 points (all in the first quarter), Belinelli rebounded for a 29-point performance in the Italian League. Still, this excellent offensive effort couldnít be transformed into a victory for Climamio Bologna, falling against Bipop Carire Reggio Emilia and leaving the team with a negative record in the domestic competition (5-7); letís remember that, since coming back to first division in the 1993/94 season, this club has never finished a regular season with a losing record.

However, this loss wouldnít matter much if it meant some sort of turning point for Marco. For starters, after 19 games played both in the Euroleague and Italian Lega this season, this is the first time he converts more than 50% of his three-pointers (5/9). Needless to say at this point that the perimeter shooting is the foundation of his current game. Besides, he stayed active in other departments, for example getting 4 rebounds.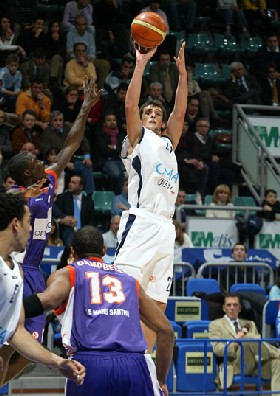 Photo: Ciamillo Castoria / L. Villani


Anyway, we should underestimate Belinelliís season by his poor effectiveness in the Euroleague (where he draws great attention from his rivals after his impressive previous season). He averages 17 points per game in the domestic front with better percentages, although the level drop that the Italian League has been suffering for some seasons now is helping him. Still, you can see how talented he is every time he touches the ball, his flair playing the game. And itís not only about his ability to release the shot in complicated circumstances, but also about his handles, the way he sees the floor and passing skills or his movement without the ball, although his prolificacy with the long-range jumper makes his game a bit too much one-dimensional.

Itís difficult to read his draft stock at this precise moment of the season. If the campaign continues the way it has been going on so far, Belinelli could even drop to the second round (did he declare, of course). However, thereís still plenty of time for him to redeem himself off these early struggles and regain solid first-round ground. Whatever happens, donít expect him to finish any higher than the twenties. His lottery chances, even right after his impressive showing against the US Team in the Worlds, have always been pretty slim. He simply doesnít fit with what NBA teams search that high in the draft (regardless how high Redick might have gone last June).

[Read Full Article]

---
Euroleague Preview: NBA Draft Prospects (The Veterans)
October 25, 2006
If you were looking to put down money on the top scorer in the Euroleague among players on this list, Marco Belinelli would seem to be the safest bet. Despite being only 20 years old, weíre already talking about one of the best shooting guards in all of Europe, and a leading player for a competitive Italian league team.

At 6-6, Belinelli has good size for the shooting guard position, hurt to a certain extent by the fact that he is incredibly skinny with a narrow frame that doesnít look like it will be filling out anytime soon. He does make up for that with his nice wingspan, but at the NBA level, there are some legit concerns about how heíll he stack up physically with players at his position. Athletically, Belinelli is pretty gifted, although he doesnít make anywhere near enough use of it as youíd hope. When he decides to show off his physical tools, he is quite impressive, feature good quickness, a nice first step, and being fairly quick off his feet to get up and finish.

Offensively, Belinelli does the large majority of his damage from 17 feet and out. He has a very pretty looking 3-point stroke, with a high release point, a very quick trigger, and absolutely no hesitation whatsoever to heave up shots. When heís on, he is absolutely lights out, being capable of draining tough shots with a hand in his face from well beyond the NBA 3-point line. He is terrific coming off screens to find a shot inside or outside the arc, and can get his jumper off in a number of different ways. Shooting off the dribble is cake for him, either going left or right, stepping back and fading away while contorting his body. This is where he gets into the most trouble, though, as he can be incredibly streaky at times and shows no conscious hoisting up tough shots from the most difficult of situations. His shot-selection is average at best, and when his jumper isnít falling, he can be a real detriment to his team.

The biggest questions about Belinelliís NBA potential revolve around whether heíll be strictly a 3-point specialist in the NBA or whether heíll develop into more than that. The majority of his shots come from behind the arc, and despite his excellent physical tools, he seems very much adverse to putting the ball on the floor and getting to the basket. When he does drive, itís usually to pull-up off the dribble from mid-range. Is he soft? Just too weak physically? Can he finish stronger around the basket than heís shown? Until he shows otherwise, heís going to be labeled as strictly a jump-shooter, and defended in the NBA as such.

[Read Full Article]

---
NBA Draft Intrigue at the 2006 World Championship
September 6, 2006
Not falling a single bit short of remarkable compared with Splitter, Belinelli has led his team to a very nice performance in Japan at the tender age of 20 years old, actually assuming responsibilities whenever a game was in the line, and averaging 13.5 points. Nobody expected much of Italy, and although falling in the eight-final round doesnít sound like a great achievement, they played a very good group stage and fought until the last second against Lithuania before being eliminated.

All in all, Belinelli just reproduced his role with Climamio Bologna, becoming the main perimeter threat of Italy. He showcased his ability to hit extremely complicated long-range bombs after creating his own shot. Actually, he saved the best against USA, netting 25 points in impressive fashion. However, as awesome as he might have looked at times, heís still looking way too much one dimensional (he has barely slashed towards the basket), while his shot selection and accuracy are questionable at best. After all, the same stuff he delivered during the season in Serie A.

[Read Full Article]

---
FIBA World Championship Preview: Group D, Part One
August 17, 2006
Coming off the first significant season of his young career, Marco Belinelli is going to Japan as Italy's starting shooting guard. After a promising rookie season in 2004-05 in the Euroleague, Belinelli took off and led Climamio Bologna in scoring last season with a wonderful 13.3 ppg, coming along with significant percentages (48% from the field, 43% behind the arc). Given the fact that Marco had never played with the demanding Italian National team and the veteran-oriented coach Carlo Recalcati, his immediate starting role with the Azzurri can only be viewed as recognition of his talents, improvement and will to learn his role within the group.

Belinelli is a scorer on the rise. He is not only a shooter, but is also a guy who can take over the offensive load for some specific stretches. He can shoot off the dribble, coming off screens, he can create his own shot, and can even do it when being heavily contested. His slashing abilities are also fine when he makes an attempt to, as his lanky body can easily slide between bigger opponents and he can be a very dangerous player, as his ball-handling skills are more than good. His physical attributes may not be out of this world, but he is definitely athletic enough to compete in the NBA and has ample size for the guard position.

On defense, Marco is a factor, despite his small frame. He is a player who uses his smarts and his thin arms to come away with his fair share of steals. He is a passionate and motivated player, and takes pride in locking down his man.

However, Bellineli is lacking some major game fundamentals, which are not going to help him, not only in this upcoming tournament, but maybe in the rest of his career.

Like many gifted scorers of the past, Belinelli is not a true leader. He is more of a role playing guy, whose job is to shoot the ball, regardless of the competition. He does not take advantage of his athleticism and ball-handling skills enough, rarely showing the willingness to put the ball on the floor and make his way to the basket.

His overall skills might be good enough at this age, but his extremely thin frame limits his potential a bit in the long-term, especially on defense. Focusing on becoming more of an all-around player who can rebound, pass and do the little things will be of great help to him in the future.

Besides all the above, Belinelli should be a great addition for the Italians and will boost their game with his shooting skills and enthusiasm. He had some great friendly games and will surely be a factor in Japan. He should always progress and remain on the NBA radar as one of the very best European prospects for the upcoming draft.

[Read Full Article]

---
Marco Belinelli NBA Draft Scouting Report
February 8, 2006


Strengths


(2006 draft scouting report, see player blog tab for more recent updates)

Belinelli's physical tools are very good, especially at the European level. At 6-5 he has decent size for an NBA shooting guard, especially considering his athleticism and long arms which allow him to play bigger than his height. His overall bulk has improved over the past few years, as now both his upper and lower body strength are more solid than they were a couple of years ago. He looks like heíll be able to add some more pounds too. Belinelli's athleticism is excellent for Europe and would be considered good even in the NBA, as he runs the floor well, has good overall speed and quickness and is an explosive leaper.

Offensively, Belinelli already has many of the skills required to play shooting guard in the NBA. He's a solid ball-handler who can dribble with either hand, usually playing under control, and is able to go right or left equally well. His passing ability is decent, as he shows no selfishness and seems to have good court vision. A couple of years ago he was projected as a PG, and although he's developed quite a bit more towards the shooting guard position, he can handle spot minutes at the point when needed.

Belinelli's biggest asset on the offensive end, especially as far as the NBA is concerned is definitely his outside shot. Every facet of it has improved dramatically over the past two years. He specifically worked on this part of his game and has become more and more consistent. He's especially good as a set shooter thanks to his quick release, compensating for the fact that his feet barely leave the ground (a la Brent Barry). He has amazing accuracy and range, out to well beyond the NBA 3-point line. When trying a jumper off the dribble he uses his athleticism to elevate and shoot over the defender, often going for a fade-away jumpshot. He moves well without the ball, and his shot selection is decent; not being afraid to shoot when opportunity strikes or his team needs him to, but also not forcing up too many shots.

Defensively, Belinelli is much more solid than many of the other young European prospects. In fact, in the past two seasons he was primarily used as a defensive specialist by his coach, as he can effectively guard multiple positions in Europe. He has good footwork and lateral quickness, which along with his length and quick hands in the passing lanes make him a great asset in pressure defense situations. He usually guards the opponents' best backcourt player. Climamio plays both man to man and zone, and his effectiveness is quite the same.

Generally, for a guy who's not even 20 years old, he shows good maturity when he's on the court, being known as a coachable player with a good work ethic. Climamio's coach Jasmin Repesa is known for his ability to develop young players, and was not afraid to give him meaningful minutes ever since Belinelli was 17 years old.

He already showed that he's a clutch player, as he's not afraid of taking big shots in the crucial moments, being a factor in his team's triumph in the past Italian League playoff Finals. The experience he has garnered playing at the highest level of competition to be found outside of the NBA is something that must be considered a huge plus; as Belinelli more than holds his own in the very tough Euroleague and Italian league.




Weaknesses


Even if Belinelli's body has vastly improved over the past few years, he will still need to add some bulk to play in the NBA. Particularly, he needs some more upper body strength.

Offensively, right now the main concern about him is his slashing ability. Although he theoretically has all the tools to be a great slasher (at the European level at least), being quick with a nice first step, possessing good ball-handling skills and improved body strength, he prefers to rely almost strictly on his perimeter shot instead of mixing up his game by taking his opponent off the dribble and going strong to the hoop. He seems to rely too much on his jumper, and does not get to the free throw nearly as much as he could considering his athletic gifts. He could use some improvements in his shot too, as he sometimes tends to unnecessarily go off balance when shooting off the dribble or off screens.

Even though his ball handling and passing skills look decent, right now they don't seem to be enough for him to consistently play the point as he was projected earlier in his career, especially in the NBA. He doesn't protect the ball well enough and still has difficulties against full court pressure. Plus, it seems that this project has been momentarily dropped, as his team is developing him primarily as a shooting guard.

Defensively, he's good but probably wonít be able to guard NBA point guards, because he already suffers when a quicker opponent takes him off the dribble. His defense on pick & rolls could use some improvement as well.

Although he generally puts in a good effort, sometimes he seems to lose a bit of focus, either committing foolish fouls, trying a spectacular pass over a simple one, or being a little late rotating on defense. However, these things are not uncommon for a 20 year old player competing with grown men in one of the most competitive leagues in the world outside the NBA.



Competition


Belinelli is one of the most highly regarded Italian prospects in quite some time, ever since he was a kid playing in Virtus Bolognaís junior teams. He made his first team debut with them in 2002 before signing a 5 year contract with city rivals Fortitudo after the bankruptcy of Virtus in the summer of 2003.

In the 2003-04 campaign, his role on the team that reached the Euroleague finals (losing against Maccabi) was marginal, but he still managed to play more than 10 mpg and had some nice games every now and then.

In 2004-05, he became one of the main rotation players off the bench on the team, being used by coach Repesa mostly a defensive specialist. Climamio did not qualify for the top 16 in the Euroleague, but eventually won the Italian League. Belinelli, after a mid-season slump, played great in the playoffs, taking advantage of Milos Vujanic's serious injury that gave him some extra minutes, and ended up being one of the crucial players in the Finals against Milano.

With that said, his breakout season has undoubtedly been the current one. This year, along with Kiwane Garris, Belinelli averages more minutes than anyone in Climamio, and has been consistent enough to become one of the team's best scorers and one of the best shooters in Europe. In the Italian League, he's averaging 11.3 ppg, shooting 44% from beyond the arc on almost 6 attempted 3-pointers in 26 minutes per game.

In the Euroleague, his stats are slightly better: in 27 mpg, he's averaging 13.9 points, shooting 46% for three, and has recorded some excellent outings even against top competition. He again suffered from a bit of mid-season slump, but he seems to be coming out of it lately.

Belinelli has played in many international youth championships with Italy, always being the leader on the team and one of the best scorers in the tournaments. It's very likely that Carlo Recalcati will call him up to make his debut in the senior national team in the 2006 World Championships in Japan.



Outlook


Itís not clear whether Belinelli is going to declare for the 2006 draft. His buyout situation is not the most transparent; in fact, his current contract probably doesn't even have a buyout clause.

Right now, all that is sure is that he's under contract until 2008 with Fortitudo, and he's more than once stated that he wants to come to the NBA as an established player who is ready to contribute. So even if he does declare in 2006 or 2007, it's possible that the team that drafts him might have to wait to bring him over until his contract with Climamio expires, unless an agreement between his team and Italian agent (who is also his brother) can be reached. If he does declare this year and decides to pull out, he will either have to wait until he's automatically eligible in 2008 or enter in 2007 and not have the option to withdraw because of the new rules in the NBA collective bargaining agreement. This makes his decision this May a little bit tougher.

Whenever he enters the draft, he has obvious first round or even top-20 potential, even though NBA teams aren't very high on European guards lately and the ambiguity around his buyout (or lack thereof) could hurt his chances.



Facts


He earned MVP honors at the Italian Super Cup, the first official trophy of the 2005-06 season.

His favorite players are Manu Ginobili (who was a teammate of his in the 2001-02 season), and Kobe Bryant.




[Read Full Article]

---
Euroleague Stock Watch Part 2 (Stock Up)
December 23, 2005
The young Italian guard is having a breakout year so far, starting from the Italian SuperCup (the first official competition of the season) in which he earned MVP honors. While in the past Coach Repesa used him primarily as a defensive stopper, this season Belinelli has evolved into an offensive force. He's currently Climamio's best scorer both in the Italian league and in the Euroleague (in which he ranks amongst the top 10 scorers), showing consistency in his productivity that is highly unusual for a 19 year-old.

Most of his points come from behind the arc, usually set-shots that he earns by moving well without the ball, often making himself available for his team in the right place at the right time. His shooting mechanics with his feet set are very quick, and he punishes the defense if he's left with even just a little open space. His shooting range (which easily extends beyond NBA distance) and accuracy have been astonishing so far, hitting over 50% of his shots from beyond the 3-point line, attempting around 6 shots per game (while playing 26 minutes per game). In addition to this, his man-to-man defense is still very good, as he's always focused, very athletic for a European shooting guard and has good size and long arms. He can guard 3 positions effectively at this level, even though he still suffers a bit guarding smaller and quicker point guards.

But even in as good a season as this, there's still room for improvement. While his shooting has been outstanding, it seems like that the rest of his offensive game is not being used properly, as he has the ball-handling skills, first step and improved upper body strength to be an effective slasher as well, instead of just waiting outside for 3-pointers. Also, while his accuracy shooting with his feet set is amazing, his ability to hit shots off the dribble or off-balance coming off screens does not appear at the same level right now, although he hasnít attempted enough of these to get a comfortable read. Finally, even if his ball-handling and passing skills are good for a shooting guard, he's probably not ready for consistently being played as a point guard, as was projected some time ago. Then again, we're talking about a player born in 1986, so his game can and probably will evolve to improve his weaknesses in the future, as he still has a considerable upside.

If Belinelli continues to play like one of the best shooting
guards in Europe (regardless of age), he'll almost certainly be a 1st rounder in the 2006 NBA Draft, but there are still doubts on whether he's willing to declare or not. His contract situation is not 100% clear and he has said in the past that he wants to come to the NBA as an established player. Therefore, due to his young age, he could wait until 2007.

[Read Full Article]

---
Zaragoza, The Best of the Rest: Guards
August 20, 2004
It wasn't the best tournament for this young Italian star, a far cry from the 26 point per game effort in the Challenge (qualifying) Round. He struggled from the field in most of the games and played poorly in the decisive ones, taking a large share of responsibility for keeping Italy from getting into medal contention. Still, he left us with some samples of his great abilities.

Belinelli is a complete shooting guard: skilled, athletic, and already experienced against top European level competition with Skipper Bologna in the Italian League and in the Euroleague. He can score from anywhere on court. He has a very quick release on his jumper, and he is good from a static position, off the dribble, turning around and fading away, catching and shooting, etc., etc In Zaragoza, he shot a horrible 37% from the field to average just 16.4 points per game, but past performances tell us that he is better than he displayed here. Being the star of his team made him try to do too much, too often. He attempted a lot of shots while not open enough, so he was extremely streaky during the tournament. The truth is his attitude wasn't always the best, as he was demanding the ball too much and became visibly frustrated if he didn't get it.

Impressive quickness, a nice first step, and very good handles enable him to drive with relative ease. He will slash if he has the chance, as he showed Petro in the Bronze medal game (see FIBA Europe videos), where he performed a spectacular move for which the French center had no answer. Indeed, his vertical leap is quite remarkable; he even jumped in the tip-off for Italy a few times in the tournament. He sees the floor very well and knows where to put the ball, and when. It is not rare to see him make a spectacular no-look dish off the dribble; in fact, it looks easy for him. Many times it is not for the assist but to spread the floor. He is most definitely an excellent passer. On defense, he has the athleticism to do well and is quick for the steal.

I think Marco is a truly special player, the kind of guy who feels the game. Not only is he already one of the best wing players in his age group in Europe, but there is more room for improvement. He still doesn't look completely developed physically, neither his face nor his body. He has first round NBA potential.

[Read Full Article]

---
Basketball Without Borders in Treviso
August 8, 2004
Much more experienced than any other player at this camp. Started at the shooting guard position for Euroleague runner up Fortitudo Bologna. After a while, you realize that he's bigger than what it first seems, although his body definitely still needs to develop. He has good athleticism, and is a very fundamentally sound player. Good court vision and ball handling, but he has a scorer's mentality. While he can get his shot off anytime he wants at this level, even with an effective mid-range game, his future in the NBA will depend on how much he'll be able to develop his point guard skills. Otherwise he's probably a second round talent.

[Read Full Article]

---