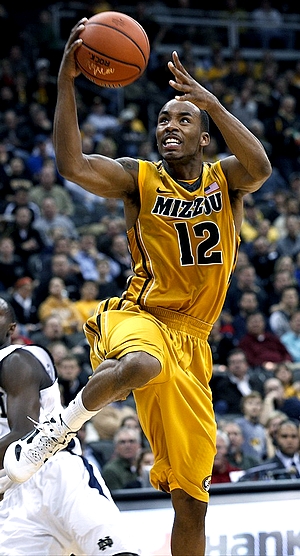 Kyle Nelson
Marcus Denmon
entered his final season at Missouri as an under the radar prospect, coming off a successful junior campaign, but lacking the ideal physical profile of an NBA shooting guard. Denmon has not disappointed as a senior, assuming a more prominent role as a scorer in Missouri's offense while leading the Tigers to a 27-4 record and a potential #1 seed in the NCAA tournament.
Though he is responsible for 20% of Missouri's offensive possessions and 22.6% of Missouri's total field goal attempts, he has continued to play the same brand of extremely efficient basketball, shooting 53% from 2-point range and 42% for 3,
while coughing the ball up on just 9% of his possessions
and
averaging only 1.3 turnovers per 40 minutes pace adjusted
. This is particularly impressive given his expanded role as Missouri's primary scoring option.
On film, Denmon continues to excel as a perimeter shooter with his feet set, both guarded and unguarded, and he sports a picture perfect release with range that extends well beyond the NBA three-point line. Only 20% of his shots come off pull-up jumpers, demonstrating the narrowly tailored role Denmon plays for Missouri, as well as his patience and shot-selection—which helps explain why he's such an efficient player.
Despite looking slightly more aggressive looking to take his man off the dribble, Denmon remains a limited shot-creator due to his average size, strength, explosiveness and ball-handling skills. Very opportunistic in transition, off cuts, or on straight line drives, Denmon is able to keep defenses honest just enough to not be labeled as a one-dimensional player.
Denmon certainly has solid tools and fundamentals on the defensive end of the floor, where he guards every perimeter position. He displays good lateral quickness and quick hands, but at 6'3 with a wiry 185-pound frame and an average wingspan, it remains to be seen whether he can guard NBA-sized shooting guards on a consistent basis.
Despite coming off of an excellent senior season, Denmon still has work to do in terms of carving out a role for himself at the NBA level. Though he possesses excellent intangibles as an extremely tough, smart, hard-working and winning attitude, he is still not remotely a point guard; remains extremely undersized for the shooting guard position; and lacks the elite athleticism to compensate. He has improved his offensive arsenal as a senior, however, continuing to prove himself as an extremely efficient perimeter scoring threat, but will need to fall into the right situation in the NBA to stick and make an impact. Denmon should have plenty of opportunities in the NCAA Tournament, and during the pre-draft process to continue to prove to scouts that he has what it takes to fill a niche as a sparkplug scorer in the NBA.