Jonathan Givony
A starter the last two seasons at San Francisco, and named a second team All-WCC player as a junior, Mark Tollefsen elected to transfer to Arizona this past spring. He will become immediately eligible as a graduate-transfer after redshirting his freshman season, finishing his fifth year of college basketball at one of the top programs in the country, giving him a tremendous platform to showcase himself.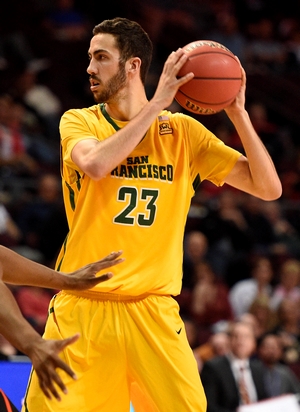 Tollefsen was a highly efficient and versatile option for the Dons the past three years, posting a career 64% true shooting percentage and making 38% of his nearly 4.5 3-point attempts per game. While he does not possess a great frame, something he's undoubtedly been working on with Arizona's strength and conditioning coaches, he's a solid athlete who moves very well at 6-9 and can elevate impressively around the basket both in transition and in the half-court.
Tollefsen's calling card as a pro prospect likely revolves around his outside shooting. He made over 100 3-pointers in his three seasons at USF, and was a very reliable floor spacing option from the power forward position with his feet set. The lefty has somewhat of an unorthodox stroke, shooting a two-handed shot with a bit of a deliberate wind-up and a slight lean back. He shoots it the same way every time and sees very consistent results, but his slow and fairly low release point makes it difficult for him to get it off when tightly contested and prevents him from being much of an off the dribble threat.
Tollefsen was more than just a shooter for USF, as he made three times as many 2-pointers as 3s and did so with spectacular efficiency, hitting 61% of his attempts (65% for his career). While he isn't much of a threat to create his own shot from the perimeter, he can attack a closeout nicely, moves very intelligently off the ball, and can even find some success operating with his back to the basket, even if his lack of strength will likely hamper him from doing so against elite-level competition. He prefers to shoot with his natural left hand, but can also make shots with his right hand around the rim as well, showing excellent touch on his floaters and utilizing the glass frequently.
Despite playing on a team that finished just 7-11 in the WCC, and did not have a great deal of talent surrounding him, Tollefsen played in a very unselfish manner that bodes well for his transition to being a role-player at Arizona and beyond. Posting a positive assist to turnover, and showing a high basketball IQ as indicated by his excellent shooting percentages, Tollefsen frequently made the extra pass along the perimeter or inside the post.
Defensively, Tollefsen's lack of strength could get taken advantage of at times guarding the post, but he showed some potential stepping out to the perimeter and moving his feet to stay in front of smaller players. He'll get knocked off balance at times, and can get backed down inside the paint, but puts a solid effort in overall. Tollefsen's body type indicates he's likely best suited guarding small forwards or face-up power forwards, something he'll likely be asked to do quite a bit of at Arizona this upcoming season, so it will be interesting to see how he fares in that role.
6-8+ combo forwards who can stretch the defense are all the rage in professional basketball these days, and Tollefsen shows some intriguing attributes that could help him get noticed quickly as a role-player for Arizona this season. Turning 23 in November, he'll be quite a bit older than most of the players draft this upcoming June, so it will be interesting to see what he can do to alleviate concerns about his frame until then.