When
Marquez Haynes
decided to transfer out of Boston College three years ago, he didn't know where he was going, but he knew how he was going to get there.
A quality role player for the Eagles in his two seasons in the ACC, the 6-3 guard wasn't valued for his offensive contributions as much as he was his propensity for shutting down opposing players. But while defense was his ticket to playing time in Chestnut Hill, Haynes had aspirations of playing in the NBA, and knew he wasn't going to turn any heads as a specialist coming off the bench. In the spring of 2007, the Texas native decided it was time for a change.
"I didn't feel like I was going to reach my full potential as a player at Boston College," Haynes said. "I have the ability to score, I can put the ball in the basket, and that team didn't really need me to do that. I felt like I would have a better career beyond college if I was somewhere other than BC."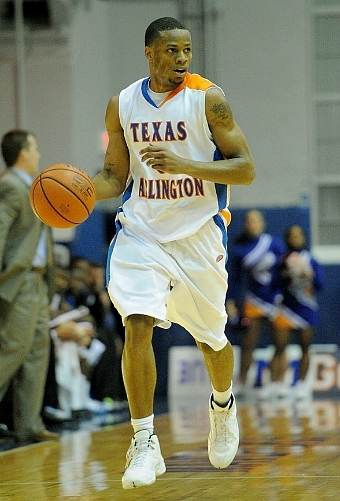 Putting the ball in the basket may be an understatement of his ability with a basketball. Now a senior at the University of Texas at Arlington, Haynes ranks second in the nation in scoring as of Wednesday, averaging a box score busting and highly efficient 24.7 points, while often times serving as the Mavericks first and second scoring option. His exploits have gone largely overlooked by the mainstream college basketball community, as UT-Arlington calls the Southland Conference its home, a league that has produced just two NCAA Tournament wins in the last quarter century.
Still, Haynes is yet another example of the old adage, score enough points and someone is bound to notice.
UT-Arlington head coach Scott Cross was thrilled when Haynes announced the Dallas-Fort Worth area school as his new destination, after having been the first coach to offer the scoring machine a scholarship back in his high school days. Having been teammates with current Maverick Tommy Moffitt in high school, Haynes had a deep rooted connection to the program before he even visited. His history with the coaching staff sealed the deal, giving Cross and his staff a talent greater than any they had ever been around.
"Obviously his talent level is through the roof, we've never had a guard as talented as him in terms of overall game, athleticism and shooting ability," Cross said. "In my opinion he doesn't have a weakness in his game. My only concern was if it was going to be a problem having a kid so talented coming from a big program coming to a smaller school. You never know if a guy is going to have an attitude problem or not be very coachable in situations like that."
Haynes turned out to be a perfect fit, sliding right into a secondary scoring role behind power forward Anthony Vereen as a junior. Cross says the offense last season was designed to run through the frontcourt, limiting the number of scoring opportunities Haynes and the other guards received in that system. Despite that, he still finished second on the team in scoring at just over 16 points per game. That only proved to foreshadow what has been a monster senior season for the Texas native.
While the seven games of 30 or more points will draw the attention of pro scouts, it is the tremendous efficiency with which Haynes gets his baskets that will keep them interested. The senior is shooting a remarkable 49.5% from the field and 44.1% from beyond the arc, made all the more impressive by the fact that he's forced to shoulder a huge amount of his team's offensive possessions. Cross credits the success that his star guard has had shooting the basketball to his commitment to the team's offense. Rather than forcing bad attempts, Haynes seems content to look for his opportunities within the framework of the sets the Mavericks run, a continued practice that the senior claims is done purposefully.
"I'm more proud of my percentages than I am of my scoring average," Haynes said. "People have told me that I've impressed them in that I take good look, I don't force a lot of bad shots."
Perhaps more than what he has meant to UT-Arlington in the scoring column, Haynes has grown into a leader of the program in a very short time. Early in the season mired in a bit of a slump and dealing with injuries, the Maverick coaching staff was growing frustrated with the play of their roster. With a day off after a road game, the team was expected to use that time to rest and decompress after a stressful stretch of games.
Instead, Haynes rounded up his teammates and had them in the gym that morning getting in extra shooting and breaking down tape of their most recent loss.
"Little things like that you can't put a price tag on how valuable it is to a team," Cross said. "He's an absolute gym rat too; he goes hard every single day. There are days where I have to sub him out of practice because I'm worried he's going to wear himself out."
Certainly a work ethic of that level will endear him to pro teams, but his ability to impact that game beyond his scoring is what could be the difference between cracking the NBA ranks or starting his professional career elsewhere.
Haynes first made his mark at the college level with his defense, and after a slow start at that end of the floor this season, Cross challenged the senior to step up his game. The result, since conference play began, the Mavericks have seen their opponent's field goal percentage drop from nearly 50 percent to a league best 38 percent, due in no small part to the efforts of Haynes. Furthermore, he has made the transition from shooting guard to playing the role of point guard exclusively.
Cross insists the senior's assist totals would be significantly higher if not for a somewhat inexperienced team, but when asked, Hayne said he is completely committed to playing to role of facilitator at the next level if given the chance.
"If I step up to the next level I'm fully aware there are players who I'm going to be expected to give the basketball to, I'm very realistic about that," he said. "I'm a scoring threat right now, but I don't expect to wind up with a team and be the top option. I didn't leave Boston College because I wasn't the top option there, I left because I felt like there was more I needed to show and I didn't think I would be able to there. I'm a basketball player first and foremost, not a scorer."
Haynes spent the summer working out in Arlington where he played pickup with several pro players who were in the area. The senior says the one message that was consistent from all of the veterans he shared the court with was to focus on his game and let the rest take care of itself.
The guard's future is far from certain, with the NBA a possibility pending a strong showing at the Portsmouth Invitational Tournament (he just received his invitation). But there is also the likelihood that he will wind up playing elsewhere.
Much as was the case when he received his release from Boston College those three years ago,
Marquez Haynes
doesn't know where he is going, but he knows how he will get there.