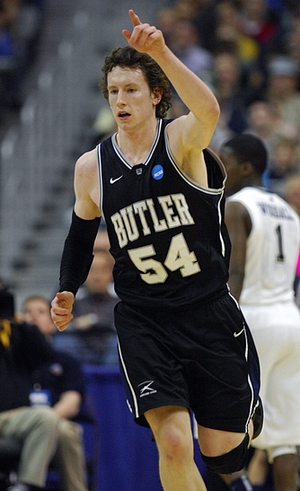 Kyle Nelson
There is no denying
Matt Howard
's illustrious career at Butler, which yielded consecutive appearances in the national championship game. In four years, Howard improved and evolved as much as any NCAA player, combining energy and fundamentals to be productive against mid-major and NBA-caliber talent.
His prospects at the next level, however, are not so defined as Butler's post-season run highlighted his strengths and his weaknesses well.
Standing somewhere between 6-7 and 6-8, with a narrow frame, Howard has maximized his physical tools since arriving at Butler and is a very well conditioned player. That said, he is still undersized for the NBA-post, which was evident in his struggles in the national championship game against Connecticut's elite post athletes. Though he works extremely hard all over the floor, his below average strength, explosiveness and quickness limited him in college and will continue to hinder him at the next level.
From an offensive perspective, Howard improved as a senior, showcasing the same fundamentally sound post game while integrating perimeter shooting into his repertoire. He averaged 21.7 points per 40 minutes pace adjusted while shooting 50.8 inside of the arc and 39.8% from beyond—a tremendously productive season.
While he was post-bound throughout his career, Howard found 20.4% of his offensive possessions in spot-up opportunities as a senior, and connected on 44% of his attempts. He showcased range out to the NBA three-point line as a senior, where he made just under 40% of his 4.7 attempts per 40 minutes pace adjusted. This is impressive given that he attempted just 20 three-point field goals in his career prior to his senior season, where he made 53 of his 133 attempts. He does not get much lift and his needs to tighten up his mechanics, but his shooting ability adds an intriguing, NBA-friendly element to his game. That said, his production dropped off considerably when matched up against NBA-caliber big men in the NCAA tournament.
In the post, it's largely the same story for Howard. He is still limited by his over reliance on his left hand and his subpar athleticism, but his footwork has improved. He now looks comfortable executing complex spin-moves towards the basket in addition to his reliable jump hook and drop step. The NCAA Tournament was a particularly good showcase, as Howard struggled to finish against better athletes, but still found a way to get to the basket consistently. Furthermore, though he is a poor finisher due to his lack of explosiveness,
he has always gotten to the line at an excellent rate
, where he converts 79.2% of his 8.1 attempts per 40 minutes pace adjusted.
While Butler played outstanding defense throughout their magical NCAA tournament run, its tough to project Howard as more than an average defender at best at the NBA-level considering his physical tools. He struggles to guard the pick-and-roll effectively and his lateral quickness does him few favors on the perimeter. Despite his effort, he has similar trouble in the post as he lacks the strength and size to hold his own against bigger and more athletic big men. It seems as though his struggles will intensify at the next level with consistently better competition.
Howard improved on one of his major weaknesses this season, grabbing 10.2 rebounds per 40 minutes pace adjusted, up from a paltry 8.6 last year. His instincts and fundamentals are above average in this area, which allows him to somewhat compensate for his athletic shortcomings. Whether his productiveness translates to the NBA remains to be seen.
While it is unwise to scout solely based on the NCAA Tournament, Howard's successes and struggles likely translate well to the next level. His lack of size, strength and athleticism is significant to his NBA prospects, as it will likely limit him significantly against the more physically gifted big men he'll see at the next level. With that said, his shooting ability, consistently high energy level, and outstanding intangibles will remain attractive to NBA teams looking to fill out their bench. Howard's college career has positioned him well for professional basketball and if he struggles to make the NBA, there is no doubt that he is an attractive prospect for high-level European basketball.