Jonathan Givony
A top-30 recruit coming out of high school,
Michael Dunigan
took the unconventional step of leaving college for Europe following a highly disappointing sophomore season at Oregon. He was overweight at the time, and facing allegations for taking improper benefits, accusations which were later dismissed.
Dunigan signed a three year contract with Hapoel Jerusalem, but was later loaned to BC Kalev/Cramo in Estonia to get more playing time. The team played 50 games in three competitions this season—the VTB United League, the Baltic League and the Estonian league, and Dunigan acted as their go-to guy, scoring over a point every two minutes, while blocking shots and rebounding the ball exceptionally well.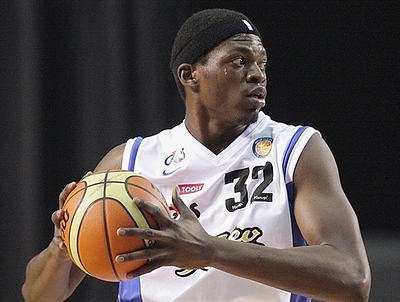 Though Kalev does not have a true top-option, Dunigan is the team's most legitimate interior threat, best athlete, and most prolific offensive player. Though he scores a significant portion of his points on hustle plays and catch-and-finish opportunities around the rim, Dunigan also sees a consistent stream of touches with his back to the basket, something he may struggle to translate against better competition.
Dunigan has been most consistent working off the ball. Showing good timing on his cuts and a knack for being in the right place at the right time when driving teammates need an outlet, he has finished at a very good rate around the rim (converting 69% of his attempts) with his long wingspan and much improved conditioning and leaping ability. He also draws a foul on over 25% of his used possessions, which is part of the reason he was so efficient in his minutes on the floor—
ranking 2nd amongst all big men
in this draft in points per possession.
His tremendous 7-3 ¼ wingspan allows him to crash the glass at a good rate, but the improvement in his physique –trimming down to 238 pounds and just 8% body fat-- has played a role in that as well. Having lost some 30 pounds since turning pro, Dunigan appears more active and explosive than he was during his time at Oregon, as evidenced by how much more frequently he now plays above the rim, and how much better he's rebounding.
Dunigan wasn't asked to show much of an offensive game stepping away from the rim—he only shot a handful of jumpers on the season, although he did make a few of them and also hit 71% of his free throws. He isn't a great passer or the most skilled player around and doesn't possess an incredible feel for the game, but to his credit, he knows his limitations and is very effective in the role he's asked to play.
Defensively, Dunigan plays with very good intensity and shows toughness as a rebounder, but lacks great fundamentals and struggles a bit when stepping out on the perimeter and hedging screens. He gives up a little too much space at times in the paint, relying a bit too heavily on his length and shot-blocking instincts to bail him out, but wants to compete and was very effective this season against the competition he faced. Standing 6-10 in shoes, with a 7-3 wingspan, he should have no problem guarding most NBA centers as he continues to add weight to his frame.
Automatically eligible for the 2011 NBA Draft, Dunigan is a bit of an unknown in this draft as he was very much off the radar of most international scouts playing in Estonia, but is surely worthy of taking a flyer on in the second round thanks to his physical tools, pedigree and versatility.