Miroslav Raduljica
Recent Tweets
All Tweets
I owe Rob Hennigan dinner, dammit. He was right about Miroslav Raduljica not getting drafted. Dude got his wish. Being a dick works I guess.
2010-06-24 23:27:00
Top undrafted free agents (part two): Artsiom Parakhouski, Miroslav Raduljica, Aubrey Coleman, Matt Bouldin, Ben Uzoh, A.J. Ogilvy
2010-06-24 23:00:00
I just bet an NBA scout dinner that Miroslav Raduljica still gets drafted. I think still goes in 50s, but these guys are in a state of shock
2010-06-06 09:22:04
A pissed off NBA scout, before storming out upon learning Miroslav Raduljica blew off his workout:"so this is what I gave up on my nap for?"
2010-06-06 09:13:03
Miroslav Raduljica had a private workout setup w/tons of NBA teams, but decided to blow it off. Basically burning every bridge he can here.
2010-06-06 08:58:15
Top 25s - Full List
Team: NON-NBA College Team: Panathinaikos
Physicals
Positions
Salary
Misc
H: 7' 0"
W: 230 lbs
Bday: 01/05/1988
(27 Years Old)

Current: C
NBA: C
Possible: C

Agent: Matt Babcock

High School:
Hometown: Belgrade, Serbia




Basic Per Game Statistics

- Comprehensive Stats - Statistical Top 25s
| Year | League | Name | GP | Min | Pts | FG | FGA | FG% | 2Pt | 2PtA | 2P% | 3Pt | 3PtA | 3P% | FTM | FTA | FT% | Off | Def | TOT | Asts | Stls | Blks | TOs | PFs |
| --- | --- | --- | --- | --- | --- | --- | --- | --- | --- | --- | --- | --- | --- | --- | --- | --- | --- | --- | --- | --- | --- | --- | --- | --- | --- |
| 2015/16 | EURO | Miroslav Raduljica | 7 | 17.6 | 11.4 | 3.6 | 6.9 | 52.1 | 3.6 | 6.9 | 52.1 | 0.0 | 0.0 | &nbsp | 4.3 | 4.7 | 90.9 | 1.4 | 3.0 | 4.4 | 1.0 | 0.6 | 0.3 | 2.0 | 3.6 |
| 2015/16 | Greek | Miroslav Raduljica | 7 | 20.0 | 15.0 | 6.0 | 9.0 | 66.7 | 6.0 | 9.0 | 66.7 | 0.0 | 0.0 | &nbsp | 3.0 | 3.3 | 91.3 | 1.4 | 2.6 | 4.0 | 1.1 | 0.6 | 0.1 | 2.1 | 3.0 |

Player Page&nbsp&nbsp| Player Stats | Mock Draft History | Related Articles&nbsp&nbsp| Add to My Draft Express&nbsp
&nbsp
Serbian Scouting Trip, Part One: First Round Prospects
February 23, 2010
Considered by some NBA scouts to be the most underrated prospect in Europe, this season has clearly been a coming out party for Serbian center Miroslav Raduljica, now draft-eligible as a 1988 born international. We got to watch him play on four separate occasions over the course of our trip, and each time came away impressed by a different facet of his game.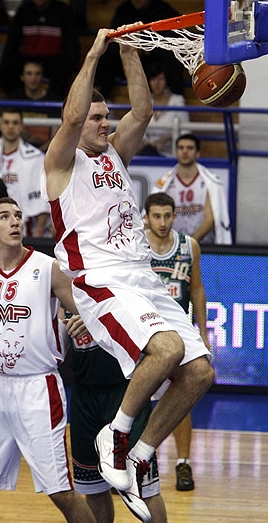 FIBA Europe



Slowly, but surely improving year after year, this has been the season that FMP Zeleznik has opted to put him front and center as the focal point of their offense. Itís also not-coincidentally the last year they can hope to make money off the investment they made in him, as his contract is up at the end of the season. Thatís their business model after all.

The intrigue around Raduljica has to start with the physical attributes he brings to the table. Showing excellent size for the center position, to go along with a strong frame, a solid wingspan, great hands, and decent athleticism, Raduljica passes the initial test for an NBA center. He runs the floor well, is a fairly mobile player, and is capable of getting up off his feet and finishing plays with a strong dunk, particularly when he has a moment to gather himself, even if heís not what you would call an incredibly explosive athlete.

Very much capable of operating in the low post, Raduljica has an array of moves he can use to get an efficient shot off, helping him shoot an excellent 57% from the field. His footwork is solid, showing nice spin-moves, pivots, jump-hooks, drop-steps, turn-around jumpers and the ability to utilize shot-fakes, Raduljica is a fundamentally sound player who can score with either hand and has very nice touch around the basket. He is a very good passer finding the open man when doubled, at times making some pretty spectacular passes, and generally seems to have a nice feel for operating on the block.

Facing the basket, Raduljica did not appear to be incredibly consistent with his jump-shot from the tape we evaluated, but looked to be quite a bit more effective in the live games we were at, knocking down a number of jumpers from both inside and outside the arc, and looking very comfortable hitting shots consistently when we observed him in warm-ups. The fact that he sports solid mechanics, has very good touch and shoots 77% from the free throw line indicates that he should have no problem developing into a solid catch and shoot mid-range threat in the NBA.

Raduljica is a lot more skilled than the typical 6-11 center youíll find at the college ranks, as not only can he score facing or with his back to the basket, and is a very creative passer, but heís also an above average ball-handler. We saw him put the ball on the floor and create his own shot on a couple of occasions, getting to the rim off a couple of dribbles and still having the body control to finish effectively. These are not easy moves to make for a player his size to make.

Defensively is where Raduljica might have the most question marks regarding his NBA potential. He gives up position too easily at times in the low post, and doesnít always fight as hard as you might hope to keep his man off the block, possibly to avoid foul trouble. He doesnít rotate all that well from the weak-side to protect the paint either, not being much of a shot-blocker at all due to his lack of explosiveness, and shows just average awareness, intensity and hustle on this end of the floor.

Seeing heavy minutes alongside similarly sized center Peja Samardziski, Raduljicaís lateral quickness doesnít appear to be anything special out on the perimeter, often looking heavy footed and at times a bit disinterested, which probably will become more of an issue in todayís pick and roll heavy NBA.

Just an average rebounder, Raduljica is capable of going out and grabbing the boards that are in his immediate area, but heís not intense or explosive enough to go out of his area for the most part. This is something that he must improve on if he wants to become a legit rotation player in the NBA, as he wonít be anywhere as much of an offensive option as he currently is for FMP.

Off the court, Raduljica is reportedly a very intelligent person and is often described as a book worm by those that have been around him the most.

All in all, Raduljica displays many intriguing characteristics at his size that are increasingly difficult to find in college basketball, making him a fairly interesting draft prospect that should certainly get some looks from NBA teams drafting in the latter part of the first round. Concerns about his interest level in playing in the NBA and whether or not heíll even come over if locked into an unattractive salary slot will likely drop him a bit further that, but considering the premium NBA teams put on size and the amount of money that is thrown at middling backup centers, Raduljica has to be viewed as a pretty attractive option early in the second round.

Figuring out who is actually his agent (his father?), whether or not a controversial clause in his contract means that a buyout needs to be paid to FMP, if heís even interested in playing in the NBA, and if he in fact already signed with Turkish powerhouse Efes Pilsen for next season óall matters which we received an array of conflicting reports on while traveling through Serbia-- are the first things that need to be addressed. Obviously there is a lot of work to be done.

[Read Full Article]

---
U-19 World Championship Review: Big Men
August 29, 2007
Raduljica went rather unnoticed in this championship, which is not good news for a player that was supposed to stand amongst the best big men in Novi Sad. Indeed, when last summer he was the main low post reference for the Serbian junior squad, this time Milan Macvan completely stole the show for the Balkan team.

Being much less of an offensive catalyst for his team, Raduljica enjoyed a smaller share of the ball, and therefore less opportunities to shine. His low post game got a bit exposed, showing that he needs to work on his footwork and especially on his ability to finish against opposition down low to become an effective post player. Besides, a small injury he suffered against France didnít help him for the rest of the championship, perhaps lacking some certain aggressiveness. Still, he was a great contributor in the rebounding department.

Anyway, heís still an excellent prospect, a big guy with nice athleticism, a high basketball IQ and a very solid array of skills.

[Read Full Article]

---
2007 RBK Eurocamp: Day Three
June 12, 2007
The most well-rounded and polished center in the camp, Raduljica looked very aggressive attacking the rim yesterday. He went up for dunks again and again, showing excellent mobility out of pick-and-roll plays and nice reactivity going up for the finish. Actually he barely could finish a single dunk, as he was repeatedly fouled hard, but produced with great accuracy from the free-throw line. This insistency looking for the dunk might be related to the fact that Raduljica had been struggling a little bit knocking down his jump-hooks against bigger defenders. This is not last summer's U-18 European Championships, where he virtually toyed with the inferior competition, although he's a skilled guy who should be able to adapt pretty soon. Running the court, taking good decisions in the offensive end, solid on defense, he's a very reliable center and he's proving it here.

[Read Full Article]

---
2007 RBK Eurocamp: Day Two (Part One)
June 11, 2007
This was a tale of two games for 19-year old Miroslav Raduljica, one of the stars of the U-18 European Championship this past summer. The first game saw a very passive and hesitant big man who struggled to make any kind of impact on the game, while the second saw a much more active version who openly looked to crash the glass and hit a few nice mid-range jumpers. Raduljicaís hook shot isnít looking quite as good as it did this past summer, as he struggles to get it off against big men who have similar size and bulk as him. Raduljica is a big boy despite his age, showing a very nice frame and pretty good mobility getting up and down the court, but he hasnít quite stood out in any one area yet. He clearly has a lot of potential, but still is a ways from showing that there is a good reason why his name is currently in this yearís draft.

[Read Full Article]

---
Balkan Early Entrant Draft Prospects
May 22, 2007
It was a little surprising to see Raduljicaís name on the Early-Entry list considering his age and the fact that he just finished his first season at the senior level playing for FMPís farm team Borac. Raduljica was one of the most impressive performers at the European U-18 Championship last summer, but he is most likely just testing the waters to get some name recognition and familiarize himself with the draft process rather than seriously considering staying in. He has 3 more years before becoming automatically eligible to work on his game and turn himself into a legit first round pick. Before he gets in a position to be selected in the first round, Raduljica should prove himself on the European level since he is not the type of prospects that is oozing with potential.

Raduljica has the physical attributes needed to warrant looks from NBA scouts. He seems to be a legit 7-footer with a nicely developed body for his age. Miroslav is a fluid, but not an explosive athlete, running the court well and showing solid footwork in the painted area. When you combine his physical gifts with the notion that he seems to be a pretty smart kid with excellent hands, Raduljica certainly has enough potential to develop into a first round pick. However at the moment he is far from it, not being able to establish himself in the Serbian league playing for a very average squad.

Skill-wise, heís a very solid player, actually pretty well-rounded for what you ask from a center. He can evolve in the low post with simple, but effective moves, he can finish with both hands around the rim, he can use the jump-hook, he enjoys a mid-range stroke to menace from the high post, heís a nice distributor from either the high or low posts, even he can eventually put the ball on the floor to attack his match-up in a favorable situation, while he shows good positioning on the defensive end, with nice intensity and good enough mobility for a center. Perhaps he isnít a master of any of these skills, but heís decently effective in every department. With that said, his lack of fundamental polish and in-game experience is obvious. It is tough to judge where his stock is at the moment, but unless he impresses mightily in workouts, it is hard to picture him getting into the first round.

[Read Full Article]

---
U-18 European Championship Prospects: Centers
September 17, 2006
The enforcer of this tournament, Raduljica is a true center with virtually all the characteristics you look for in a regular five-man. Given the lack of mature bigs, he barely faced any serious competition that could stop him from operating almost at will in the paint. Actually, this fact has limited our ability to figure out his real dimensions as a player at this moment, as he just wasnít challenged enough.

Anyway, despite Dasicís offensive production, we can argue that the center piece in Serbia and Montenegro was actually Raduljica. He became a reference on both the offensive and defensive ends whenever he was on the court. Heís one of these uncommon bigs that actually plays inside and does pretty well what a center is supposed to do on the floor. He certainly has the tools, as heís not only a 7-footer, but a well-built guy with good strength for his age, also athletically solid and nicely coordinated.

Raduljica operates from both the high and the low post. Down low, he easily establishes position to receive the ball, showing a nice ability to score. With simple and solid moves, spinning and banging his rivals, he uses his body very well to get high-percentage baskets. He can finish around the rim with his both hands, showing a nice semi-hook shot. If heís not close enough to the basket, or just feels like thereís too much traffic, or even just to make his offensive effort less predictable, he delivers a rather reliable turnaround jumper. He often suffered double-team defenses in the championship, but heís an excellent passer that uses his size extremely well to see the court and feed the right man. Indeed, he doesnít look obsessed at all about stockpiling points, but he weights what his team needs every time, and doesnít doubt for a second if he thinks that passing the ball is the better choice for the team.

Itís a bit of the same story in the high post. Heís as reliable a passer from there, if not better. Looking for the basket, the mid-range shot gains importance here. He shows solid mechanics and accuracy (just as he does from the free-throw line), but he can also put the ball on the floor and attack his rival. Heís a fairly quick guy for a 7-footer, and enjoys nice ball-handling skills. His big men rivals often canít keep up with this type of skills. All in all, heís a very fundamentally sound guy.

Raduljica was also a very important defensive presence. With his size, strength, good mobility and excellent positioning, he became a defensive anchor in the paint. Perhaps heís not a super aggressive player, but you can see that heís always focused and delivers the right intensity.

Everything in Raduljicaís game speaks the word ďsolidĒ, whether physical gifts, skills, and how he puts all together on the court showing a remarkable basketball IQ. He wonít blow anybody away with stunning potential, but heís bound to become a very useful center.

[Read Full Article]

---
U18 European Championships: Quarterfinals Heat
July 26, 2006
Still, the most unreachable part of this Serbian wall is probably Miroslav Raduljica, who simply dominates with his strong 6-11 body. Given the lack of mature and quality centers that the tournament suffers, he really has little competition.

Not really spectacular in any department of the game, he's a very solid guy who is effective on both ends of the court. On the offensive end he can score from the post, shoot from the mid-range area or even eventually put the ball on the floor to attack the basket. He's fairly athletic and can finish strong near the rim. He understands the game, and feeds his teammates from the post. On defense, he's a reliable presence down low, showing a very good sense of positioning and taking advantage of his strength, which makes him virtually immovable for his rivals.

[Read Full Article]

---
2006 Albert Schweitzer Tournament: Top Prospects
May 8, 2006
Next to Ajinca, the best center at the tournament, although for other reasons. Heís a big player, a big body, who knows how to play with his back to the basket to break defenses down from there. Physically, heís superior to other kids his age, and shows a good knowledge of the game in order to be important. Athletically, heís nothing out of this world, but heís an insistent player who dunks the ball whenever heís under the rim. He was the axis of his National Team, which curiously didnít feature any pure shooters.

[Read Full Article]

---