Nemanja Bezbradica
Recent Tweets
All Tweets
DraftExpress: Would be a great get for them. RT @rafjuc: Kentucky still trying to recruit top European prospect Nemanja Bezbradica ('93) for 2012 class.
2011-11-25 06:24:34
DraftExpress: Mini-surprise brewing-FMP up 37-28 on Zagreb late 2nd quarter.Again Stefan Popovski-Turanjanin & Nemanja Bezbradica carrying the load #NIJT
2011-05-06 06:35:46
DraftExpress: Balkan grudge match at the #NIJT between FMP Zeleznik and KK Zagreb. Very good matchup at 4 spot between Nemanja Bezbradica and Dario Saric.
2011-05-06 06:32:32
DraftExpress: NIJT Belgrade Scouting Reports, Top Prospects: Nenad Miljenovic, Tomas Kyzlink, Nemanja Bezbradica, Dusan Ristic, etc: http://bit.ly/65QGHg
2011-02-28 09:28:28
FMP's very strong and athletic inside duo of Nemanja Bezbradica and Nikola Silado are doing a great job defensively. Really fighting inside
2010-02-14 11:11:35
Team: Partizan
Physicals
Positions
Salary
Misc
H: 6' 9"
W: 225 lbs
Bday: 05/29/1993
(22 Years Old)

Current: PF
NBA: PF
Possible: PF

Agent: Misko Raznatovic

High School:
Hometown: Knin, Croatia




Basic Per Game Statistics

- Comprehensive Stats - Statistical Top 25s
| Year | League | Name | GP | Min | Pts | FG | FGA | FG% | 2Pt | 2PtA | 2P% | 3Pt | 3PtA | 3P% | FTM | FTA | FT% | Off | Def | TOT | Asts | Stls | Blks | TOs | PFs |
| --- | --- | --- | --- | --- | --- | --- | --- | --- | --- | --- | --- | --- | --- | --- | --- | --- | --- | --- | --- | --- | --- | --- | --- | --- | --- |
| 2014/15 | Adriatic | Nemanja Bezbradica | 15 | 7.2 | 2.1 | 0.9 | 2.2 | 39.4 | 0.8 | 1.6 | 50.0 | 0.1 | 0.6 | 11.1 | 0.3 | 0.6 | 55.6 | 0.8 | 1.2 | 2.0 | 0.0 | 0.2 | 0.3 | 0.4 | 0.8 |
| 2014/15 | Eurocup | Nemanja Bezbradica | 5 | 7.4 | 1.0 | 0.4 | 1.4 | 28.6 | 0.4 | 1.2 | 33.3 | 0.0 | 0.2 | 0.0 | 0.2 | 1.0 | 20.0 | 0.6 | 0.6 | 1.2 | 0.8 | 0.0 | 0.0 | 0.4 | 0.6 |

Player Page&nbsp&nbsp| Player Stats | Related Articles&nbsp&nbsp| Add to My Draft Express&nbsp
&nbsp
NIJT Belgrade Scouting Reports: Top Prospects
February 25, 2011
A physically impressive player with a fairly versatile skill-set, Nemanja Bezbradica looks like one of the few big men at this competition who is virtually guaranteed to have a long and successful career at the senior level.

Slightly undersized at around 6-8, but with a strong frame, solid length and nice athleticism to compensate, Bezbradica is a tough and aggressive power forward who gets the job done on both ends of the floor. He runs the floor hard in transition, can play above the rim, puts the ball on the floor, and shows the ability to make shots from the perimeter, albeit somewhat inconsistently. In the post, Bezbradica mainly relies on his strength and aggressiveness. Using his body fairly well, he lacks an extensive back to the basket arsenal. His shot-selection and decision making isn't always the best, as evidenced in the finals, where he seemed to force the issue somewhat.

Defensively, Bezbradica shows the ability to make his presence felt both inside and out. He has quick enough feet to step out and hedge screens on the perimeter, and is pretty physical inside the paint, even if he may lack some size here for the highest level.

Bezbradica lacks the elite skill-set or feel for the game to be regarded a top-shelf prospect, and there are still some question marks about the extent of his upside considering his average size and already-mature frame. Still, players with his physical attributes, toughness, aggressiveness and versatility are not easy to come by, which is why we're sure to see him playing at a high-level down the road, where we'll better be able to evaluate his NBA potential.

[Read Full Article]

---
FIBA U-17 World Championships: Top International Prospects
August 7, 2010
Likely the best performer on an otherwise disappointing Serbian squad, Nemanja Bezbradica confirmed most of the things we saw from him in our trip to Belgrade last February, and added to many of them.

With his solid size, very good athleticism and excellent body, Bezbradica was one of the more physically gifted big men seen in Hamburg. He's not an exceptionally skilled player at this point, but he's an extremely hard worker who plays with great toughness and energy and shows enough flashes of an all-around game to keep you intrigued about his development down the road.

Bezbradica tries to do all kinds of things offensively—whether it's putting ball the ball on the floor from the perimeter, shooting jumpers or posting up aggressively inside—with mixed results. His basketball IQ isn't very high at this stage, but it's nice to see him try to put his physical tools to good use on the court. Clearly his decision-making skills need some work—as does his 43% free throw shooting—but there is plenty to build on down the road.

Defensively, Bezbradica has great potential. He's big enough and tough enough to guard most post players and mobile enough to step out and hedge screens on the perimeter when called upon. He's not afraid to use his body and is willing to dive on the floor for loose balls. He was also one of the better rebounders and shot blockers at this tournament.

Clearly Bezbradica's a player we'll be seeing more of at the international level over the next few years.

[Read Full Article]

---
Belgrade Euroleague Junior Tournament: Top Prospects
February 20, 2010
Not looking anything like your typical 16-year old with his incredibly chiseled frame, power forward Nemanja Bezbradica slowly but surely emerged as one of the most intriguing big men at this tournament as the week progressed.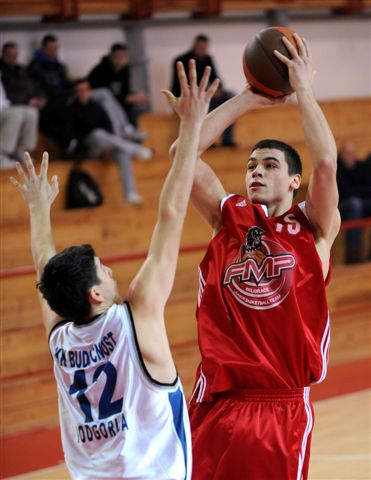 FMP Belgrade Junior Tournament



Tough and pretty athletic, Bezbradica does most of his damage inside the paint, where he shows raw footwork. He can establish deep position inside the paint thanks to his excellent body and will make a nice spin from time to time, finishing pretty well around the rim.

Facing the basket, he will attempt the occasional 3-pointer but still has a long ways to go before he can considered a serious threat from the perimeter, although the terrific touch he shows from the free throw line leaves plenty of room for optimism down the road. He can put the ball on the floor a bit and shows nice potential with this part of his game as well.

Bezbradica is an excellent offensive rebounder and does a good job in general fighting inside the paint for position, primarily on the defensive end. He had a number of nice blocks in transition as well, showing his athleticism.

He needs to become more consistent in his approach to the game and do a better job of staying out of foul trouble, but has really nice potential considering his physical tools and age. We'll have to see how his offense progresses as his counterparts in his age group catch up to him from a physical standpoint, but there is a lot to like here early on.

[Read Full Article]

---