Nikola Vucevic
Recent Tweets
All Tweets
DraftExpress: Checking in on the performances of Jonas Valanciunas, Nikola Mirotic, Nikola Vucevic, Kyle Singler & Donatas Motiejunas http://t.co/yR736erc
2011-12-19 03:56:39
DraftExpress: West Coast Workout Swing, BDA Sports - Checking in on the progress of Nikola Vucevic and Klay Thompson (video+analysis) http://bit.ly/iDkA4B
2011-06-06 08:55:06
DraftExpress: Some of the guys who withdrew from the original list: Marshon Brooks, Reggie Jackson (injured), Cory Joseph, Nikola Vucevic, Markieff Morris
2011-05-23 11:58:15
DraftExpress: NBA exec: "If you were watching Enes Kanter or Nikola Vucevic for the 1st time yesterday, close your eyes and pick one of them from 10-20."
2011-05-20 11:45:52
DraftExpress: Great measurements for Nikola Vucevic- hair under 7-feet in shoes, 7-4.5 wingspan, 9-4.5 standing reach, 260 lbs. Looked good yesterday too.
2011-05-20 11:34:13
Top 25s - Full List
| Rank | Category | Total |
| --- | --- | --- |
| 22 | Reb/g | 9.4 |
Team: Magic
Physicals
Positions
Salary
Misc
H: 7' 0"
W: 260 lbs
Bday: 10/24/1990
(25 Years Old)

Current: PF/C
NBA: PF/C
Possible: PF/C

Agent: Rade Filipovich
Current Salary:$2,751,260

High School: Stoneridge Prep
Hometown: Bar, Montenegro
Drafted: Pick 16 in 2011 by 76ers
Best Case: Mehmet Okur
Worst Case: David Andersen

Predraft Measurements
| Year | Source | Height w/o Shoes | Height w/shoes | Weight | Wingspan | Standing Reach | Body Fat | No Step Vert | Max Vert |
| --- | --- | --- | --- | --- | --- | --- | --- | --- | --- |
| 2011 | NBA Draft Combine | 6' 10.25" | 6' 11.75" | 260 | 7' 4.5" | 9' 4.5" | 6.1 | 23.5 | 25.0 |



Basic Per Game Statistics

- Comprehensive Stats - Statistical Top 25s
| Year | League | Name | GP | Min | Pts | FG | FGA | FG% | 2Pt | 2PtA | 2P% | 3Pt | 3PtA | 3P% | FTM | FTA | FT% | Off | Def | TOT | Asts | Stls | Blks | TOs | PFs |
| --- | --- | --- | --- | --- | --- | --- | --- | --- | --- | --- | --- | --- | --- | --- | --- | --- | --- | --- | --- | --- | --- | --- | --- | --- | --- |
| 2015/16 | NBA | Nikola Vucevic | 14 | 28.7 | 15.1 | 6.9 | 13.8 | 50.3 | 6.9 | 13.8 | 50.3 | 0.0 | 0.0 | &nbsp | 1.3 | 1.6 | 81.8 | 3.0 | 5.4 | 8.4 | 2.1 | 0.7 | 1.3 | 1.6 | 2.8 |

Player Page&nbsp&nbsp| Player Stats | Mock Draft History | Related Articles&nbsp&nbsp| Add to My Draft Express&nbsp
&nbsp
Top European Performers of the 2011 NBA Draft Class
December 19, 2011
A mid first-round pick whose stock rose dramatically late in the draft process, Nikola Vucevic spent the summer playing for the Montenegrin National Team at Eurobasket 2011. Stuck in a role off the bench behind Vladimir Dragicevic and Nikola Pekovic, the former USC Trojan averaged 5 points and 3.2 rebounds as the team failed to advance out of group play.

Signing with Buducnost for the duration of the lockout, Vucevic returned to Montenegro to compete in the Adriatic League, and after losing to Jonas Valanciunas and Lietuvos Rytas in the Euroleague Qualifying Round, the Eurocup.

Vucevic emerged as one of the most productive players in both the Adriatic League and the Eurocup during his 14 game European tour, which is quite an impressive feat considering his age and lack of experience. Ranking 3rd in PER in both the Adriatic League and Eurocup, Vucevic showed the same advanced inside-outside game that made him such a dominant force in the Pac-10 last year.

Similar to his role at USC, Vucevic was Buducnost's primary post threat, and nearly 30% of his possession came with his back to the basket according to Synergy Sports Technology. Despite all the touches he saw on the interior, the rookie big man spent more time running the pick and roll and spotting up on the perimeter than he did in the NCAA.

Vucevic knocked down his jump shots at respectable 36% rate and finished at the rim at a tremendous 72% clip, while showing the same array of post-moves and touch at the rim that caught the attention of scouts at USC.

It was his ability to score in a variety of ways both at and away from the rim, as well as utilize his size and tremendous length on the glass, that resulted in his 22-point, 10-rebound performance against Dexia Mons that garnered him Week 4 Eurocup MVP honors.

Though Vucevic may not be an elite athlete, his physical tools and well-rounded offensive game allowed him to make an instant impact in the European game. He may not have shown dramatic development in any particular aspect of his game, and is certainly going to face new challenges in adapting to the NBA style of play in Philadelphia, but he was among the more productive players overseas during the lockout and there's plenty to be said for how quickly he was able to adjust.

[Read Full Article]

---
West Coast Workout Swing Part Four: BDA Sports
June 6, 2011




One of the most improved players on the west coast this season, Nikola Vucevic has seen his stock rise considerably over his three year career at USC. Arriving on campus as a skinny, lanky freshman, Vucevic is now amongst the more imposing big men in the 2011 draft. The tallest player at the 2011 NBA combine standing 6'11.75" with shoes on, the first thing we noticed about Vucevic is just how big he is. Tipping the scales at 260, Vucevic looks like a NBA center, and his improvement as a scorer in the post and as a rebounder only add to his intriguing blend of physical stature and skill level.

Vucevic is spending a lot of time here working on his jump shot, which looked terrific in the session we watched. At one point, Vucevic knocked down 11 straight college-three pointers, showing terrific mechanics in the process. Considering he made a solid 39% of his catch and shoot jumpers last season according to Synergy Sports Technology, Vucevic is already a solid shooter, but is still looking to improve his consistency even more. He clearly understands what consistent range out to 20+ feet can do for him on the NBA level as he begins to find himself in pick and roll and pick and pop situations more frequently.

After working on his jumper, Vucevic spent some time working on his post moves. Nearly 42% of his offensive possessions came with his back to the basket last season, a number that will likely diminish at the next level as he fills a smaller role. Nonetheless, the USC product is working hard on his post-game, and has a number of quality moves over both shoulders. Showing promising footwork, Vucevic is one of the more versatile and polished offensive big men in this draft.

Vucevic was solid in the two-on-two games, but like Thompson, provides more value in a five-on-five setting. One of the few bigs in this draft that can play on the inside and outside alike, Vucevic gained some ground at the combine. He won't be overpowering many players at the NBA level, but his size-skill combo is intriguing to say the least and has put him in position to hear his name called in the first round on draft night.

[Read Full Article]

---
Analyzing the NBA Combine Athletic Testing Results
May 27, 2011
Nikola Vucevic was the big winner in the anthropometric measurements, ranking as the tallest and heaviest player at the combine. As we discussed on multiple occasions over the last few years, though, he's a below the rim player, something that was very evident in all the athletic testing results conducted in Chicago.

[Read Full Article]

---
Analyzing the 2011 NBA Combine Measurements
May 21, 2011
Vucevic earning the nod for tallest player in attendance without shoes at 6-10 ¼, ranking as the second heaviest player at 260 pounds, and posting a standing reach half-an-inch higher than Greg Oden's at 9-4.5.

[Read Full Article]

---
Trending Prospects (4/8/2011)
April 8, 2011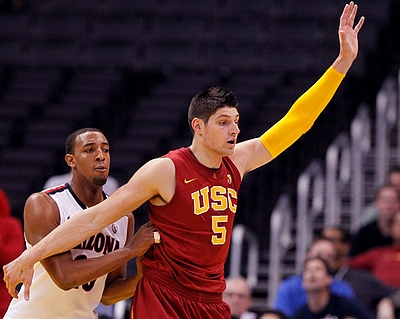 Icon SMI



Joseph Treutlein

A player we profiled extensively just three months ago, Nikola Vucevic actually managed to slightly increase his production and efficiency numbers in conference play, continuing to play excellent basketball all season long. He didn't have the best finish to his junior year in postseason play, but given the turmoil surrounding his head coach at the time, it's hard to read too much into that.

Vucevic chose to declare for the draft and hire an agent immediately after his season ended, which gives him a lot of flexibility going forward given his European background. Unlike most NCAA players who have to decide whether to keep their name in the draft by May 8th, Vucevic has until June 13th to decide to stay in or go to Europe to play for a year instead.

Looking at Vucevic's on-court performance this season, he's shown an outstanding learning curve and has made a lot of adjustments to his game that benefit his prospects as a potential NBA role player. While his spot shooting ability is still in its early stages of development, he's already an extremely dangerous shooter from the mid-range in spot-up and pick-and-pop situations, while his three-point attempts and percentages both gradually increased as the season went on. If he does decide to pass on the draft for a year, he should have ample opportunity to further foster this ability in high-level Europe, where his style of play would fit in perfectly.

Vucevic also showed slightly increased comfort handling the ball on straight-line drives as the season went on, and dabbled with pull-up one-dribble jumpers from the mid-range as well. Neither of these skills are yet on an NBA level, but it's a good sign that he's still trying to expand his game, and at just 20 years old with his overall feel, there's a good chance there's more improvement to come here.

He's not a great runner, does not play above the rim with regularity, and still needs to put a good amount of work into his power game, but his feel for the game, skill-level and tremendous touch around the basket leave plenty of room for optimism regarding his ability to fit into a pro offense with his ability to score inside and out.

Defensively, Vucevic's strengths and limitations remain largely the same. Displaying a solid fundamental base and effort level to go along with terrific length, and good positioning and timing as a shot blocker, Vucevic does a decent job overall, but is prone to being outmuscled in the post and outquicked on the perimeter by bigger, stronger athletes. His length helps compensate for this somewhat, though, as he can contest shots very effectively with his long wingspan.

Looking forward, Vucevic has multiple options at his disposal, while his stock is already fairly strong, being projected as a borderline first round pick at the moment. His skill set projects well both as a role playing big in the NBA or a perimeter-oriented big man in Europe, and if he does choose to go to the overseas route, it's arguably a noticeably more beneficial situation for his development than would be returning to USC for his senior season. With a lockout potentially looming and him being able to get paid immediately for a season in Europe, that option has to be looking very attractive, especially if Vucevic plans to continue putting in the work improving his growing skill set, which could raise his stock even higher a year from now, or even in this draft for a team looking to plan ahead in advance of a lockout.

[Read Full Article]

---
Trending Prospects (1/6/2011)
January 6, 2011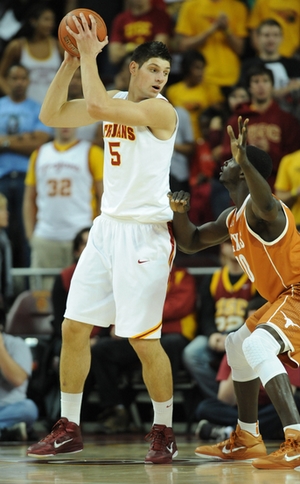 Icon SMI



Joseph Treutlein

Coming off a solid sophomore season, in which he was named the Pac-10's most improved player, Nikola Vucevic has taken his game to the next level as a junior, increasing his scoring while rounding out his skill set and improving his frame substantially. Standing at least 6-10, with a superb wingspan, Vucevic was always going to attract attention to himself with his physical profile, especially once his body began to fill out.

On the offensive end, Vucevic has managed to increase his pace adjusted scoring and assists while simultaneously lowering his turnovers, making good use of the possessions he gets while taking on a larger scoring load. His shooting distribution has also had a slight adjustment with him taking a larger percentage of jump shots this season, something that's helped both his effectiveness as a collegiate player and his outlook as a draft prospect.

Looking at Vucevic's improving perimeter game, he's developed into a very reliable option out of pick-and-pop situations while becoming a more dangerous threat from three-point range as well. He's very confident with his jumper, which boasts a pretty high and quick release, showing no hesitation to put the ball up when he has an open look. While he's still just hitting 33.3% of his 2.4 three-point attempts per game, it's a noticeable improvement over his 22.2% on 1.2 attempts per game last season, and it's clearly an area where he's putting in the work and looks to have considerably more potential down the road. The fact that he can operate as a floor-spacer at 6-10 (or possibly 6-11) makes him quite a bit more intriguing considering the other things he brings to the table, which should be duly noted by scouts.

As for the rest of his scoring game, Vucevic does most of his damage operating in the low to mid-post, showing a solid finesse game centered around a right-handed hook shot with range to 10 feet. He has pretty good touch and decent footwork, but he does a great job staying active and calling for the ball while moving around the floor, being extremely aggressive in getting open and wanting the ball in his hands. He tends to do his best in the post when matched against undersized, overmatched opponents, however, showing trouble when matched against more NBA-caliber frontcourt players.

Off the ball, Vucevic looks a bit more confident going to the rim with power moves on cuts, showing improved strength and having no problem going up strong with the ball. He's still a below average athlete, but by virtue of his size and outstanding length he's capable of finishing with some strong dunks and has no problem drawing contact to get to the line when there's a defender in his way. He's still mostly a below the rim player and projects to have more problems in these areas should he play at the next level, but the toughness and improved strength he's showing are good signs, as is his 78% free-throw shooting, which is excellent for a big man.

When he's spending time in the high post or on the perimeter, Vucevic doesn't really show the first step or ball-handling skills to take his man off the dribble consistently, but he does a good job serving as a passing cog in the offense, making simple flow of the offense passes and not showing any selfishness despite his aggressiveness in always looking for the ball.

On the defensive end, Vucevic shows a solid fundamental base in the post, though he's prone to being both backed down and beaten laterally by stronger and quicker opponents. He does a good job compensating for this with his length, contesting shots and showing good timing with his shot block attempts, but he's still mostly overmatched against NBA caliber athletes. On the perimeter, he likewise shows decent fundamentals, but his lateral quickness is severely lacking here, being beat off the dribble often and being forced to foul from behind. This is the area of his game that could hold him back the most as an NBA prospect.

The one area he does really hold his own defensively is on the glass, showing a good nose for the ball and using his length and size well. That's a major plus when evaluating his pro prospects, as players in his mold tend to project as below average rebounders. His wingspan, fundamentals and effort-level clearly help him a great deal here.

Looking forward, Vucevic's continued development with his perimeter shot is crucial for his stock, and the steps he's taken with his improved shooting, strength, and toughness this season are all very helpful. Continuing to work on his pick-and-pop game, becoming a better defender, and maximizing his strength and athleticism should be among his priorities. At just 20 years old with another season in college and seeing how he's improved each of his three seasons so far, he could certainly play himself into draft discussions with continued improvement, and he already has a nice foundation with his rebounding and perimeter shooting.

Players with his combination of size, length and skills aren't very easy to come by, which is why he'll surely be getting an extended look whenever he decides to go pro. The fact that he's reportedly a very high character individual who comes from a strong basketball background will surely help his chances.

[Read Full Article]

---
NCAA Weekly Performers, 12/30/09
December 30, 2009
Joey Whelan

With a roster lacking the kind of star power it has featured in recent years, USC wasn't expected to do much this season, and an uninspired 2-4 start certainly seemed to spell a long winter for the Trojans. With Pac-10 play kicking off this week though, the team has done a sudden about face, having reeled off six straight victories, thanks in part to the eligibility of point guard Mike Gerrity, but also due to the 36 minutes per game sophomore big man Nikola Vucevic is giving them.

Born in Switzerland, raised in Belgium, the nephew of the coach of Pro-B France based team Antibes, and the son of two former professional basketball players (his father was a member of the Yugoslavian national team and his mother played in Bosnia), Vucevic certainly has the right pedigree to develop into a strong interior presence at the college level thanks to his size and developing skill set. He had a strong showing in the U-20 European Championship this past summer as part of the Montenegrin national team, averaging 15.5 points and 10.8 rebounds in nine games.

Standing 6-10, but a still thin 220-pounds, the sophomore has a frame that has plenty of room to fill out and get stronger, something that he clearly needs to do in order to be more effective around the rim. He is not a great athlete, looking somewhat slow footed and lacking much vertical explosiveness at this stage. His single greatest physical asset is his tremendous length, which allows him to rebound at a very high rate despite being unable to match the athletic gifts many opposing players have over him.

It shouldn't come as a surprise that the overwhelming number of Vucevic's shots come on the block or in the immediate vicinity of the rim, be it from offensive rebounds or moving without the basketball. He works extremely hard in the post to establish position, something he does quite well, but he doesn't attack the rim with this same fervor.

Once the ball is in his hands, it can be somewhat of a crapshoot as to what will happen next. Vucevic is still a raw talent, but he exhibits signs of excellent footwork, mixing in a variety of pro level moves into his arsenal already. In his best performance of the season – an 18-point, 14-rebound showing against second-ranked Texas – the forward deployed an array of drop steps, hooks and up-and-under moves against Longhorn center Dexter Pittman.

As impressive as he looks in these moments of finesse and execution, the European product is quick to remind scouts that he is still learning the game, often committing turnovers when he puts the ball on the floor and failing to recognize double teams.

Where Vucevic looks like he could really develop into an intriguing prospect is as a floor spacer. He has only taken a handful of shots from outside the paint, but from what we have seen there is definitely potential for the 19-year old sophomore to become a legitimate threat as a pick-and-pop player down the road.

Though he doesn't elevate much and his shot can be somewhat flat at times, Vucivic shows good form with a smooth, consistent release. His respectable numbers at the free throw line are also a pretty good indication that he can ultimately develop an effective mid-range game as his progression continues.

Defensively, Vucevic continues to be somewhat of a study in inconsistencies. As soft as he looks at times on the offensive end, he puts a good effort in as a post defender. He certainly isn't the kind of player to launch into the air and alter every shot in his area, but he holds his position well and uses his length to contest a fair number of shots.

His length, fundamentals and activity level make him a very productive rebounder as well, averaging 11 per-40 minutes pace adjusted. It's in this part of his game in which he can really continue to make a name for himself as a prospect, similar to the way Goran Suton did at Michigan State.

There is obviously a good deal to like about Vucevic right now given the promise he has shown at a young age. While his stats have been somewhat padded against weaker opponents, a pair of double-doubles against Texas and Tennessee are indications that the sophomore can play against elite defenders and excel.

He is a raw prospect who continues to show flashes of ability both as a low-post scorer and a shooter, the latter of which will be paramount to any aspirations of playing at the next level. It is certainly too early to project where Vucevic will end up, but it is a safe bet he will be in college for a couple of more seasons, granted he isn't tempted to use his European passport once the results of the NCAA's investigation into Tim Floyd are known. With the Trojans likely to rely on him more heavily during the Pac-10 schedule, we will get a great opportunity to see how Vucevic can continue to produce.

[Read Full Article]

---
2009 U-20 European Championship Review: Bigs
October 7, 2009
While the jury is still very much up in the air regarding his long-term outlook, it cannot be ignored just how big of an impact Nikola Vucevic made game after game, coming up with six double-doubles in his first seven contests.

Vucevic has a strong and solid frame with decent body balance and hands. On the other hand, he's not incredibly athletic, showing average agility and mobility getting up and down the floor. He definitely needs to play with more intensity and become tougher overall. Although he was the tournament's leading rebounder (10.8) and shotblocker (1.9), he still has room to improve in these areas, as his numbers at the junior categories rely heavily on his superior size, positioning and timing.

Offensively he was a clear go-to-guy for his team in the low post, where played very confidently and showed intriguing potential. He knows how to establish position down low, converting an impressive 59% of his 2-pointers, and showing nice passing skills out of the paint as well. As far as his face-up game is concerned, he showed solid ball-handling skills, but was very inconsistent with his mid-range jumper. That didn't stop him from attempting a surprising amount of 3-pointers, of which he converted only 21%.

Looking at his all-around performance in Rhodes, Vucevic was a very consistent presence for his team as both a scorer and rebounder. It will be interesting to see how his production will translate back to the college setting, as USC will need him to have a big impact this season considering the depth of their roster.

[Read Full Article]

---