2009 U-20 European Championship Review: Guards
September 17, 2009
Pappas was the orchestrator, the man at the helm from the point guard position for Greece. An intelligent player with good court vision, good passing skills and a decent ball handler. He shows good size and okay strength and body control, which he knows how to use to his advantage in the post as well. On the other hand he's a fairly slow player who is really held back by his lack of athleticism. This and an often low intensity level make him a fairly poor defender, especially on the ball.

On offense he showed acceptable percentages during this tournament. For somebody who's traditionally not considered a great shooter with his relatively slow mechanics, the 40.6% he shot from the 3 point line are more than decent. Much of that is due to his very good shot selection, and also being part of a strong team where he has no need to force things on his own. Pappas is able to drive to the basket at times, using spin moves to get closer, and always keeping a clear view to assist to his teammates. He's not a great finisher at the rim though due to his poor leaping ability. He generally moved the ball around pretty well and had a very good performance over the course of the championship.

Certainly not an NBA prospect due to his physical limitations, Pappas can surely forge himself a fine career in Europe, despite being an early bloomer.
[
Read Full Article
]
Nike Hoop Summit, International Prospects
April 15, 2009
Already a fixture on Greece's junior national team, Pappas entered this week with a great deal of international experience under his belt. A point guard with good size at 6'4", Pappas had an impressive showing in Portland, particularly with his ability to handle the pressure of the Team USA guards, despite his less than ideal physical tools.

In the half-court, Pappas appears to be a crafty scorer, with the ability to shoot the three pointer, or create a floater from mid-range. The most impressive shot Pappas hit in the game was a clutch floater off his opposite foot with the shot-clock running down. The Greek guard can create quite effectively for others, too. At times it appeared he would pick up his dribble too early or dribble into a bad spot, but he would always find the open man after a fake or a spin to get the defense back on their heels.

Despite his size, solid scoring ability, and the ability to create as a floor general, Pappas doesn't appear to have the prototypical physical tools of an NBA guard. He shows average quickness off the dribble, and doesn't appear to have any type of explosiveness in the paint. The guard also lacks the lateral quickness to be an effective defensive player, though he seems to be very solid fundamentally in most areas. He appears to be the type of guard that could get drafted and stashed overseas, but his value to the European market will probably always exceed the value he can bring to an NBA team.
[
Read Full Article
]
2008 Albert Schweitzer Tournament: Watered Down Mannheim
April 2, 2008
Nikos Pappas in particular was unstoppable for many stretches. The well-deserved MVP, he showed a ridiculous ability to score at will. Playing combo-guard, he would throw his strong 6-4 body at any rival and make room for a relatively easy basket. Although his strange frame -which looks pretty thick for a guard, not particularly attractive in terms of basketball potential- and body language might result misleading, he doesn't enjoy anything more than decent athleticism to work with, and particularly he's not very quick. But he's incredibly smart and poised, showing an uncommon maturity that helps him to overcome his athletic shortcomings.

Showing very solid ball-handling skills, a decent first step and great footwork, Pappas could attack both ways, being especially prolific from the left side, while his rivals rarely figured out how to stop him. Primarily looking for the basket, he loves to create contact with his opponents and hang in the air until he enjoys enough room to release a layup or a short-range shot (a la Papaloukas). If he didn't find the scoring option, he would never panic, and instead would look for his teammates. Pappas showed nice court vision to feed his mates, not only off the drive, but also from the perimeter. He also punished the defense with his long-range shot whenever his match-up –or the pair defending the pick and roll- didn't stay honest, showcasing a nice touch, still accurate off the dribble.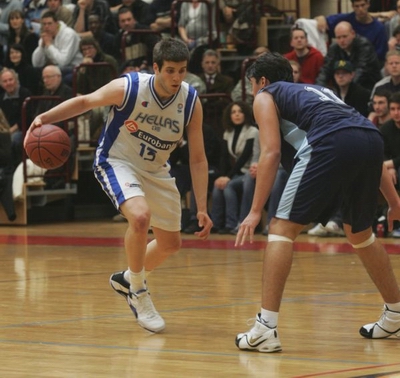 Photo: AST.Basketball.de
But it wasn't everything a matter of ball domination. Pappas often stayed away from the ball, letting his teammates take over the offense, almost as if he didn't care, but would unexpectedly appear in the right moment with a cut, or offensive rebound, showing a terrific sense of timing moving without the ball. He showed a bit of the same stuff on defense, where he sometimes showed some apathy (his limited lateral quickness also backs this impression) but could come up with some steals.
Regardless of his skills and outstanding basketball IQ, it's hard to picture Pappas as a top prospect given his relative lack of athletic potential, but his performance alone made the trip to Mannheim well worthy. His performance in the semifinal was for the ages, scoring 24 points in the first half, sitting out for most of the third quarter due to foul trouble, staying away from the ball in the fourth, and taking over in overtime to score 11 consecutive points that rounded up a massive 39-point outburst.
[
Read Full Article
]