Team: NON-NBA College Team: Trabzonspor
Physicals
Positions
Salary
Misc
H: 6' 9"
W: 240 lbs
Bday: 10/05/1986
(29 Years Old)

Current: PF
NBA: PF
Possible: PF

Agent: Misko Raznatovic

High School:
Hometown: Belgrade, Serbia




Basic Per Game Statistics

- Comprehensive Stats - Statistical Top 25s
| Year | League | Name | GP | Min | Pts | FG | FGA | FG% | 2Pt | 2PtA | 2P% | 3Pt | 3PtA | 3P% | FTM | FTA | FT% | Off | Def | TOT | Asts | Stls | Blks | TOs | PFs |
| --- | --- | --- | --- | --- | --- | --- | --- | --- | --- | --- | --- | --- | --- | --- | --- | --- | --- | --- | --- | --- | --- | --- | --- | --- | --- |
| 2015/16 | Eurocup | Novica Velickovic | 6 | 18.7 | 7.2 | 2.2 | 7.3 | 29.5 | 0.8 | 3.8 | 21.7 | 1.3 | 3.5 | 38.1 | 1.5 | 1.7 | 90.0 | 1.0 | 3.8 | 4.8 | 2.5 | 0.3 | 0.2 | 1.8 | 2.3 |

Player Page&nbsp&nbsp| Player Stats | Related Articles&nbsp&nbsp| Add to My Draft Express&nbsp
&nbsp
DraftExpress Overseas Free Agent Rankings: Players 13-24
December 29, 2009
Since going undrafted in 2008, all Novica Velickovic has done is develop into one of the most promising young forwards in European basketball, first as the leader of overachieving Partizan (who shockingly made the Euroleague quarterfinals) and now as a key cog in Ettore Messina's rotation with Real Madrid.

Velickovic is not the prototype of what the NBA typically looks for at the forward position, as he's a below average athlete who doesn't possess an extraordinary skill level. What he lacks in pure talent he more than makes up for with his smarts, fundamentals and toughness, though, being the all-around glue-guy type that does a little bit of everything out on the floor.

Velickovic is very effective with his back to the basket, showing nice footwork and touch to compliment his aggressiveness and pure grit inside the paint. He can attack his matchup off the dribble a bit, and while he's not what you would call a pure shooter, is capable of spacing the floor and making shots from beyond the arc when called upon.

Velickovic is an extremely efficient offensive player who executes offensively, crashes the boards hard and plays excellent defense, despite not possessing great length or lateral quickness. He reads his matchups well and does a good job of getting his opponent to settle for tough shots, and is not afraid to throw his (still developing) body around in the paint. While Real Madrid likes to use him at the small forward position from time to time in big lineups, there are some question marks about whether he'd be able to do the same in the NBA.

Having signed a three year contract this past summer after Real Madrid paid a big buyout to Partizan, Velickovic probably isn't going anywhere anytime soon. Another few seasons in top-level Europe surely won't hurt him, though, and if he can find a way to become a real knockdown shooter in the near future, the NBA could be an interesting option for him down the road.

[Read Full Article]

---
Roundup: All-Around Velickovic
April 10, 2008
Already a very important member of Partizanís core, Novica Velickovic is doing nothing but improving his game level in the Euroleague quarterfinals. The Serbian forward is one of the key foundations in his teamís game, actually a pretty significant reason why the team from Belgrade is faring so impressively well this season (itís not only about getting that far in the Euroleague, but they are dominating the Balkans as nobody has done for several years). After his 10-point, 8-rebound performance in Vitoriaís loss, Partizan tied the series following Velickovicís 17 points, 12 rebounds and 4 assists, earning in the process our Player of the Week nomination.

Velickovic is embracing to perfection the role of his teamís glue guy, doing some dirty work, being fully involved in the game flow thanks to his superb positioning, off-the-ball movement and heady passing game, while taking advantage of his opportunities to add points. Perhaps not particularly brilliant, never flashy, heís smart and tough regardless, knowing where he needs to be on the floor in order to help his team. He can be the high post player to disrupt 2-3 zone defenses, a perimeter shooter to spread the defense, a low-post menace to open looks in the perimeter-- he wonít come up with genius plays, but everything flows better with him in the process.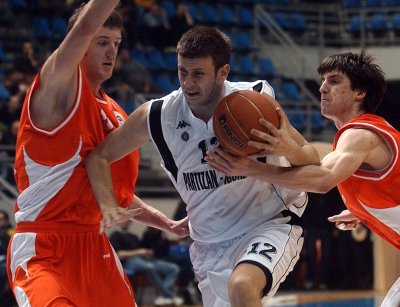 Photo: ABA League


Currently not enjoying any definitive go-to weapon to emerge as a high-octane scorer, he shows a variety of options to add points for his team, such as a decent spot-up jumper with range out to the three-point line, some low post moves and the ability to finish with both hands near the basket, or some dribbling ability to put the ball on the floor and attack the basket (or take the ball up-court in transition). Meanwhile, heís also a very solid defender, both in individual or in the team setting, and a really active rebounder. A very complete guy indeed.

Anyway, itís not highly likely that Velickovic will hear his name called in the upcoming draft. Automatically eligible, heís a below average athlete by NBA standards, and neither particularly big for a power forward, the position for which heís better suited and where he plays in Europe. He might be able to end up playing small forward a la Jorge Garbajosa, given his versatility and pretty decent mobility, but still NBA teams tend to look for other profiles in the draft.

[Read Full Article]

---
Top Draft-Eligible Performers in the Euroleague Regular Season
February 4, 2008
Escorting Nikola Pekovic in Partizanís frontcourt, Velickovic has been another extremely pleasant surprise this season. Heís not a highlight reel-type, he doesnít wow the audience with his moves, skills or athleticism, but he gets the job done. Heís an extremely solid team player, a valuable piece in Partizanís engine, that helps everything move smoother.

Not very big or particularly athletic, Velickovic is a tough, very mobile, very smart and rather fundamentally sound player. Although primarily a face-up power forward, he ends up playing all over the court, being active without the ball with picks, cuts and a nice use of the baseline, trying to play off the dribble, shooting with range, able to produce from the post, or running the court very well. Heís not deadly in any of those departments, but everything wisely combined makes him a pretty productive player. Still not a very solid perimeter shooter, he could boost his scoring power by gaining more consistency with his jumper, as it would also help his slashing game (he canít purely rely on his quickness, first step and ball-handling skills to regularly beat his match-ups).

Decently solid on defense, smart and quick enough to contain his match-ups while willing to stay physical on them, heís emerged as a very reliable rebounder, particularly on the defensive end, where he shows nice activity and excellent positioning. Indeed he became as the third best defensive rebounder of this season in the Euroleague. Draft-wise heís not a very intriguing player, given his relatively poor physical-athletic profile, and the low odds for him to develop into a small forward.

[Read Full Article]

---
Roundup: Tsintsadze at his Best
January 23, 2008
Novica Velickovic erupted this past week with a 22-point, 9-rebound performance in the Euroleague against Lottomatica Roma. Heís having a pretty strong season with Partizan, with averages of 11.1 points and 7.3 rebounds in the top European competition. Velickovic is a 6-9 forward, born in 1986, who usually officiates as a power forward, but who has spent some stretches playing on the perimeter. Anyway, heís mostly a face-up guy who can shoot with range (although still not consistently) and put the ball on the floor to attack the basket. Pretty strong, intelligent, a solid defender, a good rebounder, and active on the court, heís a reliable presence for his team. His NBA potential is very limited by the fact that heís not particularly big for a power forward and his decent athleticism isnít enough to make up for it; meanwhile, heís not skilled enough for a small forward, lacking, better handles, a better touch from deep positions and the quickness you would like for a perimeter guy. Heís draft eligible this year.

[Read Full Article]

---