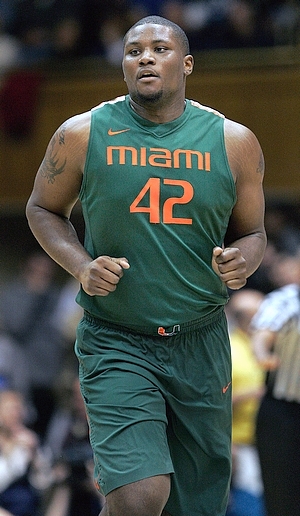 Derek Bodner
After coming off of an encouraging sophomore campaign that saw significant improvement both in his physique and production,
Reggie Johnson
suffered a setback when he tore his meniscus during a pickup game in late June of 2011. The injury caused him to miss the first nine games of his junior season and, with the exception of one
monster outing
in an upset overtime win over Duke in Cameron Indoor, Johnson was never able to regain the same impact he had as a sophomore.
After spending six months rehabbing his injured knee, the work Johnson spent improving his physique did not go to waste. Johnson, who lost upwards of 40 pounds during his first two years in Miami, didn't appear to have added much, if any, weight to his frame while he was rehabbing. Unfortunately Johnson may have let him go once the season ended, as he tipped the scale at 329 pounds at the
LeBron James
Skills Academy in early July. He still has considerable work to do on his massive frame in order to maximize his potential, as this appears to be one of the biggest keys to carving out a consistent role in the NBA.
On the offensive end, Johnson remains largely an effective, albeit still not all that diversified, post-up player. His bread and butter is still a right handed hook shot, which he shows very good touch and solid range on. While he gets very little elevation, he does a very good job creating separation, and has little trouble getting the shot off with regularity. His overall diversity in the post still remains a little underwhelming, and he would be well served to develop his left hand should he look to make a living in the post at the next level.
One area of Johnson's post game that did see considerable improvement during his junior year was his recognition of double teams. Johnson saw double teams more frequently last year and he did a much better job of recognizing the double team early and locating the open man and preventing himself from getting trapped by defenders. His assist rate nearly doubled last season and he was able to post a near 1/1 assist to turnover ratio for the first time in his career, which is a good sign moving forward.
Johnson's other main source of offense is from the offensive glass. Johnson wasn't nearly as prolific as he was during his sophomore year, where he was one of the best offensive rebounders in the nation at 5.5 per-40, but his 3.9 offensive rebounds per 40 minutes pace adjusted still represents an above average mark. He does a good job of fighting for position and is able to use his bulk and soft hands to corral balls that are in his vicinity.
Johnson also shows some promise as a pick and roll threat, where he uses wide frame to present a clear target for passers as he dives to the hoop. Johnson has very soft hands and is able to catch most passes thrown his way. While Johnson isn't very explosive, he has good touch around the hoop and does a solid job creating separation with his off hand to get shots up. Still, his overall lack of explosion creates some concern about his ability to consistently get shots off against the taller defenders he'll see at the next level.
Johnson's main development in his offensive game has been from his jump shot, which he started to show some ability with during his junior season. At roughly 10% of his offense according to Synergy Sports Technology, that still represents a significant increase over the 3.8% jump shots took up during his sophomore season. Johnson overall shot 47.1% on jump shots, including 4-11 from three point range, which corresponds to a slight increase in his effectiveness at the free throw line, up to a solid 70.8%. His overall form and touch look solid and is something to keep an eye on during his senior season.
The defensive side of the ball still represents some troubles for Johnson due to his frame. He has good strength and long arms, but he's not able to change directions with his massive frame all that quickly, and his lack of elevation doesn't allow him to be much of a shot-blocking threat or weak side help defender. His defensive technique looked marginally improved, but he still finds himself off balance too often. His effort level is solid, but continuing to improve his conditioning would go a long way towards trying to project him as a defender at the next level.
Johnson made huge gains between his freshman and sophomore season, improving his conditioning and overall skill level significantly. His injury after his sophomore season set him back, but if he is able to get his conditioning back on track and continues to score efficiently both facing and with his back to the basket, it wouldn't be surprising at all to see him find his way onto an NBA roster.