2016 Basketball Without Borders Camp Roster Analysis
January 30, 2016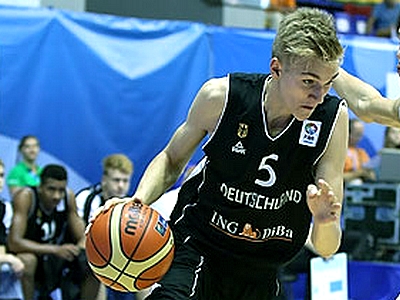 FIBAEurope.com
-German small forward
Richard Freudenberg
is also on the college track, and he's already seen a handful of minutes in the first division with powerhouse Bayern Munich. Possessing great size for the wing, a strong feel for the game and excellent shooting mechanics, Freudenberg is a streaky shooter with all the tools to emerge as a high-level prospect down the road as he continues to add strength and improves his defense and all-around versatility. St. John's is rumored to be hot on his track.
[
Read Full Article
]
FIBA Europe U18 Championship Scouting Reports: Shooting Guards
August 5, 2015
Jonathan Givony

Strengths:
-Excellent size for a wing at 6-8, or possibly even 6-9
-Long arms. Big hands. Frame that should fill out nicely in time
-Smooth and fluid athlete
-Has very smooth shooting mechanics. Elevates off ground with a high release point
-Reliable shooter with feet set
-Intelligent player. Makes extra pass. Did not look out of place here despite only being 16 years old.
-Can put ball down fluidly in a straight line. Shows some athleticism off two feet. Can elevate for finishes from a standstill.

Weaknesses:
-A little bit one dimensional at this stage. Shot more 3s than 2s. Only got to free throw line four times in 174 minutes
-Doesn't have advanced ball-handling skills in the half-court
-Only 21/71 from beyond the arc (30%) in 25 FIBA and Euroleague ANGT games thus far. Has a pretty stroke, but isn't terribly consistent with it at this stage
-Has only dished out 8 assists compared with 51 turnovers in FIBA/ANGT play.
-Lacks some toughness defensively. Struggles to get in a low stance and contain smaller wing players. Doesn't always fight through screens
-Needs to become more physical as he matures and his body fills out

Outlook: Young, tall wing with nice potential as a high IQ floor-spacer. Still at a very early stage of his development. On the college track right now. Will likely pick from Gonzaga, St. John's and Vanderbilt according to what he told us.
[
Read Full Article
]
Richard Freudenberg 2015 FIBA U18 European Championship Interview
July 30, 2015
An interview with 6-8 German wing Richard Freudenberg at the 2015 FIBA U18 European Championship in Volos, Greece.

More FIBA U18 European Championship Content:
-Jonathan Jeanne Interview
-Leon Kratzer Interview
-Isaiah Hartenstein Interview
-Tadas Sedekerskis Interview
-Frank Ntilikina Interview
-Verners Kohs Interview
-Kostja Mushidi Interview
-Lauri Markkanen Interview
---
[
Read Full Article
]