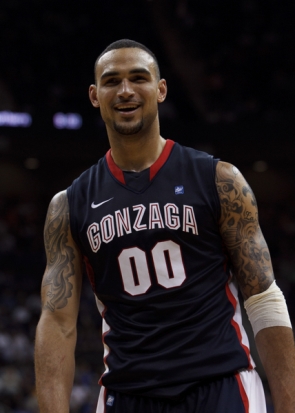 Derek Bodner
After a foot injury caused him to miss most of what became a redshirted 2008-2009 campaign, senior center
Robert Sacre
has been a consistent contributor for the Gonzaga Bulldogs.
Standing a legitimate 7 feet with an NBA ready frame, it's easy to see where the intrigue around Sacre begins. Sacre uses his size well, getting the majority of his half-court offense in the post, where most teams simply do not have the size to match up with him. Sacre does a good job of establishing position early and sealing off his defender, giving his teammates a clear entry pass and forcing defenders to foul, where his 8.5 free throw attempts per 40 minutes pace adjusted rank as one of the top numbers among centers in our database.
His post game, while still not overly diversified, has seen slight improvement. He's showing more over his right shoulder and has added a baseline spin move to go along with his more preferred moves, a right handed hook shot and turnaround fade-away jump shot. It's still fairly methodical and slow developing, but if he can continue to show increased diversity it will help him offset some of his athletic limitations.
His lack of explosiveness is the biggest question mark in projecting his post game to the next level, as he is neither overly quick out of his moves or explosive as a leaper, and he has his shot blocked more than you would hope for considering the size advantage he has on most nights. With the increased length and athleticism at the next level, and not having the kind of offensive diversity to date that would offset a drop in his productivity in the post, it brings into question how much of an offensive factor he could be at the next level.
Sacre's biggest offensive contributions outside of post-up situations has been on the offensive glass, where he effectively uses his size and high effort level to be a good offensive rebounder. He also moves well without the ball and has solid hands, although both of these strengths are again somewhat offset by his lack of vertical explosion and at times difficulty finishing in traffic, although his ability to get position and get fouled allows him to be efficient in these sets.
Sacre's improvement as a jump shooter is perhaps the area of his game that could help him the most. He appeared to improve somewhat as a set shooter, although the sample size is still small enough that he still has a lot to prove in this regard. His improvement in free throw percentage, from 62.9% to 82.3%, this past year, provides some level of comfort that this is an area that Sacre could add to his game, and it is paramount to his success at the next level.
Sacre is a very effective defender at the collegiate level, both in terms of team and man to man defense. He appears to get in a good stance defending the pick and roll and moves his feet better than expected, although he can be burned by misdirections and double moves, as he sometimes struggles to change direction. His defensive rotations aren't the quickest, but he appears to be a smart defender and has good recognition and knowledge of team concepts, and his length and timing allows him to be a weak side shot blocker. In the post is where he is the most comfortable defensively, and where he shows the most promise at the next level, as he does a good job of denying deep post position and uses his length to effectively disrupt offensive players.
Sacre's poor defensive rebounding -- his 5.8 defensive rebounds per 40 minutes pace adjusted ranks amongst the worst numbers for centers in our database, albeit an improvement over his 2009-2010 year -- is the other area that makes projecting him to the next level difficult. With the expected drop in offensive usage at the next level it would be much easier to project him as a role player if he was more of a contributor in this regard. He simply doesn't appear to be all that instinctual of a rebounder on this end of the court and he doesn't have the athleticism or quickness to make up for that.
Sacre's size and physical tools will continue to garner attention throughout the season, and much attention will likely be given to defensive ability and how that might translate. Showing scouts that he has the potential to develop an effective mid-range jump shot, allowing him to transition to an off the ball scorer away from being a primary focus in the post, could help as well. Perhaps most important will be whether he can shore up his defensive rebounding to allow him to be a consistent contributor even when his number is not being called offensively.