Rodney Purvis
Recent Tweets
All Tweets
DraftExpress: Players released from @usabasketball U19 tryouts Canyon Barry Bryce Alford Kris Dunn Javan Felix Rodney Purvis Rondae Hollis-Jefferson
2013-06-16 14:43:46
DraftExpress: Lots of 5 on 5 action today at @usabasketball tryouts. Very up & down games. Rodney Purvis and Andrew Harrison at their best in this setting
2012-06-06 01:39:40
DraftExpress: Good session for Rodney Purvis as well. No one can stop him in transition. Like a freight train driving down the lane. Seems to be maturing.
2012-06-05 09:41:07
DraftExpress: Interviews w/ Rodney Purvis, Rasheed Sulaimon & Justin Anderson at the Boost Mobile Elite 24 in LA: http://t.co/EB99H2TL
2011-10-02 07:34:18
DraftExpress: Boost Mobile Elite 24 Scouting Reports: http://t.co/UrRrUxx - Rasheed Sulaimon, Rodney Purvis, Robert Carter, Marcus Paige, Justin Anderson
2011-09-06 12:26:41
Team: Connecticut, Junior
Physicals
Positions
Rankings
Misc
H: 6' 4"
W: 190 lbs
Bday: 02/14/1994
(21 Years Old)

Current: SG
NBA: SG
Possible: SG

RSCI: 16

High School: Upper Room Christian Academy
Hometown: Raleigh, NC

Predraft Measurements
| Year | Source | Height w/o Shoes | Height w/shoes | Weight | Wingspan | Standing Reach | Body Fat | No Step Vert | Max Vert |
| --- | --- | --- | --- | --- | --- | --- | --- | --- | --- |
| 2013 | USA Basketball | 6' 2" | 6' 3.5" | 205 | 6' 6" | 8' 3" | NA | NA | NA |
| 2011 | LeBron James Camp | NA | 6' 4" | 190 | 6' 4" | NA | NA | NA | NA |
| 2011 | Deron Williams Camp | NA | 6' 4" | 190 | 6' 4" | NA | NA | NA | NA |
| 2010 | LeBron James Camp | NA | 6' 4" | 187 | 6' 4.5" | NA | NA | NA | NA |



Basic Per Game Statistics

- Comprehensive Stats - Statistical Top 25s
| Year | League | Name | GP | Min | Pts | FG | FGA | FG% | 2Pt | 2PtA | 2P% | 3Pt | 3PtA | 3P% | FTM | FTA | FT% | Off | Def | TOT | Asts | Stls | Blks | TOs | PFs |
| --- | --- | --- | --- | --- | --- | --- | --- | --- | --- | --- | --- | --- | --- | --- | --- | --- | --- | --- | --- | --- | --- | --- | --- | --- | --- |
| 2015/16 | NCAA | Rodney Purvis | 6 | 29.2 | 13.3 | 4.8 | 10.3 | 46.8 | 2.7 | 5.2 | 51.6 | 2.2 | 5.2 | 41.9 | 1.5 | 3.0 | 50.0 | 0.8 | 2.3 | 3.2 | 2.7 | 0.3 | 0.2 | 1.7 | 2.2 |

Player Page&nbsp&nbsp| Player Stats | Related Articles&nbsp&nbsp| Add to My Draft Express&nbsp
&nbsp
USA Basketball U19 World Championship Training Camp Report
June 17, 2013
Having recently announced his intention to transfer from N.C. State to UConn, Purvis will sit out all of next season after an inconsistent freshman year.

A key member of last summer's undefeated U18 FIBA Americas championship team, Purvis did not make it past the first round of cuts this time, seemingly looking like he's at a serious crossroad at his point of his career. Overdribbling for long stretches, taking bad shots, turning the ball over and struggling to make his presence felt defensively, Purvis could not exhibit his considerable talent in a consistent fashion as he continues to be plagued by bad habits and poor fundamentals. His inconsistent perimeter shot was a major hindrance to his chances of making the roster, as his flawed mechanics did not do him any favors in trying to establish himself a threat without the ball in his hands, while his poor decision making made it difficult for him to operate as a ball-dominant lead guard like he was accustomed to at the high school level.

Despite the seemingly harsh criticism, Purvis nevertheless demonstrated the significant talent-level that made him a top-10 recruit in high school and one of the most sought over players in the nation just a year ago. He's a superior athlete, is outstanding in transition, and possesses excellent scoring instincts to go along with his strong physical attributes. A year off under the tutelage of former NBA point guard Kevin Ollie may be exactly what the doctor ordered for this very talented combo guard, as he'll have to work extremely hard on his unconventional shooting mechanics and try to improve his knowledge of the game as much as possible to make up for lost time once he does step back on the court 18 months from now.

[Read Full Article]

---
2012 McDonald's All American North Carolina Triangle Smackdown, Part 6
March 28, 2012
Our renowned Duke-UNC Smackdown expands this year into a full-fledged Triangle (UNC-Duke-N.C. State) Smackdown with another session at the McDonald's All-American game in Chicago.

Participants this year include: Rasheed Sulaimon (Duke), Marcus Paige (North Carolina), Rodney Purvis, Tyler Lewis and T.J. Warren (N.C. State)





[Read Full Article]

---
Boost Mobile Elite 24: Interviews (Part Two)
September 30, 2011
[Read Full Article]

---
Boost Mobile Elite 24: Scouting Reports (Part One)
September 6, 2011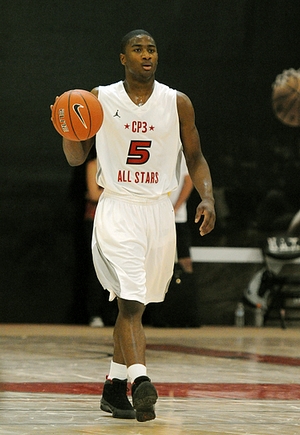 Icon SMI



Matt Kamalsky

Rodney Purvis (#15 Scout, #16 ESPN, #6 Rivals) didn't have a dominant week at the Boost Mobile Elite 24 event, but the former Louisville commit had a telling performance against the NBA guards he scrimmaged against and confirmed much of what we learned watching him on the AAU circuit.

The 6'4 Purvis, much like Justin Anderson, is one of the most physically mature players at his position in high school basketball. He has a well-developed frame, looking more like a collegiate upperclassman than one just starting his senior year of high school. On top of his physical strength, Purvis is an impressive athlete, displaying terrific straight-line speed and leaping ability –two things he used over the course of the scrimmages and practices we watched to make a number of impressive plays at the rim.

At this point, it is Purvis's combination of size and athleticism, along with his aggressive mentality, that define his game. He's a very solid slasher who is difficult for high school guards to defend off the dribble with his combination of strength and quickness. He shows good ball-handling ability when he's breaking his man down one-on-one, and good body control when he gets to the rim, but forces some looks at the rim that he doesn't finish at times.

Capable of getting to the rim consistently, Purvis seems to go through stretches where he's too eager to settle for pull-up jump shots. He's a decent shooter at this point, but he needs to improve the consistency of his catch and shoot jumper, develop his decision-making, and learn to play at different speeds to become a more efficient offensive player.

Though Purvis is more of a ball-dominant scoring guard in the mold of Rodney Stuckey at the moment, he does show the ability to make plays for his teammates as well, particularly in drive and dish situations. It wouldn't be surprising to see Purvis spend significant time at the point guard position in the future, but he'll need to develop his court vision to maximize his talents as a passer.

On the defensive end, Purvis has the makings of a quality stopper. He handled the NBA guards he was asked to match up with during the late-night Boost Mobile Elite 24 scrimmage far better than many of his peers, showing how his physical maturity, lateral quickness, and aggressiveness can work to his advantage when he's dialed in.

One of the most highly regarded guards in this class, Purvis's decision to re-open his recruitment has him garnering attention from most of the top programs in the country. Though he has some things to work on, his physical attributes make him an intriguing long-term prospect.

[Read Full Article]

---