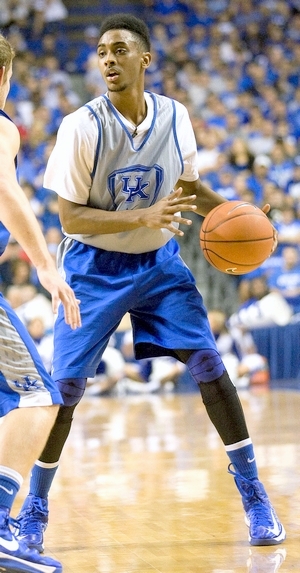 Jonathan Givony
Before jumping head first into the excitement of the 2012-13 regular season and the build-up to the 2013 NBA draft, it makes sense to take a step back and revisit the play of
Ryan Harrow
at N.C. State, a prospect who we haven't evaluated in writing since August of 2009 due to his transfer to Kentucky following his freshman season. Looking back at N.C. State game film can give us a valuable gauge to compare him against when evaluating his performance this season and the progress he's making as a NBA prospect down the road.
Harrow is likely a different player now than he was in 2010-2011, as it's been over 18 months since his last official game. He's been able to practice under John Calipari since enrolling at Kentucky in June of 2011, which should make for a much smoother transition than the Kentucky's head coach is typically accustomed to at the beginning of a season. Calipari has had a freshman point guard in charge of running his team every season since sophomore
Darius Washington
in 2005-2006 at Memphis, making the 21 year old Harrow look like somewhat of a veteran in comparison.
Two things that stand out immediately about Harrow: he is immensely talented, and he was extremely inconsistent as a freshman.
Harrow was hardly a model of efficiency for the Wolfpack, as his shooting percentages (44% 2P%, 22% 3P) ranked him amongst the least effective scorers in college basketball amongst point guards. This was likely a factor in his team finishing second to last in the ACC at 5-11, which ultimately cost the coach that recruited him,
Sidney Lowe
, his job. John Calipari, owner of the second most efficient offense in the NCAA last season, will certainly demand much more out of him, and Harrow has more than enough tools to deliver if he's used his time off wisely.
Standing between 6-1 to 6-2, Harrow has adequate size for the point guard position, even if his extremely narrow frame could always be an issue long term. He has reportedly added significant strength under Kentucky's conditioning program over the last year and change, though, and is now supposedly up to 168 pounds.
Harrow could very well be the fastest end to end point guard in college basketball, possessing
Ty Lawson
-esqe ability to turn on the jets and explode instantaneously to the rim at any given moment in the open court. Harrow's first step is also extremely impressive in the half-court, as he can beat opponents with ease from a standstill, without the benefit of a screen. His speed, combined with his tremendous ball-handling skills, give him outstanding potential as a shot-creator, as he can turn the corner exceptionally well and has a number of potent hesitation and crossover moves he can utilize to further keep defenders off-balance.
Harrow saw most of his offense, as expected, as the lead ball-handler of N.C. State's offense in 2010-2011, getting around 2/3 of his possessions in transition, isolation and pick and roll situations. He showed intriguing sparks of potential creating for both himself and his teammates off the dribble, even if he wasn't able to do so efficiently on a consistent basis.
Harrow was able to get to the rim on a semi-regular basis at N.C. State, and once there, finished 58% of his attempts around the basket, which is a very solid rate. Considering his size, Harrow will surely need to continue to improve in this area to remain effective at the NBA level, though, particularly in terms of doing a better job of drawing fouls. He tended to take a lot of tough shots from difficult angles just outside the paint as a freshman, which he can often finish thanks to his excellent touch. Despite that, his style of play may not be quite as effective against taller, longer and more athletic help-side defenders, which will require him to continue to make adjustments as his career moves on. He already showed flashes of possessing a very nice floater, but was only able to knock them down around 30% of the time according to Synergy Sports Technology.
Harrow's new coach, John Calipari, was very clear about what he expects from his starting point guard recently. "I want Ryan to be the best layup shooter in the SEC," Calipari told Kentucky reporters. "I don't need any cuteness. Get to the basket, shoot layups. If they absolutely back off like they tried to play
Marquis Teague
, he shoots it a little bit better. But I want you to shoot layups, and that's what you're doing, which means you've got to play through bumps and keep going."
Harrow's shooting was actually one of the weakest parts of his game two years ago, and a major reason why he made just 39% of his field goal attempts as a freshman. While capable of making shots on occasion with both his feet set and off the dribble, showing solid mechanics in both areas, he struggled badly with his consistency, largely due to poor shot-selection. N.C. State's offense as a whole was extremely chaotic during the latter part of the
Sidney Lowe
era, and Harrow's wild style of play accentuated that, as he tended to settle for too many off-balance, contested jumpers off the dribble early in possessions.
Improving his decision making and finding a better balance between scoring and passing will be a major key for Harrow with all the weapons that will be around him this season, and based on what we can see on film, he has enough acumen as a playmaker to learn how to utilize his teammates effectively.
Harrow was not a bad passer by any stretch at N.C. State – he finished
fourth in the ACC
in assists per-40. He actually has solid court vision and is capable of making some extremely creative and unselfish plays for teammates off the pick and roll for example, forcing the defense to rotate with his excellent first step and then finding shooters and cutters, sometimes in spectacular fashion, on the drive and dish.
The problem is that he tends to get out of control and make poor decisions with the ball too often, overdribbling, running into brick walls, trying to force the issue with highlight reel passes instead of making simple plays, and as a result, being very turnover prone. Like many young point guards who grew up on the AAU circuit, he needs to gain more experience and receive better guidance in learning how to run a team efficiently in terms of valuing the ball, maintaining his focus and being consistent from possession to possession. Luckily for Harrow, he is in a perfect place to get that, even if this will surely be a work in progress all season.
Defensively is another area where Harrow has plenty of room for improvement still based on the film we've watched from the 2010-2011 season. He does not bring much of a presence to the floor from a physical standpoint with his average size, length and frame, and did not make up for that with great fundamentals either. His lack of strength made it relatively easy for bigger point guards in the ACC to push him around and get to where they wanted on the court, and his lack of height made it easy for them to shoot over them.
Harrow has good quickness and is more than capable of putting solid pressure on the ball, but he was not very consistent moving his feet and staying in front of opponents, often gambling in the passing lanes and just swiping at the ball from behind once he's beat. Similar to his play on offense, he would have good and bad possessions throughout the game, rarely showing much consistency. John Calipari will surely demand a much higher level of physicality and aggressiveness from him, and there's little doubt that Harrow has the tools to satisfy him with added strength, focus and effort.
It will be very interesting to track the progress Harrow is able to make this season at Kentucky, as it's very rare that we get to see an elite prospect transfer in to national championship contending squad in the middle of his college career. Harrow is more than talented enough to continue John Calipari's five year streak of his starting point guards being drafted in the first round—so it will be fascinating to see how things play out.