Scotty Hopson
Recent Tweets
All Tweets
DraftExpress: Without a doubt. RT @AGleason76: Did Scotty Hopson's interviews kill his chances of being drafted? He seemed kinda delusional in the videos
2011-06-24 02:58:57
DraftExpress: More "surprise" undrafted players: Jereme Richmond, Scotty Hopson, Malcolm Thomas - everyone else we had getting picked.
2011-06-24 01:25:10
DraftExpress: NBA GM after interviewing Scotty Hopson: "That guy is not from the same planet as the rest of us."
2011-05-24 09:50:22
DraftExpress: Highly recommending viewing: interviews with Jimmy Butler and Scotty Hopson: http://bit.ly/loNPCE - For totally opposite reasons.
2011-05-24 09:19:19
DraftExpress: The first group working out in Minnesota this afternoon: Kalin Lucas, Malcolm Lee, E'Twaun Moore, Scotty Hopson, Jon Leuer & Jamie Skeen
2011-05-23 11:16:28
Team: Foshan
Physicals
Positions
Rankings
Salary
Misc
H: 6' 7"
W: 205 lbs
Bday: 08/08/1989
(26 Years Old)

Current: SG/SF
NBA: SG/SF
Possible: SG/SF

RSCI: 12

Agent: Alberto Ebanks

High School: University Heights
Hometown: Hopkinsville, KY

Predraft Measurements
| Year | Source | Height w/o Shoes | Height w/shoes | Weight | Wingspan | Standing Reach | Body Fat | No Step Vert | Max Vert |
| --- | --- | --- | --- | --- | --- | --- | --- | --- | --- |
| 2011 | NBA Draft Combine | 6' 5.75" | 6' 6.5" | 205 | 6' 10.5" | 8' 7.5" | 4.8 | 32.5 | 36.0 |
| 2011 | Nets Workout | 6' 5.5" | 6' 6.75" | 202 | 6' 11" | 8' 6.5" | 5.0 | 33.5 | 36.5 |
| 2010 | LeBron James Camp | NA | 6' 7" | 205 | 6' 9.5" | NA | NA | NA | NA |
| 2010 | Paul Pierce Camp | NA | 6' 7" | 205 | 6' 9.5" | NA | NA | NA | NA |



Basic Per Game Statistics

- Comprehensive Stats - Statistical Top 25s

Player Page&nbsp&nbsp| Player Stats | Mock Draft History | Related Articles&nbsp&nbsp| Add to My Draft Express&nbsp
&nbsp
NBA Combine Interviews: Chris Singleton, Jimmy Butler, Lighty, Hopson
May 23, 2011
[Read Full Article]

---
Trending Prospects (12/16/2010)
December 16, 2010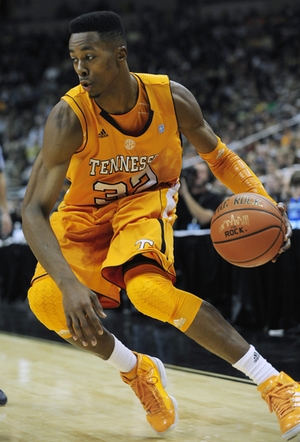 Icon SMI



Walker Beeken

Junior Scotty Hopson was instrumental in the Tennessee Volunteers getting off to a somewhat surprising 7-0 start, with big wins against highly ranked squads in Villanova and Pittsburgh. Often looking like the top 10 recruit he was billed as coming out of high school, Hopson's talent is undeniable, and there's no doubt he's caught the eye of NBA scouts with some of his early season performances.

As good as Hopson has been in a few games, he's still shown many of the qualities that we touched on in the preseason that likely leave scouts frustrated on occasion when watching him play. While he possesses outstanding physical tools for an NBA wing prospect, and shows flashes of a nice skill set as well, Hopson still seems to lack the polish, consistent mental approach and overall feel for the game to contribute efficiently on a game-to-game basis.

One area where Hopson has certainly stepped up as a junior is scoring the basketball. Though he's still using roughly the same amount of possessions as he did last season, he's increased his scoring numbers to 22.4 points per forty minutes pace adjusted, up from 16.9 as a sophomore. Much of this can be attributed to his ability to draw fouls and get to the free throw line. He seems to be more focused on using his quick first step, rangy strides, and excellent body control to attack the basket, and he's been able to get to the free throw line at a much higher rate this season, more than twice as often as he did last year.

While Hopson's increased focus on using his athleticism to get the rim is encouraging, his overall efficiency numbers on the offensive end still aren't anything to get excited about. He sports a mediocre 16.2 PER, and he's turning the ball over on more than a quarter of his used possessions, which is even more than his first two seasons at Tennessee. While his attacking mentality has helped him get to the free throw line, his poor ball-handling in traffic and his lack of passing instincts on dribble penetration have also led to turnovers.

Hopson does seem more comfortable handling the ball in space and in transition, and he's also displayed some nice change of pace and direction moves, as well as a step-back dribble to create separation for his jumper. So far though, he hasn't really showed anything in terms on playmaking for others. This isn't to say that he's playing selfishly, as he still makes the easy pass within the flow of the team's offense, but once he's in attack mode or looking to score, he lacks the instincts and passing skills to find teammates, unless it's a last resort. This is evidenced by his extremely poor pure point rating and the fact that he has nearly twice as many turnovers this season as he does assists.

As a shooter, although his numbers so far only show slight improvements, he looks to have made some really nice strides in the offseason. His mechanics look better and much more consistent, and he looks to have the potential to become a solid perimeter shooter with more time and repetition. He's also managed to become much more effective shooting the ball off the dribble, an area we noted in the preseason where he really struggled as a sophomore, nearly doubling his points per shot attempt compared to last season.

Hopson has also shown some encouraging improvements on the defensive end, where he seems to be more focused and more consistent with his energy level when guarding the ball. He has all of the physical tools to excel on the end of the floor, but continuing to give maximum effort (a consistent issue with him) and learning to play smarter will be keys for him going forward. He could also probably utilize his length and athleticism to play the passing lanes and create more turnovers, as he's averaging less than a steal per forty minutes pace adjusted, which is poor for a player with his physical profile at the college level.

Overall, Hopson is still a bit of an enigma. For every game he has like the one at Pittsburgh where he put up 27 points on 10 of 13 shots in a win against a top 5 team, he has another like the 1 for 7 performance against Oakland in a loss. While there is no denying his talent and upside, and it's clear that he's made improvements in certain areas, there will likely be mixed opinions on whether or not he'll ever be able to put all of his tools and skills together to be an efficient contributor at the NBA level, as he tends to coast far more than scouts would like to see.

With that said, Hopson is clearly an NBA caliber athlete with a skill set that has room for improvement. His draft stock is still pretty much all over the board, but if he continues to grow throughout the season and can string together more good games on a consistent basis, he won't have to wait long to hear his name called this June.

[Read Full Article]

---
Top NBA Draft Prospects in the SEC, Part Two (#6-10)
September 30, 2010
Joseph Treutlein

After a hot shooting start last season, Scotty Hopson came back down to earth as the year went on, going on to post similar production and efficiency numbers as he did in his freshman season, not improving noticeably in any statistical area. That said, in watching the tape it's clear that he did take some steps forward in terms of his skill set and role within the team, something he'll look to build upon as a junior.

Offensively, Hopson's game still relies primarily around his jump shot, which he shoots equally as often off the dribble as in catch and shoot situations. Despite this tendency, Hopson's pull-up jumper is still noticeably behind where it needs to be, as he scores a dreadful 0.51 points per shot on jumpers off the dribble, compared to a solid 1.08 points per shot spotting up.

Mechanically, Hopson is extremely sloppy in his shooting motion, something that becomes more pronounced when he's pulling up, as he shows poor balance, jumps into many of his shots excessively, and shows little understanding of the difference between a good and bad shot attempt. On the positive side, Hopson shows good release speed, an incredibly high release, and his upper body motions are generally consistent, while he clearly has a ton of natural ability putting the ball in the hole. Refining his mechanics to become more consistent and working on his shot selection could lead to massive improvements in this area.

In terms of attacking the basket, Hopson is in need of refinement in this area as well, though his handle certainly improved from his freshman to sophomore season, allowing him more opportunities to flash his talent scoring the ball. Hopson's handle currently lacks tightness and he's much less confident with his left hand than his right, while he doesn't possess the greatest command of advanced moves aside from the occasional crossover in space. While Hopson shows both a very good first step and second gear on occasion, his lack of handle prevents him from making his excellent athletic abilities consistently functional, and this is compounded even more by the difficult spacing in the college game, as Hopson really struggles getting through double teams.

On the positive side, when Hopson is able to get himself in isolation, he's already showing flashes of strong ability attacking the basket, as despite his lack of handle, he shows very good footwork in the lane, and with his high level of reactiveness, he can cover a lot of ground utilizing jump stops and other moves in the painted area to gain separation. Showing a nice developing right-handed floater to go along with effortless elevation around the rim, Hopson is already a very good finisher when he can get to within five feet of the basket with the ball, and has the potential to improve even more in this area as he develops the rest of his game.

As for the rest of his offensive game, despite his lack of polish in skills and sometimes erratic shot selection from the perimeter, Hopson does seem to have good instincts and awareness overall, doing a good job of reading what the defense gives him and not showing much in terms of tunnel vision. His passing game certainly has room for improvement, but he does a good job moving without the ball and making simple passes within the flow of the offense.

Defensively, despite his excellent physical tools, Hopson shows considerable problems in man-to-man defense as this level, primarily due to lack of consistent effort moving his feet, but also due to poorly compensating for a high center of gravity, which makes it very awkward for him to handle quick changes of direction. Increasing his effort level in man-to-man defense, doing a better job to contest players from behind when they're riding his hip on drives, and better utilizing his length in the passing lanes are all things Hopson should work on, as he's clearly nowhere near his potential on this end of the floor. To his credit, one area where Hopson does fare quite well on this end is in the pick-and-roll game, where he shows good awareness and does a good job switching and trapping with his size and length.

Looking forward, Hopson's draft stock is currently all over the board, but with his natural talent in combination with excellent physical tools, he has the potential to move up considerably if he matures in his approach to his craft and can finally put all his tools together to develop a more consistent game. As it stands, there probably isn't one thing Hopson consistently does at an above average NBA level, though he shows excellent flashes in all areas of his scoring game and did show somewhat of a learning curve as a sophomore. NBA teams will be watching closely to see if Hopson's game matures as a junior, and he should have every opportunity to show just that.

[Read Full Article]

---
adidas Nations Experience Dunking Drills
September 9, 2010
[Read Full Article]

---
NCAA Weekly Performers, 12/3/09
December 3, 2009
Kyle Nelson

Scotty Hopson was considered to be one of the best high school basketball players in the country and a serious one-and-done candidate before he ever set foot in Knoxville. During his first season at Tennessee, however, he struggled with inconsistency and confidence, despite showing outstanding potential for the future. If this season is any indication, then Hopson has taken a step forward in his development and has started to resemble the player that many believed he would be from the moment he put on his jersey.

As we wrote last year, Hopson is an elite athlete with great size and length for the perimeter position at any level. While he is still wiry, he looks and plays stronger than he did last season, better utilizing his size advantage on both ends of the floor. Hopson will have little trouble adapting physically to the NBA as there are few players with his combination of size and athleticism.

Offensively, Hopson has improved significantly, even if it is still very early in the season and his ability to consistently dominate against elite competition remains unknown. In seven games, Hopson has raised his shooting percentages considerably from last year, particularly from beyond the arc, where he's shooting over 50%.

While still relying heavily on his jump-shot, he appears to have developed into a more complete offensive player, able to do more than simply shoot and continually showing flashes of emerging as a prolific scorer in the near future. His jump shot is much improved, sporting a far tighter shooting motion, still with a quick and high release, but far more controlled and consistent. Though he is currently mired in a shooting slump, he is still making an amazing 54.3% of his shots from beyond the arc on over four attempts per game.

While he was primarily a spot-up shooter last season, he is displaying a more versatile offensive game. Most notably, he is attacking the basket more this season, utilizing his quick first step and superior athleticism to get to the rim. He is also turning to his mid-range game more this season, to mixed results. Considering where he was last year, however, it is a positive to see him pulling up from mid-range and diversifying his game.

His most significant obstacle at this point is his ball-handling, which has certainly improved since last year, but is nowhere near good enough for him to be an offensive focal point against elite competition. His mid-range game and slashing game struggle because as has always been his problem, his athleticism is far better than his skill level. Until he improves his ball handling, his offense will suffer and he will have trouble maximizing his offensive potential against elite teams.

Against Purdue, for instance, he faced stifling perimeter defense and he struggled to create space for himself, getting out of rhythm and committing four turnovers in the process. He will face formidable perimeter defenders in conference play, not to mention in games against Kansas, Kentucky, and Memphis, and scouts will be watching to see if he can find ways to score when he is faced with tough defenses and his jump shot is not falling. Making sure he continues to attack the basket in lieu of simply settling from the perimeter should be a priority, as well.

On the defensive end, Hopson is still an underwhelming presence, far less productive and distracting as expected from a player with his size, length, athleticism, and talent. He has good lateral quickness and quick hands, but effort and awareness still are issues. Hopson can be a good defender when he focuses, but he rarely asserts himself on the defensive end. Lackadaisically closing out his man and running around screens is not a good way to convince NBA scouts to invest in his future.

Hopson therefore is a prospect who has improved considerably in areas, while still leaving much to be desired overall. Hopson's game recalls J.R. Smith in ways that suggest that with continued development, he could emerge as a coveted prospect. That said, he is still young, raw and inconsistent. Scouts will be watching as Hopson faces off against some of the best perimeter players in the NCAA in the coming weeks. He will have plenty of opportunities to prove that he can compete with the best and that he can achieve his massive potential.

[Read Full Article]

---
Evaluating the NCAA Freshman Class, Part Two
January 14, 2009
Tennessee freshman Scotty Hopson entered this season with an enormous amount of hype, being expected to be one of the nation's top freshmen since the first day he stepped on campus. Thus far, however, the results have been mixed, as 14 games into the season, Hopson is averaging just 8 points, 2 rebounds, and 1 assist in 20 minutes per game.

Hopson has put his many strengths and weaknesses on full display, and has shown that while the hype may someday be justified, he has a lot of work to do before reaching his vast potential. With a difficult conference schedule left to play, though, it will be up to Hopson to step up to the plate and maximize his strengths to help the Volunteers.

Standing at 6'7, with a great wingspan, Hopson has outstanding size and length for a wing player, and is an elite athlete at any level of competition. He possesses a good first step and nice quickness in the open floor, as well. While he could stand to add some more muscle to his slight, 185-pound frame, there is little not to like about Hopson's physical profile.

Offensively, Hopson is for the most part a one trick pony at this point, primarily a spot-up perimeter gunner in coach Bruce Pearl's up-tempo offense. After all, the 2.9 three point attempts per game constitute 43% of his total offense. His shooting form looks good at this point, as evidenced by his 41.3% three-point field goal percentage, but it is not without its kinks. While Hopson gets outstanding elevation, which combined with a high arching jump-shot makes his shot nearly impossible to block at this level, he needs continue to smooth out his mechanics, namely removing wasted motion from his lower body and working to make his motion more fluid. Outside of these small concerns, however, there is little not to like about Hopson's perimeter shooting ability, which will likely translate favorably to the next level and is his primary weapon on the offensive end at this point in his young career.

Looking at other areas of Hopson's offensive game reveal some flashes and potential, but little consistency. When he does choose to put the ball on the floor, he shows very poor ball handling ability, which limits his otherwise good first step and hinders his ability to get to the basket. This is a shame considering his elite leaping ability and body control, both of which suggest he could be a superb finisher at the collegiate level if he were to work on tightening up his handle and get more aggressive taking the ball to the basket. An improved handle would also likely help him find a mid-range game, which has been non-existent to this point in the season. Though he does not look like the greatest shot creator with the ball in his hands, he ideally should be able to open up more opportunities for himself with his athleticism and all-around talent.

Defensively, Hopson has a great deal of potential, but like many young "star" players, is mostly a non-factor on this end of the floor. Though he has a good wingspan and lateral quickness, he does not display much energy on defense, which is amplified by his lack of defensive awareness. He is also a very poor rebounder, grabbing just four rebounds per 40 minutes pace adjusted (worst amongst all SFs in our database), despite his elite physical attributes. These deficiencies are likely a big part of why he has yet to carve out a real niche at Tennessee early on. Increasing his intensity, at the very least, would be an improvement and would help him to find more minutes in Tennessee's crowded perimeter, as well as improve his stock in the eyes of scouts.

The important thing to remember is that, despite Hopson's many high school accolades, he is just a freshman, getting accustomed to playing for a very talented high-major division one basketball team. He has a tremendous amount of potential, and once his skill-set begins to catch up to his elite athleticism, he could develop into a tremendous player. Now, though, Hopson must work on his fundamentals, continue to expand his offensive game, and play more aggressively on both ends of the floor. The NBA is very likely in the long-term equation for a player of Hopson's caliber, but he has a lot of work to do in the meantime.

[Read Full Article]

---
Jordan Brand Classic Games (Day Three)
April 20, 2008
Scotty Hopson also found a way to translate his significant upside into an impressive performance (21 points, 4 rebounds, 8-13 FG, 18 minutes), scoring in a variety of ways, including 3-pointers, alleyoop finishes, baseline jumpers, and simple takes to the rim. He's clearly one of the top athletes this class has to offer, and with his excellent size, scoring instincts and budding skills, will definitely be an interesting name to follow next season as a potential "sleeper" one and done candidate. What's interesting about him is that despite already showing considerable talent and clearly getting excellent results, he still has a ton of room to improve on his all-around skill-set—his shooting, ball-handling and mid-range game in particular—which makes you think that his ceiling is probably extremely high. He needs to find a way to become a significantly better perimeter defender, though, as he seemingly puts little to no effort into this part of his game and already suffers from very poor fundamentals on this end of the floor.

[Read Full Article]

---
Nike Hoop Summit Recap: Team USA
April 16, 2008
A talented wing attending Tennessee next season, Hopson has some very nice tools to work with. His game starts with a high basketball IQ for a high school wing player, with good instincts when it comes to creating his own shot and finding open teammates. Hopson stands at a legit 6'5" and has good length which he uses well on the defensive end of the floor.

During his first couple years of college, the talented wing must improve his ball-handling and outside shooting. Hopson's handle appears to be quite mechanical right now and he sometimes struggles to get to the hoop against stronger defensive players. His outside shooting stroke must become more consistent, though he does shoot the pull-up jumper from 18 feet on in quite effectively.

Hopson scored a number of his points against the World Team with his mid-range game, and showed the athleticism at the rim to finish and draw contact. He seems like the type of player who needs time to build up his draft stock, but he will have a chance to earn immediate minutes at Tennessee during his freshman season.

[Read Full Article]

---