Kyle Nelson
Shannon Scott
arrived at Ohio State as a McDonald's All-American and one of the most coveted point guards in his recruiting class, but his college career was largely a mixed bag. Expectations were high in Columbus on the eve of Scott's senior season, but Scott's uneven play left much to be desired for fans and scouts alike. Scott was nevertheless named All-Big 10 Honorable Mention and Ohio State managed to sneak into the NCAA Tournament with a 10-seed. He showed flashes of brilliance as a point guard and earned his reputation as a defensive stopper, but it still remains to be seen whether he'll be drafted or what kind of NBA career he'll be able to carve out.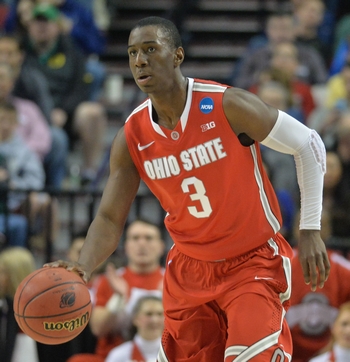 At 6'1 with a solid 185-pound frame and a 6'3.5 wingspan, Scott has decent size for the NBA point guard position. He is also has ample athleticism, possessing an excellent physical profile for the next level.
The issue remains that Scott has never been able to translate his physical gifts into productivity or consistency. He actually took a small step back in terms of his scoring, at just 11.0 points per 40 minutes pace adjusted, which once again ranked him among the least prolific offensive players in our
top-100 rankings
. Part of this can be attributed to the presence of elite freshman combo-guard D'Angelo Russell, but Scott was given plenty of opportunity to show he can shoulder a bigger load for Ohio State. He nevertheless ranked as one the least efficient scorers in our
top-100
, with a 49% TS% that leads you to believe that things will be easier at the next level.
Scott will never be asked to play a high-volume role at the NBA level, but his inability to develop as an outside shooter could be a major hindrance at the next level. He made just 28% of his overall 3-point attempts for his career at Ohio State, which is exactly the 3-point percentage he shot as a senior, an indication of his lack of improvement in that regard. On film, he still displays the same inconsistent mechanics, particularly in terms of how he splays his left elbow out on his shots. At this point, he just does not have perimeter shooting range, arguably the key to his prospects at the next level.
He did, however, show some slight improvement as a mid-range shooter. Delving deeper into the numbers reveals that Scott made 38% of his jump shots from inside of the arc, 37.5% of his unguarded catch-and-shoot attempts, and 34.7% of his jump shots off of the dribble. While nobody will mistake Scott as a knock-down shooter at this point, his improvement as a senior coupled with his 73.7% free throw percentage (up from 68.3% as a junior), suggests that there still might be some hope of him developing a competent jumper yet.
Outside of his shooting, Scott once again struggled to finish in transition, making just 44.2% of his attempts and turning the ball over on 20% of his attempts. While he made 55.3% of his shots around the basket, he did so on just 38 attempts, showing more about just how much he struggles getting to the rim in the half-court. Ultimately, while Scott remains effective on straight line drives due to his first step, he still lacks the creative ball-handling skills required to be an effective slasher, hence his struggles in transition. He also went to the foul line even less often than he did as a junior, a paltry 2.2 attempts per 40 minutes pace adjusted, despite his solid athleticism. It is fair to wonder at this stage whether Scott will ever be anything more than a mediocre scorer at any point in his career.
One area where Scott showed significant progress was as a distributor. Scott averaged a career high 7.7 assists per 40 minutes pace adjusted, ranking second among prospects in our
top-100 prospect rankings
. Scott was always an unselfish player with good court vision, but he took a step forward as Ohio State's primary distributor, running the pick and roll, finding teammates streaking to the basket, and kicking it out to the perimeter. The problem, however, is that Scott also ranked as one of the most turnover prone prospects in our
top-100
. At times, Scott appeared to be playing too fast, made bad decisions and struggled to control the tempo of the game, coughing the ball up on a sky-high 24% of his possessions. Still, Scott posted an outstanding 4.99 PPR, and 2.48 assist to turnover ratio, showing that he is one of the best distributors in this draft class, something NBA teams will surely be intrigued with, especially once he's playing with better talent around him.
With that said, Scott is still at his best on the defensive end of the floor. His outstanding lateral quickness allows him to stay in front of guards at either position, he works hard to close out on shooters, and he has strength and quickness to guard the pick-and-roll. His 2.3 steals per 40 minutes pace adjusted also rank fifth among prospects in our
top-100
and represents just how relentless he can be as a defender. The issue here is that his tendency to gamble can leave him out of position and his teammates overburdened, even if it creates problems for opposing offenses. Regardless of his faults, however, Scott is one of the best defenders in college basketball and should have no problem fitting in on this end of the floor at the next level.
Is
Shannon Scott
a legitimate NBA prospect? It seems as though the jury is still out. Following Ohio State's NCAA Tournament exit, Scott must now prove to scouts that he can become a competent jump shooter and someone the defense at least needs to account for. If he can do so, then decision makers might consider his combination of court vision and defensive intensity is worthwhile of a flier in the second round. If he doesn't get picked, Scott has the makings of a classic third NBA point guard, and it wouldn't be a surprise at all to see him on a NBA roster and carve out a
Kevin Ollie
or
Ronnie Price
type career.