Team: NON-NBA College Team: Illinois
Physicals
Positions
Rankings
Salary
Misc
H: 6' 9"
W: 242 lbs
Bday: 11/22/1985
(30 Years Old)

Current: PF/C
NBA: PF/C
Possible: PF/C

RSCI: 77

Agent: Greg Haenke

High School: West Aurora
Hometown: Aurora, IL

Predraft Measurements
| Year | Source | Height w/o Shoes | Height w/shoes | Weight | Wingspan | Standing Reach | Body Fat | No Step Vert | Max Vert |
| --- | --- | --- | --- | --- | --- | --- | --- | --- | --- |
| 2008 | NBA Pre-Draft Camp | 6' 8.25" | 6' 9" | 242 | 7' 1" | 8' 11.5" | 13.8 | 27.0 | 32.5 |
| 2008 | Portsmouth | 6' 8.75" | 6' 10" | 251 | 7' 1.25" | NA | NA | NA | NA |



Basic Per Game Statistics

- Comprehensive Stats - Statistical Top 25s
| Year | League | Name | GP | Min | Pts | FG | FGA | FG% | 2Pt | 2PtA | 2P% | 3Pt | 3PtA | 3P% | FTM | FTA | FT% | Off | Def | TOT | Asts | Stls | Blks | TOs | PFs |
| --- | --- | --- | --- | --- | --- | --- | --- | --- | --- | --- | --- | --- | --- | --- | --- | --- | --- | --- | --- | --- | --- | --- | --- | --- | --- |
| 2009/10 | Greek | Shaun Pruitt | 2 | 12.0 | 2.5 | 1.0 | 3.0 | 33.3 | 1.0 | 3.0 | 33.3 | 0.0 | 0.0 | &nbsp | 0.5 | 1.5 | 33.3 | 2.5 | 1.5 | 4.0 | 0.0 | 0.0 | 0.0 | 3.5 | 0.5 |

Player Page&nbsp&nbsp| Player Stats | Mock Draft History | Related Articles&nbsp&nbsp| Add to My Draft Express&nbsp
&nbsp
NBA Pre-Draft Camp, Day Three
May 30, 2008
Shaun Pruitt went back to his bread and butter in day two, throwing his body around in the paint and coming up with a camp-high 12 rebounds in 20 minutes, putting his length and strength to very good use.

[Read Full Article]

---
Cross-Country Workout Swing, Part 5, A.T.T.A.C.K. Athletics, Chicago
May 25, 2008
We watched Tim Grover work Pruitt out this time last year as well, and the Illinois big man is definitely making some strides in his game, particularly in his conditioning. He seems to have lost a great deal of weight from the last time we saw him, and is noticeably elevating and finishing more effectively around the basket, as well as competing better defensively. His jump-shot—while not the stuff of legends—looks a bit better, and he's expanding his arsenal of moves around the hoop too. His wide frame and super long arms makes him a presence on the glass on the offensive end in particular. Not being particularly quick or explosive, Pruitt will need to continue to improve the finesse parts of his game, rather than rely on his brute strength at professional level, as well as significantly improve his lateral quickness and ability to defend the perimeter. Right now he's strictly a center, although his wingspan does help him quite a bit. He'll be participating at the NBA pre-draft camp next week.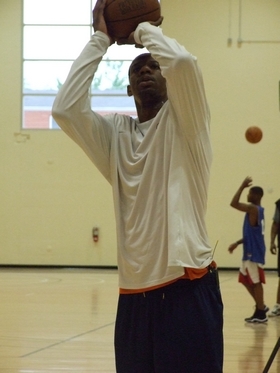 Jonathan Givony/DraftExpress.com



Thoughts from Procopio: "Shaun has been working very hard on his shooting. He's just working very hard in general on getting better, which he definitely is. Conditioning and things like that have been a big key for him. He's getting better with his post game. He's a strong kid. I think he has a chance to stick in the league. People in the second round need to look at him. He's not Wilt Chamberlin on the block, but he can take contact, he can rebound, and he can set good screens. He needs to get consistent from 12-15 feet, but he's getting there. He's learned a lot in terms of taking his time with his post-ups. He used to rush. He's learning how to use running hook shots and such. His body looks great right now. He's lost a lot of baby fat. He's a very good kid. "

[Read Full Article]

---
Top NBA Draft Prospects in the Big 10 (Part Two: #6-#10)
October 18, 2007
After a breakout season in which he set career highs in points, rebounds and shooting percentage, and briefly flirted with the NBA draft, Shaun Pruitt is back for his senior year. The burly post player is the team's top returning scorer (11.4 points) and rebounder (7.5). Pruitt will be one of the top interior players in the Big 10 conference and as one of two seniors suiting up for Illinois, will be a major factor in the Illini's success this season.

Pruitt is a classic back-to-the-basket player, but at 6'10", lacks ideal physical tools an NBA post player. He has a very solid frame, at 245 pounds, which he uses freely and willingly on both ends of the floor. Pruitt isn't a very fast player, nor does he have great elevation, which leads to more of his shots being blocked than one would expect from a player his size. He does however show flashes of quickness with his back-to-the-basket moves. Pruitt's biggest assets physically are his wide frame and tremendous strength. Often times last season he was able to simply bull though defenders on his way to the basket.

Essentially all of Pruitt's offensive game is inside the paint, and rarely will he even attempt a shot from further than 8-10 feet away from the rim. The biggest problem facing Pruitt on the block is his lack of versatility with his post moves. His go-to move is a power dribble to the middle followed by a quick drop step back towards the baseline. When this works, it is a beautiful move, often leaving defenders out of position and Pruitt with an easy lay-up. When the move doesn't however, he often throws up an awkward fade away shot or tries a baby hook. While he occasionally shows some nice touch on the hook shot, more often than not he releases the shot before he is squared to the basket, resulting in a low conversion rate.

If there is one thing Pruitt does well, it is move towards open space in the paint without the basketball. Clearly he has a good basketball IQ when it comes to playing the post, at least as an off the ball guy. He shows a solid understanding of when to flash or post up, and when to screen for teammates. Pruitt's frame makes him a great player to feed the ball to. He is so wide and has such a strong base, that he creates a big target for teammates and does a tremendous job keeping position on his defender. Very rarely will you see an opponent sneak around to steal an entry pass to Pruitt. His frame also helps him to seal off defenders, leading to a lot of lob entry passes over the top that result in easy baskets.

While his elevation isn't that great, even for a big guy, Pruitt has other techniques that help him against taller defenders. His strength with the basketball is such that if he doesn't power through an opponent, he at least creates enough space for himself to get a shot off. What is nice to see from Pruitt, that most post players don't often do, is his sense of knowing how and when to use the rim to shield his shot from defenders. He does however need to work on keeping the basketball up away from his waist; Pruitt gets stripped and blocked more often than he should. It would also be nice to see him improve his free throw percentage—which hovered around 50% for most of his career so far.

Pruitt also gets a fair amount of his offense from the offensive glass. He averaged 3 offensive rebounds per game last season thanks to his tremendous effort inside. Often he would come down with rebounds that he wasn't even in position to get, simply because he wouldn't quit on a play. This is the type of thing that scouts love to see, and something that has helped a lot of other undersized big men break into the pros.

Defensively, Pruitt doesn't do a poor job, but he could and should be more of an impact player this season. He moves his feet well in the post and is very tough to bump out of position. Pruitt doesn't bite on many fakes, keeping his hands straight up instead, and while this is solid textbook defense, his lack of aggressiveness hampers him as a defensive presence. He only averaged 2.3 fouls last season, a testament to his disciplined play, but he also only averaged .5 blocks per game, a poor number for a player of his size. His lack of explosiveness clearly comes into play here.

Pruitt does a fairly good job with help defense, able to fill the lane when teammates are beat off the dribble, and he does his best attempting to guard the pick and roll. Where he gets into trouble is when he is forced to step away from the basket and guard quicker players and when he has to contest perimeter shooters due to defensive rotation. Pruitt isn't quick enough to do either of those effectively, essentially eliminating any real possibility he might have of being projected as a power forward prospect in the NBA.

Though he isn't going to blow anyone away with his athletic ability or extreme upside, Pruitt is still a player to keep an eye on. He is a work horse inside, with a big strong body that certainly looks like it could handle the physical demands of the NBA. He does however need to add some variety to his post up game as well as become more of an impact player on the defensive end of the floor. If Pruitt can do both of those things, his name will start appearing on some draft boards come the end of the season.

[Read Full Article]

---
Mid-West Workout Swing: Day 7 (Julian Wright, Thaddeus Young, etc)
May 28, 2007
Pruitt is basically here working on his skill-set for next year's campaign at Illinois, and from what we can tell, he's making some really nice progress that Bruce Weber and his team should benefit from tremendously.

Pruitt is a big burly big man who lumbers up and down the floor, but seems to get the job done in the post and on the glass. His jump-shot is pretty ugly, but it went in for him from time to time in the drills and especially in the five on five game, where he punished Herbert for not rotating out towards him in the mid-range area. He seems to be absorbing what Grover and company are teaching him here, at one point going to work with his back to the basket and then pivoting back for a very nice turnaround jumper right in Hill's face. He also showed solid hands on the pick and roll, setting the screen and being a reliable target catching the ball and finishing inside. He also boxed out and hit the glass reasonably well. Pruitt isn't going to knock anyone's socks off with his upside next year, but he does have a chance to parlay a solid senior year into potentially being selected in the draft.

[Read Full Article]

---