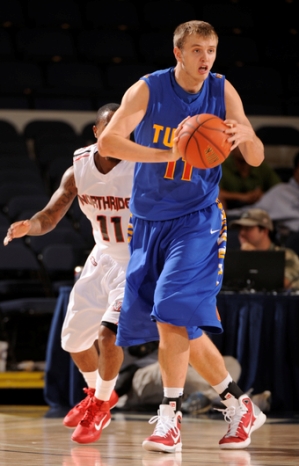 Walker Beeken
After showing gradual improvement over the course of his career at Tulsa, fifth-year senior
Steven Idlet
will need to need to make another jump this season in order to establish himself as a legitimate NBA prospect. Idlet played only 26 minutes per game as a junior, but is Tulsa's leading returning scorer and rebounder, and should have a chance to see an increased role as a senior, with the departure of 20 point per game scorer
Justin Hurtt
.
Idlet's intrigue starts with his size at 6'11" with what appears to be solid length, and a lean frame that he has worked hard to build up since arriving at Tulsa. With that said, he could still stand to add quite a bit more strength to be able to compete with NBA caliber big men on a nightly basis. In terms of his athleticism, Idlet is limited with his explosiveness, but he does have decent mobility and runs the floor fairly well for a player his size.
Offensively, Idlet functions in Coach Doug Wojcik's offense as a true back-to-the-basket big man, who knows his role and has put in the work to improve his skill set. As a junior, 64% of Idlet's used possessions came on post up opportunities, which was more than any other player in the country. He displayed solid footwork and a variety of moves in the post, with the ability to turn to either shoulder and finish with both hands with a soft touch.
Many of the problems he faces in the post revolve around his lack of bulk and strength, as he has trouble establishing good position at times, and can be muscled around on the block and when he attempts to finish at the rim. It will be interesting to see how handles the extra attention he may receive this season, with more of the offense likely to be run through him in the post.
While he attempted less than one jumper per game last season, Idlet looks to have the potential to be serviceable as a mid-range catch-and-shoot option, and somebody who can be used in pick-and-pops. He connected on a solid 45% of his jump shots as a junior, albeit in a very small sample size, showing a fairly smooth stroke and high release point. He also made over 70% of his free throws in each of his past two seasons, further backing up his potential as a floor spacer in the mid-range.
On the defensive end, Idlet will face some big question marks, as he lacks the physical tools to be able to defend most NBA level big men. He competes hard and seems to be very coachable, but he doesn't have the bulk or strength to defend one-on-one in the post, and he isn't much of a threat as a shot blocker or rim-protector. As a rebounder, Idlet's production is
below average
for what NBA scouts would like to see from a player at his position, pulling down just 9.5 rebounds per-40 minutes pace adjusted last season.
Going into his final college season, it will be interesting to see if Idlet makes another jump in his production, just as he has in his first few seasons. He is still an under the radar prospect at this point, and getting drafted is likely a stretch. However, skilled 6'11" post players don't grow on trees, so he should at least get a chance to prove himself in the pre-draft process at Portsmouth, in NBA workouts and in summer league, where he could potentially open up more eyes.