The nation's top football prospect also doubles as a top 30 player on the hardwood (#28 Rivals, #42 Scout), playing the part of a nice basketball prospect when he's not on the gridiron.
Pryor struggled getting many touches throughout the game, given the "box and one" that Aliquippa ran on him. No matter where he was on the floor, he was face-guarded by an opposing defender, often times having a second defender shadowing him. When he did have the ball though, it was easy to see why he is so highly touted on the hardwood.
Pryor plays the game with a very high basketball IQ, rarely turning the ball over or taking bad shots. While most of his damage came in the paint due to Jeanette's lack of size, he still managed to show off some of the perimeter skills that make him difficult to guard. Terrelle handled the ball very well in the open court, keeping his head up the entire time, and making a few gorgeous passes. There were times in this game that he played all five positions for his high school team, although he is clearly best suited for small forward at the next level.
Pryor's physical gifts give him the opportunity to post most small forwards his age. At a chiseled 225 pounds, he has a very strong body that is well proportioned between his upper and lower torsos. His explosiveness carries over to both ends of the floor, where he has an aggressive first step when attacking the basket and super lateral quickness when on the defensive end.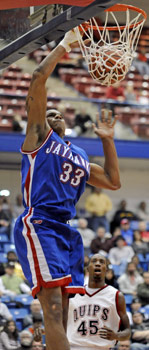 The major weaknesses in terms of Pryor's potential as an NBA player lie in his lack of ideal height for a small forward. At 6'6, he is a little on the small side and is not blessed with a freakish wingspan that would downplay that. Also, Pryor struggles a bit with consistency in his outside jump-shot. His form is solid, but the Pennsylvania prep star has had very mixed results when shooting the ball from the perimeter.
It is highly doubtful that we will talk about Pryor as a draft prospect once he hits college, due to the fact that many recruiting analysts are tabbing him as the next Vince Young. He has openly expressed his desire to play both sports in college and has narrowed his choices down to Michigan, Ohio State, Florida, LSU, and Oregon