Derek Bodner
Thomas Welsh's pedestrian averages of 3.8 points, 3.8 rebounds, and 1.1 blocks per game don't jump off the page, and were rather disappointing for a top-50 recruit on a UCLA team that struggled for consistent bench play for much of the season.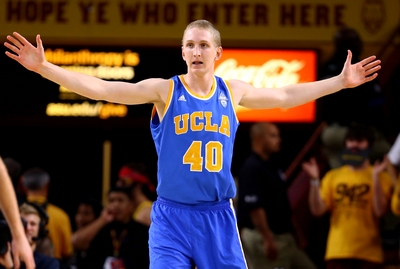 Still, as the season wore on, Welsh gradually became a more consistent contributor, and some of his potential as a role player started to come into focus. Welsh continued to build on that progress over the summer, as he was selected to be a part of the gold medal winning U19 USA Basketball team.
Welsh was largely an afterthought on the offensive side of the ball for the Bruins, having used just 14.3% of UCLA's possessions while he was on the court. His best attributes on the offensive side come off the ball, mostly off offensive rebounds and by making opportunistic cuts to the basket.
Welsh pulled in 3.7 offensive rebounds per 40 minutes pace adjusted and had a 10.6% offensive rebounding rate. He did a good job fighting for position and showed a knack for tracking the ball on the offensive glass, and his contributions on the glass could be a real asset in his arsenal, and a virtual necessity for somebody who is such a low-usage player on this end of the court.
Welsh struggled to make the most of these opportunities last season, however, with his lack of strength being apparent. He can struggle to take a hit and finish through contact, and he frequently had much smaller guards rip the ball out of his hands. Perhaps because of these struggles to finish around the basket, Welsh tended to attempt a lot of tip-ins and quick shots that he struggled to convert at a high rate.
UCLA did throw the ball to Welsh in the post at times, where the freshman was a bit of a mixed bag. Welsh provides guards with a good target for an entry pass, and has extremely soft hands, which is always a welcome attribute for a 7 footer. However, his lack of strength limited his effectiveness down low, as he struggled to establish good post position and was easily dislodged off the block. He's also not all that polished of a post scorer: he flashed soft touch on a right handed hook, but lacked a go-to move over his right shoulder, struggled to finish through contact due to his lack of strength, and didn't have the footwork to pull off advanced counter moves if the defense forced him out of his comfort zone.
One area that Welsh showed some promise with was on a baseline jump shot. While Welsh's release is a little bit slow to develop, he has a high release point and showed soft touch on his jumper. While this didn't represent a large portion of his game – only 16 jump shots were charted by Synergy Sports Technology last season, and he didn't connect at a great rate – the touch he showed could be something to build on down the line.
One final area where Welsh could look to make a bigger part of his game is as a pick and roll threat. Welsh sets good, hard screens on the perimeter and presented ball handlers with a good target when rolling to the basket, and his excellent hands and soft touch gives him some promise in this regard, but once again adding more strength to his frame will be crucial for his ability to grow in this capacity.
On the defensive side of the ball is where Welsh more consistently made a positive impact last season. While not incredibly explosive vertically, Welsh, who stands just a shade under 7'1" in shoes, makes the most of his 9'3" standing reach. His length and solid timing allowed him to block 2.6 shots per 40 minutes pace adjusted. Welsh is also deceptively quick, and is able to move his feet better on the perimeter than you might expect on first glance, and is able to hedge and trap pick and rolls relatively well for a player his size.
Welsh's lack of lower body strength once again comes into play on the defensive side of the court. His 5.6 defensive rebounds per 40 minutes pace adjusted and 16.4% defensive rebounding rate are both numbers that need to be significantly improved upon. He also struggled to hold his ground when defending the post, something that he was able to overcome at this level most of the time due to his length, but something that would become a bigger issue at the next level, where the disadvantage he's at from a strength perspective would become even more pronounced.
With a 9'3" standing reach, consistently high effort level, and a hard working mentality, it's not impossible to think that Welsh can develop into a valuable role player down the line. He will need to further refine his offensive game and add some much needed strength to his frame, but if he can do that, he could be somebody to keep an eye on down the line.