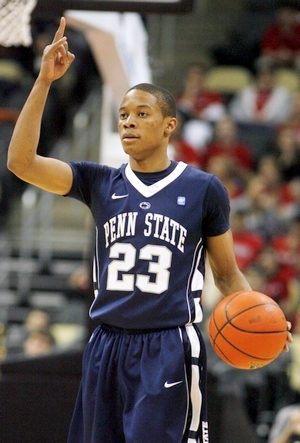 Matt Williams
Ranking second in scoring and leading the Big Ten in assists last season,
Tim Frazier
returns to Penn State to put the finishing touches on a very productive collegiate career. One of the most improved players in the country on paper last season, Frazier took over where
Talor Battle
left off as the polarizing figure for the 12-20 Nittany Lions as a junior, averaging 18.8 points per-contest, tripling his average from the season before. Likely to place among the most prolific scorers in high-major basketball this season, the rising senior has one last chance to showcase his skills to NBA scouts and carry his team towards the middle of the pack in conference play.
Standing 6'0.5 with a 6'2.5 wingspan, Frazier is a scoring point guard with solid quickness and good speed in the open court. His biggest weakness at the moment is his lack of strength and explosiveness at the rim. His 170-pound frame makes it difficult for him to fight through contact in the lane and he doesn't have the leaping ability to finish over defenders in traffic.
Despite his limitations, Frazier shows the ability to score from all over the court. As both his team's primary scoring threat and ball-handler, the Houston native carries a huge load in Penn State's offense. Every possession it seems he's either running the pick roll, pushing the ball in transition, or creating his own shot one-on-one. Averaging 37.1 minutes per-game, the Nittany Lions go as Frazier goes, his creativity and consistency on a game to game basis play a huge role in their ability to win games.
If there is one thing Frazier shows on a regular basis, it is a degree of creativity and a willingness to accept the challenge associated with lifting his team when his number is called. Playing in one of the best conferences in college basketball, Frazier is the consistent focus of opposing defenses, forcing him to constantly dig into his bag of tricks to keep his team in games. A crafty ball-handler who isn't a blur off the bounce, but who uses changes of speed and direction well on the pick and roll and creates separation with a nice crossover, Frazier is capable of creating his own shot from the perimeter and in the paint when he can find a seem.
Once Frazier has space, he proves to be a capable shooter, albeit not the most efficient one. Like many volume scorers, Frazier's efficiency is limited by the degree of difficulty in the shots he attempts, and his 36.2% shooting on jump shots last year per Synergy Sports Technology seems to belie his fluid release and shooting mechanics.
Unlike
Talor Battle
, who carried a similar load for PSU a few seasons ago, Frazier is not a prolific three-point shooter, attempting only 2.7 per-game last year. Most of Frazier's shots come from the midrange, where he shows deft touch on his floater and is able to make some circus shots, but tends to struggle when defense collapse around him. Shooting just 46.2% when getting all the way to the rim last season, Frazier compensated to some degree by averaging 6.3 free throw attempts per-game.
As a passer, Frazier averaged 7.1 assists per-40 minute pace adjusted, but does not consistently show dynamic playmaking ability in the lane or when driving and dishing or on the pick and roll. He does, however, do a very good job identifying reading the defense, seeing the open man, and delivering the ball in transition, when defenders cheat to his side of the floor early in an isolation, and when help side defenders arrive late to meet his initial move to the rim. Many of Frazier's mistakes come when he stares down a player in the post or is surrounded by defenders in the paint.
Defensively, Frazier is quick and active, but struggles at times against more physical guards who can match his speed. Showing solid lateral quickness denying dribble penetration, Frazier is not the type of waterbug-type, full-court defender that many of the players his size who have played in the NBA recently have been. He's at his best defensively when offensive players show any amount on indecisiveness in the lane, showing good timing reaching for the ball en route to 2.4 steals per-game.
Tim Frazier
has his share of weaknesses as a NBA prospect, but unlike some players in his mold that have come before him, he shows the ability to run an offense, even if his shot selection and shooting volume don't always align with that. A perfect candidate to showcase how he can run a team surrounded by other senior prospects at the Portsmouth Invitational Tournament, battle tested players like Frazier are always in high demand in the European game should the NBA not coming calling his name immediately. If he can show improved efficiency on the offensive end this season, be a more disruptive defender on the ball, shore up his perimeter stroke, and show that he can run a team and score as a roleplayer he'll earn himself plenty of looks come draft season.